Some homes are like mansions, and then there are some mansions like hotels and a five-tar at that! Introducing one of the most extravagant, mind-numbingly gorgeous, 20,667-square-foot mansion worth $50 Million in Palm Springs, California, called Hagadone Residence. The owner is a newspaper publisher and real-estate developer Duane Hagadone who has shown what a modern-age palace looks like. Designed by the talented Guy Dreier, famed for creating unconventional homes, the Hagadone Residence stands as a testimony to his unusual yet beautiful style that gave this home the resemblance of the majestic surrounding desert and mountains. Let us take a peek at the umpteen great nooks and corners of this fantastic home that houses a shark tank, among other amazing things:



This aerial view shows you almost immediately there is nothing run-of-the-mill about this estate, including the roof. The 20,667square-foot seven-bedroom, 12-bathroom home occupies 7.68 acres of land.

The home looks like a monolith of modernity with eyebrow-raising features, including retractable walls around the outdoor space, infinity pools, and a Dale Chihuly sculpture in the living room.

The highlight of this ultra-cool home, in addition to many water features, is a large indoor aquarium that you can walk through like a tunnel. It can house baby sharks and other exotic fishes as well. The big white sharks are left for the oceans, thankfully.

The living room of this spectacular house built on a hilltop in 2007 flaunts a titanium-clad fireplace, undulating wooden flooring, sweeping views of the valley, and a grand piano for entertainment.

One must walk through an 'aquarium tunnel' comprising two fish tanks to access the dining room. Interestingly, the home doesnt have doorknobs or switches spotted anywhere. All doors are handled through an innovative home system.

Pictured above is the massive owner's suite of the Hagadone Residence. As expected, it's an epitome of grandeur and elegance with an outdoor lounge area, a private outdoor spa, a fireplace, dual baths, and closets.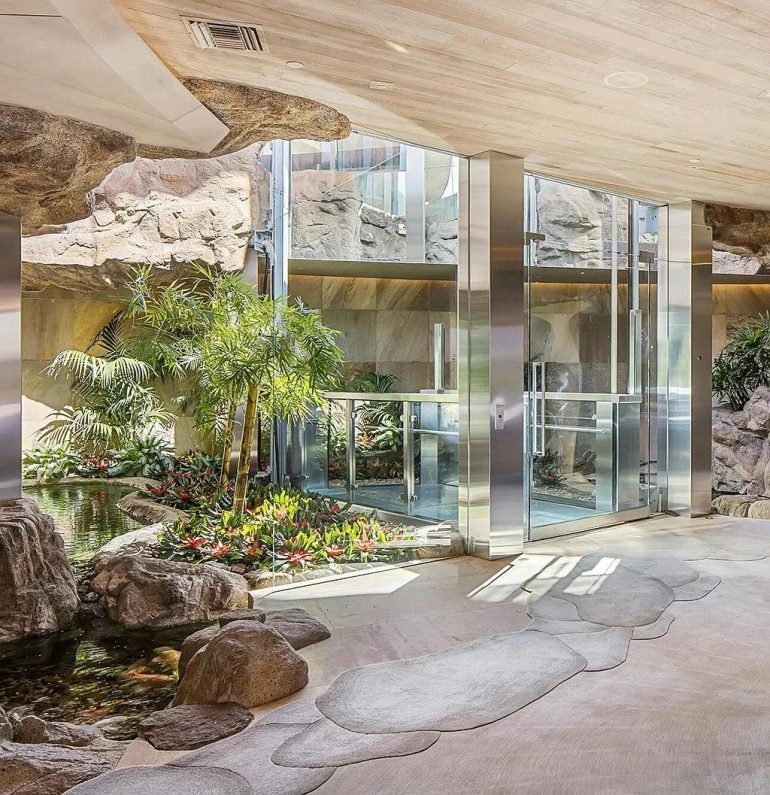 The entrance of this massive megamansion is impressive, with a refreshing koi pond and soothing waterfalls adjacent to the garage and office.

The home flaunts a huge garage that can house ten cars with utmost ease. In addition, there are five covered parking spaces.

Other impressive amenities noticed are three interlocking heated pools, a waterfall, a spa, and access to the golf course of the Bighorn Golf Club, where the home is located.

A separate guest pavilion is made as there is ample space to do so. The area includes four-bedroom suites to accommodate up to 10 people with ease, an additional kitchen, and a lounge area.
[Via: Zillow]