After the Burj Khalifa, the Burj Al Arab is the second most visible structure across Dubai. We spot the sail-shaped structure from miles before we reach the entry gate where many inquiring tourist eyes are on us, wondering if we are celebrities. We totally feel like one and wave out in jest.

Our driver tells us, "It is the 18th most photographed structure in the world, a list which includes the Eiffel Tower and our very own Taj Mahal."
The distant vision of grandeur solidifies as I step in. Staffers welcome us with a sprinkle of rose water and dates. It's two weeks to Christmas, and the water fountain comprising sprouts in a slender trajectory of leaps and bounds amid festive elks, moose and artificial snow on Christmas trees is the first visual treat of my stay. I crane my neck and look up at the design, the floors painted in white and shades of blue and green interspersed with gold inklings. A fact: 1,790 sq m of 24-carat gold leaf has been used to embellish hotel's interior.
Put up in the Deluxe One-Bedroom Suite, I feel like I am recording my own Princess Diaries.
The 170-sq-mt suite opens into a living room that faces the Arabic Gulf, and through the panoramic windows, I spot an ant-sized Atlantis on the other front. This uninterrupted view of the sea and sand is in juxtaposition of the materialistic sights of yellow, blue and gold chaises and velvet sofas.
The bathroom is lavish; a jacuzzi in the corner is a tempting offer, and I already picture myself lazing in a bubbling pool of bath salts with a book in one hand and a glass of red in the other. The basin is lined with Hermes toiletries. The base fragrance is Jean Claude Ellena and the whiff is lingering. The shower area has a three flow jet-setting.
A private butler, who is on 24-hour standby at my service, gives me a room tour, and explains the basics: a click of the button on the television remote allows me to draw the curtains and open the door for a guest
Once he excuses himself to let me 'enjoy' my suite, I walk around in a daze. I step into the bedroom and plop on the bed, the ceiling has a mirror and I get a glimpse of myself and spot a happy smile. I think to myself, I could definitely get used to this. Anticipating the gluttony in the coming two days, I decide to explore the gymnasium on the 18th floor which also houses Talise Spa. A file of treadmills offers an uninterrupted view of the blue waters, or a television set that allows you to watch the market news, listen to music or watch a movie. I put on my earphones, put on some jazz notes and run into the water view. With this setup, I run double my usual track.
I decide to cool off, with a swim. Before I dive in, I must tell you about the terrace where I stand. It houses two pools, a stretch of beach, 32 cabanas and Scape Restaurant where I am to have dinner that night. It was actually sea till a few years ago. The wooden structure was built in three parts all the way in Finland and transported here to assemble the ground floor terrace which has a 'beach' created from 1,000 tonnes of white sand imported from Saudi Arabia. This is some of the heaviest sand in the world so it doesn't fly easily when the wind blows.
A friend who's holed up next door turns it into a party starter with a bottle of red wine and two glasses. We plop ourselves on a beach bed, spray some sun-tan and take a couple of show-off selfies. A swim in the infinity pool and a warm jacuzzi laze sheds all thoughts of work and deadlines.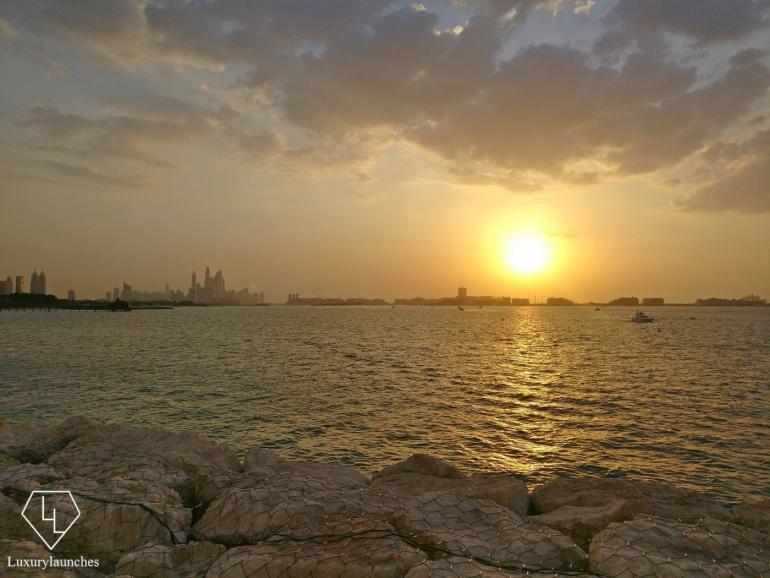 We set out to explore the hotel in the afternoon to escape the scorching sun. The hotel has the best of everything from around the globe – carpets from Rajasthan, lighting from France and Sweden and the marble of the same kind that Michelangelo used for his sculptures.
While we don't end up eating a meal here, Nathan Outlaw at Al Mahara, a seafood restaurant by the Michelin-starred chef, is worth a visit. Its centerpiece is a vibrant fish tank which various sea life giving one a feeling of dining underwater.
We stop by the Asian restaurant, Jinsui, which boasts, of the second most expensive ceiling made with 29,000 swarovski crystals. When in Dubai, there is always a race to excel and once again this ceiling is second to the façade at Emirates Palace.
We take a ride on the express panoramic elevator which travels at six meters per second to check out Gold on 27th, a bar lounge with a contemporary design in black and gold. Visited for cocktails made with foie gras, blackened truffle oil, oud oil and goat cheese foam, the melting golden installation above the bar is a stunner. But if you are craving Arabian delicacies, then Al Iwan is where you should book a table.
Our dinner is Californian fusion cuisine at Scape Restaurant and Bar. From Latin America, the Mediterranean and Asia- influenced menu, we order wholesome Chicken Quesadillas that come with generous doses of guacamole, Monterey cheese salsa, and kidney beans. We are sitting in a seven-star but the food apes the community-style, social dining brief. We devour our juicy King Crab and Prawn Sliders with Squid Ink Buns that wears a gothic look, we jest. The vegetarians among us dig into the Wild Mushroom Pizza, which has an earthy taste of the fungi paired with the stringy mozzarella cheese. Dessert is the sweet and tangy ending of Broken Lemon Tart. It isn't as messy as the classic Chef Massimo Bottura served at Osteria Francescana in Modena, Italy. Dollops of lemon meringue, pie crumble, and a berry compote, But it raises a mild crinkle on our forehead with its sourness, smoothened by the sweet and creamy aftertaste.
A princess needs her beauty sleep and that's what I do after the scrumptious meal.
Next morning, I settle into a table by the poolside at Bab Al Yam for breakfast. I begin with my usual scrambled eggs and toast but move onto Balaleet honeyed vermicelli with saffron pancake and a dollop of date jam which is a staple pick of the locals here. I take this leisure time to read the dailies and make my way for some more leisure time in my private jacuzzi. I throw in some bath salt, pick up a book and allow my body a relaxation of a lifetime.
After a light meal of hummus and lavash from the private dining menu, I spend the afternoon being pampered at Talise Spa, where my masseuse kneads the stress knots away.
I have signed up for the Burj Al Arab Signature Massage. My masseuse walks me to my therapy room and seats me on a sofa. She urges me to dip my feet into a warm bowl, and while she applies a lemongrass scrub, she explains the 85-minute therapy will use a blend of techniques from traditional Shiatsu, Thai, Swedish and Balinese massages. "It's an all-in-one?" I ask her with a smile. To which she says, "Yes, for that ultimate relaxation." With my feet clean, I lie on the therapy bed and close my eyes as she applies an aromatic oil and works my body with a firm pressure. I follow instructions that she voices in a lullaby voice and let go. The next one hour, I shut my mind and slip into a deep sleep. When the therapy is over, she wakes me up with a gentle stir and offers me tea. "Did I snore?" I ask her. She smiles.
"All I can say is you were floating in a relaxed bubble."
When it is time to say goodbye to the most luxurious stay of my life till date, what I take back home with the experience is the excellent service of the staff that preempted our requirements, taking care of me like a set of warm hosts.
As our bus drives out of the gate, the tourists taking selfies outside don't give us a second glance. Back to reality.
Where: Burj Al Arab
Jumeirah Street, Dubai
Cost: Deluxe One-Bedroom Suite – 7,000-8,000 AED (US $1900-2100)
Note– The critic was invited by the Burj Al Arab, Dubai. But all the opinions expressed herewith are her own.