The Delhi summers are rolling in. Just the thought makes me crave something fruity, something fresh. Oranges! Now where was it that I had my last brush with citrus…ah, yes! Dilli32. Not many would know this but Kempinski Ambience Hotel's award winning signature restaurant, pronounced: dilli battīsa deserves an award for fresh fruit concoctions just as much as it does for north Indian preparations. Or is it Café Knosh? I won't know for sure. Because if you read my review of the hotel yesterday, you'd be well aware it is much the hotbed for product launches. Which is also the reason why my Dilli32 dinner was moved to its all day dining sibling. But it was only the setting that had changed, not the food. A dedicated chef cooked away, not too far from earshot while I sat in wait. But instead of my friend, a California orange cocktail presented itself. As you will realize, that was only the first of my reasons for not minding this new arrangement, besides the beauty of Café Knosh's vast pool-facing expanse.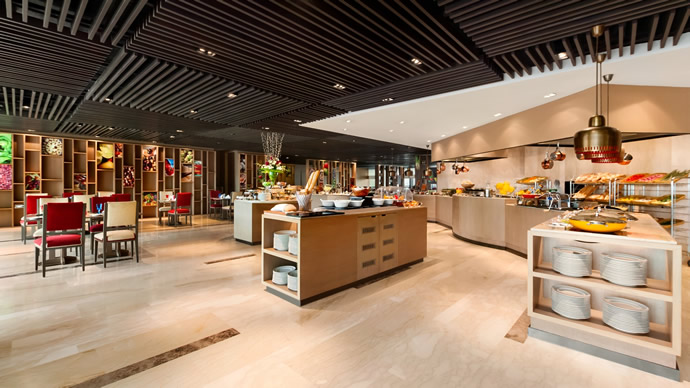 I have spoken of balance in flavor on many occasions. My visit to the restaurant wasn't one of them. Yet when I asked to be surprised, I was, well, surprised.
My first cocktail of the evening, a fruity concoction arrived delicately balanced by the salt on the glass rim.
And while I know that is no trade secret, this sure is something that should stop being one- drinks that aren't saccharine sweet and spiked with fresh fruit goodness besides the usual drizzle of your favorite spirits. Alongside came a dish of gourmet munchies such as candied cashews with traces of cinnamon (hello Christmas cheer in a bite!), five-spice peanuts (perhaps for some more balance, this time for the cashews' sweetness?) and olives, not fresh, not boring either, laced with chili for hotness. And that wasn't even the start of my order!
When the starters did arrive, however, they were very much in keeping with the welcoming standards. An assortment of Peshawari Seekh (smoked mutton mince with golden onions, mint, coriander, ginger, green chili and garam masala mixed in), Barrah Kebab, India's spiced answer to the highly popular mutton chop, Murgh ke Pasande or chicken tenders and Chatpati Macchli, an immensely tangy yet succulent sole fish preparation appeared as a collective.
And I can tell you this- each meaty piece gave the other serious competition. What made them all winners was the Ulta Tawa Parantha, an Indian bread with a hint of sweetness
, that is saffron flavored and cooked on an upside down griddle for reasons beyond my comprehension, except, its deliciousness makes me never want to question.

Blame the meat fest for this but the vegetarian Kakori Kebab nursed its lonely spot on the table. For non-meat eaters, however, it can prove a great substitute for the lamb version. I even suggest they try the Chowk ki Tikki or pea and potato patties that come with a sweet and sour relish, from my server's recommendation. From my own experience, I can say it can't be all that different from its famous street avatar, much like the banta or sweet lemon soda they obtain from special sources and serve with a choice of salts even though it is a street staple popular in parts of India. Clearly, Dilli32 with its wall of spices, where cardamom and cousins stick out as metallic installations is doing its share to promote local culture, albeit, with utmost adherence to expected standards of hygiene.

The parade of decadent delicacies continued with the Nehari Gosht and Dum ka Murgh. While the former is a famous mutton curry and might I add, one very well done by the Dilli32 folks, the latter was chicken marinated in spices, then sealed and cooked on dum. As most people in parts of north India would know, this 'dum' technique is renowned for its use in making biryanis (Indian rice preparation), it worked wonders on the chicken too. Not to mention, Dal Dilli32 (made of black lentils), the other thing that worked wonders on the food. We also sampled the Shakahari Khichra, a lentil version of the beef dish Haleem, popular with Muslims of South Asia. With so many twists to so many traditional dishes, you must be wondering about the brains behind the restaurant.
The establishment and its patrons, by extension, should perhaps credit Executive Chef, Rohit Tokhi who grew up in Lucknow, the birthplace of a lot of north Indian cooking traditions and chef de cuisine (Indian specialty) Ashwani Kumar Singh. While the former was straight up about his ambitions in a delightful chat, the latter was the man directly responsible for our culinary journey, what with observations following each dish out of the kitchen and also playing perfect accompaniment. The same thing happened with the chutney biryani too of course, when the rice and chicken were tantalizingly tweaked to accommodate chutney or so explained chef Ashwani. I'd say it is a bit hot though, given that it incorporates a paste of green chilies.

Still, the heat was soon overcome with the dessert combo of Shahi Tukra and Mirch ka Halwa. I've had numerous encounters with the former, made with sliced bread, condensed milk and water, yet none like this one. The gooey, cake like dessert seemed softer than ever from its melt-in-the-mouth essence. As for the Halwa, believe you me, I've had many but never one made with sugar and capsicum.
While the carrot halwa might be common in India, this one lent a whole new meaning to the sweet pudding.
I personally love capsicum quite a bit, so that familiar kick with a lingering sweetness while disconcerting was definitely a thrill that's mostly missing from dessert eating. Couple that with the great weather outdoors and the serenity of Kempinski Ambience's greens-specked décor, a dinner at Dilli32 or in my case, moved to Café Knosh was definitely what royal feasts are made of.

Meal (for two)
Starters
Peshawari Seekh – INR 750
Barrah Kebab – INR 750
Murgh ke Pasande – INR 750
Chatpati Macchli – INR 750
Vegetarian Kakori Kebab – INR 550
Ulta Tawa Parantha – INR 75
Main Course
Nehari Gosht – INR 800
Dum ka Murgh – INR 800
Shakahari Khichra – INR 700
Chutney biryani (chicken) – INR 850
Dal Dilli32 – INR 500
Khamiri Naan – INR 75
Desserts
Mirch ka Halwa – INR 250
Shahi Tukra – INR 250
Total (exclusive of beverages and taxes) – INR 7,850 ($130)
Address :
Dilli32 – Kempinski Ambience Hotel, Delhi,
Global hotel alliance Kempinski,
Ambience Hotel Delhi1,CBD,
Maharaja Surajmal Road,
Near Yamuna Sports Complex,110032
Delhi
Contact No : +91 11 49088888
[Kempinski-Ambience-Hotel-Delhi]