Beds within five star hotels are also "five star" by extension and with properties having a lot more going for them I often skip the mention. But this one time, since the property attempts to go back to the roots, by which I do not mean it has little else going for it, I must express my appreciation. Kempinski Ambience isn't your average poncey hotel. Despite being "luxury" it breaks associated myths and takes a no-frills approach with the only exception of enhancing essentials. Cue, pillow menu or the bed for that matter, so sumptuous, even if I thought it were quicksand, I couldn't have grumbled.



First Impressions
I was familiar with east Delhi from its Commonwealth games association, Akshardham Temple, and proximity to Buddh International Circuit, best known as the venue for the annual F1 Indian Grand Prix among other things. So it was only exciting to see the area get the first Kempinski flagship hotel in India and perhaps its first brush with five-star luxury. Now about that, I can't say I wasn't a bit surprised to be greeted by an inconspicuous counter of sorts upon my entry, but then I realized that the real concierge lobby lay on level 3. The fascinating hotel trivia didn't stop there, though. While the bottom is thus designed for swift banquet hall access, with a separate gateway to the hotel at yet another end for those wishing to get straight to events, even the guests get a choice of two hotel towers, each a replica of the other, with the exception of one being the Club Tower, with privileges like access to Club Lounge and airport transfers.

Accommodation
No guesses then as to where I settled, in the Club Tower, my 398 sq. ft. Deluxe Room ($166 + taxes) was every bit the exemplar of plushness expected from the Kempinski brand. Now as I was saying earlier, this particular hotel not once attempts to lure you with false notions of extravagance. This could also be why it understands real comforts and the reason behind the waiting apple pie with velvety vanilla custard for a welcome. The two aren't exactly mutually exclusive. The same comfort extends from the room to the splendid bathroom that gives you what your luxury-enticed heart wants deep down. In case you might've forgotten, watching television while lying in a warm bath is so much fun. Not only does the bathroom come sound equipped, connected to the flat screen that is clearly visible through its glass panels, it houses one of the best rain showers with three different showering options, besides the popular handheld companion.

I can't say much of the view, though, for even the room's floor-to-ceiling glass windows can't compensate for East Delhi's up and coming-ness. But since, despite its wee distance from the airport, the hotel is a hotbed for events and product launches, I'm guessing not many who come to care about those kinds of things. Kempinski Ambience hotel's 480 modern guestrooms and suites suffice simply by being there for the host of events that take place within the premises. Designed in two towers, the property could also be called a fantastic setting for weddings, its two-tower design housing the bridal party on one side and the groom's people on the other end. The towers are connected by a majestic structure dotted with greens beside the hotel dining destinations. The only fight would be about who gets the Club Tower as the lounge is obviously an apostle of privileges, privileges that include breakfast, cocktail hour, and light snacks besides a steady flow of beverages.

Dining
But getting back to dining destinations, Kempinski Ambience's three restaurants and one bar are quite the distinguished yet distinct cousins. All situated on the third story, between the two hotel towers, they offer the widest array of offerings seen on a single level. Starting with the award-winning Dilli 32, if you start walking from the Club end, you find the rich heritage of traditional North Indian Cuisine, followed by Asian Dining abode, Mei Kun. The stylistic impression of its contemporary décor with Asian elements is met by the sublime expanse of Café Knosh next door. Its name derived directly from "food" lives up to the promise with its all day dining offerings.

Cherry Bar, on the other hand gets its name from the tiny fruit and offers a vibrant atmosphere for knocking back premium cocktails while the DJ works his charm to set the mood. To me, the best factor remains the choice of taking your food-libation options outdoors. With their emphasis on adaptability, not only does the hotel offer the string of establishments for restaurant hopping but a central furniture-strewn courtyard and attached terraces if you want to indulge in good weather, amongst other things. Not to mention the greenery in every corner that you see. Not only is that a delight to city-dwellers and a big rarity in non-resort properties.

Leisure
Yet another rarity remains the two outdoor pools. While one comes with an infinity edge as enhancement, both overlook lush greens making them true, blue (ha!) pools with a view. The same sort of view, only from higher above, is shared by the fitness center. Make that two; actually, each quipped with the latest TechnoGym is located in either tower. Both have quiet spots in the property, perhaps courtesy of the luxuriant Shanaya spa that's their neighbor. Nestling between the two towers, the latter also holds a spot albeit a sweet one in my memory but more on that later. Another member of the area is the Hair By Dar salon located adjacent to the spa. By UK based celebrity hairstylist Dar, it offers stylish haircuts, advanced make-ups, modern hairstyles, a host of hair and skin care services including a bridal room and nail and foot therapy lounge.

Meetings
It must be plenty clear by now the hotel is uber launch-friendly by way of its M.I.C.E (Meetings, Incentives, Conferences, and Exhibitions/ Events) status. What you wouldn't know, though, is that it houses India's largest pillar-less banquet hall. At 25,000 sq. ft., the hall has a further 45,000 sq. ft. around in smaller meeting areas, lending the overall space a capacity up to 6000. Backed by a host of facilities that use state-of-art technology for the ultimate in luxurious hospitality, the area is supported by a dedicated catering & events team along with exclusive driveway & entrances. So, elegant banquet arrangements, exclusive boardrooms, conference halls, and meticulously manicured lawns are just some of the options. Moreover, there are pre-function niches perfect for exploring lavish menus in smaller gatherings or just grabbing a cup of coffee or a cocktail in between events as part of the larger, glamorous experience.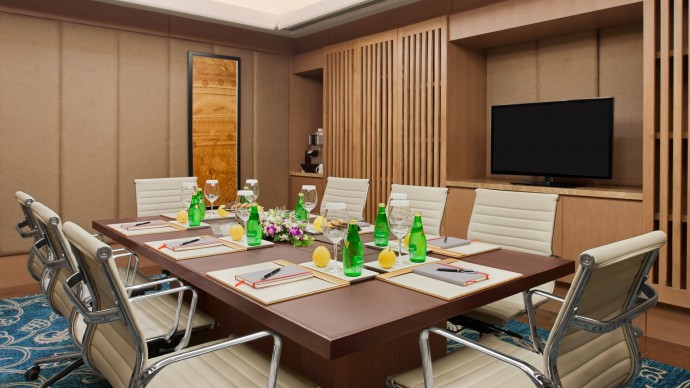 Did you know?
In one of the rare, five-starred instances, the property is of the few, trying to push the local envelope by including art displays and children-friendly events. Their Art Brunch, for one, was a great example of both, where decadence was complimented by pool time and kids' art lessons. Their GM, Mr. Vella Ramasawmy is, in fact, way more than your average professional, what with him being a hotel resident, as well as the man behind the fresh approach adopted by the hotel. His endeavors start with personally looking into the smallest details like the maintenance of the establishment's Audis and go straight to building a brand that gains synonymity with pop culture by being the venue for major sensational happenings. And speaking of sensations, you will be sure to catch Kempinski's 'Lady in Red', a hotel ambassador who not only enchants but exhibits everything from western attire to the Indian saree in red for local essence.

Address :
Kempinski Ambience Hotel, Delhi,
Global hotel alliance Kempinski,
Ambience Hotel Delhi1,CBD,
Maharaja Surajmal Road,
Near Yamuna Sports Complex,110032
Delhi
Contact No : +91 11 4908 8888
[Kempinski-Ambience-Hotel-Delhi]