When a brand has a history older than two World Wars, the Great Depression and the invention of the airplane, we cannot let it pass as a humble subject. We sit up, take notice and pay our due respects. Guerlain was founded by a perfumer in France, back in 1828. Napoleon the third, his wife, Queen Victoria of England and Queen Isabella of Spain were well-known 19th century patrons, while in more recent times stars who are brand loyalists include Liv Tyler, Barbara Streisand, Jodie Foster, Meryl Streep, Sophia Marceu, Hillary Swank, Michelle Yeoh, Rihanna and more.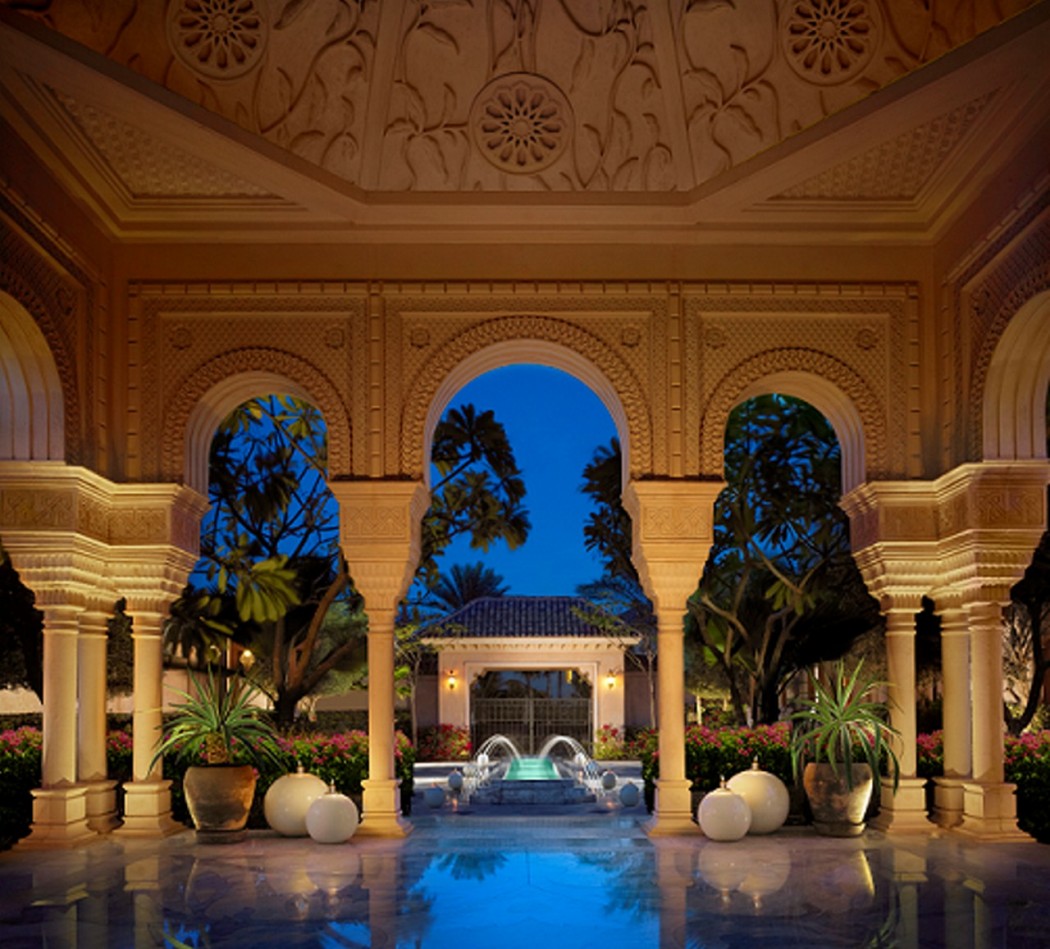 My preamble was a modest attempt at explaining why having a Guerlain spa on your shores is such a big deal. The spa was welcomed by Dubai late last year, when One&Only The Palm hotel decided to offer something as exquisite and marvellous as the beautiful views the resort boasts.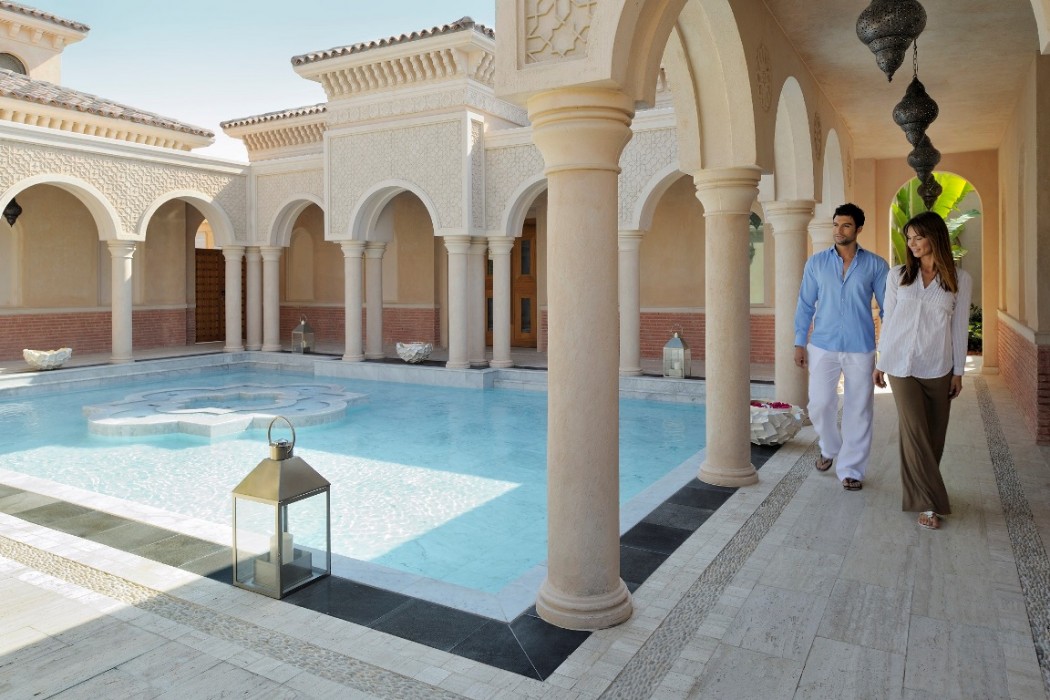 And I was honoured to be invited to experience this paradise. Walking through the pavilion courtyard at the One&Only The Palm, and passing the spa pool, you may get doubts on the fair treatment of such a legendary brand. The appearance is modest and reserved. The interior too have no frills on extravagance, but it is hard not to appreciate a certain refined class of elegance.

Unlike the usual regime as spas follow, decorating the interiors with dark shades and deep, Asian trance or soul music, Guerlain Spa is like a spray of fresh air. Fragrance, makeup and skincare, all come under one roof at Guerlain Spa. Staff, dressed in crisp white and perfect makeup, will dexterously usher you in, and allow you to explore the perfume and makeup stands before your therapist comes to fetch you. For those interested to get a complete makeover from head to toe need not look for a more appropriate destination than Guerlain at The Palm. You can walk in looking like Professor Sybill Trelawney and walk out as Princess Leia.
The interiors are brightly-lit and welcoming. Even treatment rooms are flooded with natural lighting, which are concealed during a session, or could be left open on request. The rooms also feature mosaic patterns on the walls, giving an oriental touch to an otherwise European paradise. There is also an exclusive treatment suite. The suite is a comfortably decorated with a drawing room, television and other entertainment, a dressing table with a makeup kit and also shower stands in the garden outside which is protected by high walls. The mixed patterns of mosaic on the walls give it the appropriate appeal of Arabic touch that a Guerlain spa could accommodate.
Some of the exclusive treatments available at the Guerlain Spa at the resort include "Dubai Harmony", a vitality boosting treatment with original hot and cold touches, "Desert d'Orient". Like the treatments, Guerlain offers a selection of timeless and elegant fragrances, each with its own individual character and exquisitely designed bottle such as l'Art et la Matière, les Elixirs Charnels, and les Déserts d'Orient.
I reached the spa 15 minutes prior to the appointment. After an elaborate lunch and breezy tour of the beautiful property that is One&Only The Palm. I looked like I could do with some spa-ing and making up. So I was welcomed with warm smiles and instead of being ushered into a therapy room, I was taken to the makeup stand. Here I met the brand's makeup artist Emna Marzouki who had flown in from Paris for a week-long workshop session, the spa manager and the lovely PR of the property. The ladies, all French, took turns to explain the product and the services. I sat doe-eyed like a girl staring at a dollhouse and allowed the maestro to work her magic on my face. In no time, and surely with some brilliant French foundation and concealer I was turned into a ravishing beauty (no jokes here). .
Here is a list of the 10 products that the makeup artist used:
– Orchidée Impériale – Foundation cream
– Super Aqua-Sérum – Eye serum
– Météorites Base [this is one of the brand's makeup icons]
– Lingerie de Peau Beauty Booster cream
– Terracotta Joli Teint – Glow powder [another makeup icon]
– KISSKISS – Lipstick
– Lingerie De Peau – Foundation and concealer moisturiser [yet another makeup icon]
– Écrin 4 Couleurs – Eye shadow
– Maxi Lash So Volume – Mascara
– Eyebrow kit
That is more makeup than I have worked in three decades. Yes, since birth. I would have shared a before and after picture, but unfortunately I was to get a Radiance Facial done soon after. Ms Marzouki gave me a crash course on tips and techniques of applying makeup. And after 10 minutes, the therapist led me to a treatment room.
The sweet Thai therapist made sure I was comfortable. The changing room was brilliant! Aside from the makeup stand outside at the lobby and the tray next to the therapist in the room, there was yet another kit for those who didn't want to be seen makeup-free even in the comforts of a closed room. As the treatment began I closed my eyes to allow the therapist to remove my eye makeup. The next thing I know, it had been an hour and I had got a fresh layer of makeup on. I had fallen asleep on the bed and woke up just in time to bid the ladies a grateful goodbye and right on time for the boat to ferry me back to the mainland.
I was once told by a spa specialist that if a client falls asleep at the treatment table, then the therapist is doing her job well. My therapist was a blessing then. Only, I wish I was awake enough to note the techniques she used. The products used were all certified Guerlain, and after the treatment, she recommended a face cream. All the Guerlain products are available at the spa, and come at a price not as modest as the interiors. So I could not be happier when I was offered a gift by Ms Marzouki, an eye sculpt serum – Abeille Royale – a popular product to enhance your eyes.
A trip to the Guerlain spa is an indulgence you wouldn't want to miss while in Dubai. And while there, you mustn't miss out lunch at one of its signature restaurants, and enjoy beautiful Dubai weather at 101 Lounge and Bar.
Where: Guerlain Spa – One&Only The Palm
West Crescent, The Palm Jumeirah – United Arab Emirates
Phone: +971 4 440 1010
Note – I was hosted at The Guerlain Spa, One&Only The Palm but the opinions expressed herewith are my own.