Clichés such as 'blissful,' 'rejuvenate,' or even 'haven,' are often applied when describing wellness treatments. Those are more or less default spa provisions. Chi, The Spa at Shangri-La Hotel Tokyo goes a step further and offers customized rituals. Customizing one is just as easy as selecting a few items and adding them to your shopping cart, only twenty times more rewarding!

Spas are known to pain-relieve, pamper, and at times, be downright paradisiacal. A small percentage, are known to customize treatments. That Chi is one was the highlight of our stay at Tokyo's ebullient Shangri-La Hotel.
You must've heard the phrase 'balancing your chi,' an act that seems to unavoidably lead to success and happiness. 'Chi' or 'Qi', oft associated with energy, comes from the Chinese philosophy of Feng Shui, which requires us to balance the yin and yang within ourselves. It is believed that chi must flow freely within the body and, when blocked, 'dis-ease' and illness follow. Chi, The Spa, therefore, not only pampers and preens but also helps in releasing blockages through movement.
Swathed in neutral hues and stained hardwood, Chi is housed in the 29th floor of Shangri-La. And comprises six treatment rooms, four of which boast private baths and steam saunas. It also features a plush lounge for you to consult and sip on warm tea at. The spa offers an extensive spa menu consisting of award-winning massages and treatments brought from other locations, as well as 'Kisetsu' therapies inspired by Japan's unique appreciation of the different seasons.
In order to make the most of our treatment, we selected the Customized Chi Ritual. Award-winning or not, it gets our nod for being judicious. Part of Chi's Signature Therapies, the ritual is carried out in a roomy spa suite festooned with oriental curios that lend it an artful aesthetic.
We chose a scrub, an oil massage and a 30-minute facial. The first in the trio was carried out with lemongrass-scented coarse grain sea salt and the therapist, while liberal with the salt, moved her hands in short, careful strokes. Even though she spoke little English, her eyes remained kind, and alert for any signs of distress. The salt scrub was quickly followed by a couple of minutes in the steam sauna, for opening pores and raising anticipation levels in equal parts.
As part of our consultation, we had been asked to choose from a combination of aromatherapy oils, which made their way into our massage. Since the massage was part of the Customized Chi Ritual, focus was not on the body as a whole, but the problem areas or in our case – legs and back. The mini-massage definitely did them justice and the same therapist moved on to Facial next.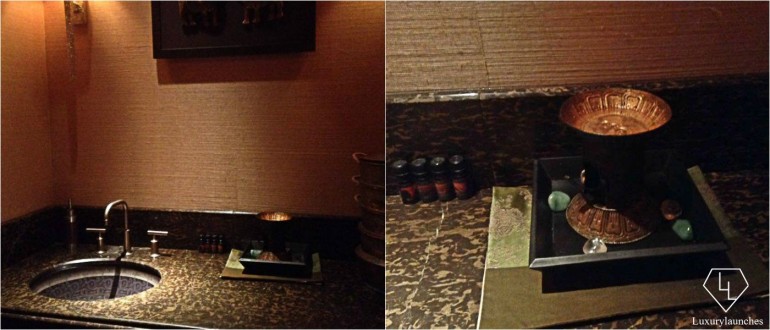 Chi's Aroma Refresh Facial is great for relaxing tired skin – we had been on the road for two weeks and it left us with a noticeably youthful glow that lasted till after dinner. Using products specific to skin-type, this facial is indeed 'perfect after a body treatment or for guests on the go'. The whole thing, in fact, is perfect for guests on the go – we could enjoy a 30-minute scrub, 45-minute massage and the facial without ever feeling rushed!
While a lot of us would vouch for longer time with each treatment, let's face it, you're a traveller in Tokyo and there's tons to do than locking yourself up in a sanctum of inner peace. So, you'd inevitably have to pick one. At the same time, having to choose has always been a pet peeve of ours. The Customized Chi Ritual leaves you feeling fulfilled for all the right reasons. And guess what? We felt 'rejuvenated' afterwards.
Where : Chi The Spa at Shangri-La Hotel, Tokyo
Marunouchi Trust Tower Main, 1-8-3 Marunouchi Chiyoda-ku, Tokyo, 100-8283, Japan
Phone : (81 3) 6739 7888
Note – The author was hosted at CHI, The Spa at Shangri-La but the opinions expressed herewith are her own.