When in Beijing, do as St. Regis aficionados do. If you have ever been privy to this luxury brand's five star service, you will understand it's quite hard to ignore its lure in yet another destination. In this case, the 'lure' happened to be in the heart of Beijing's business, shopping and diplomatic districts. The area, strewn with a slew of embassies, is quaint and posh at once, as you'd expect. Much the same can be said of the hotel.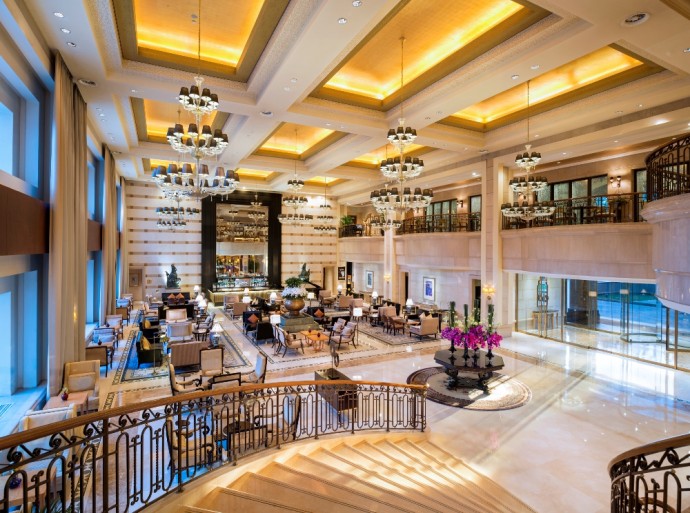 First impressions
Unlike the other St. Regis hotels, which have an in-room check in, the Beijing counterpart had us check in at the front desk. That gave us just enough time to realize the lobby had recently undergone a renovation and was typically St. Regis, grand and luxurious. The naturally lit lobby spanned a height of two stories and a little crowd scanning revealed fellow vacationers predominantly from the West.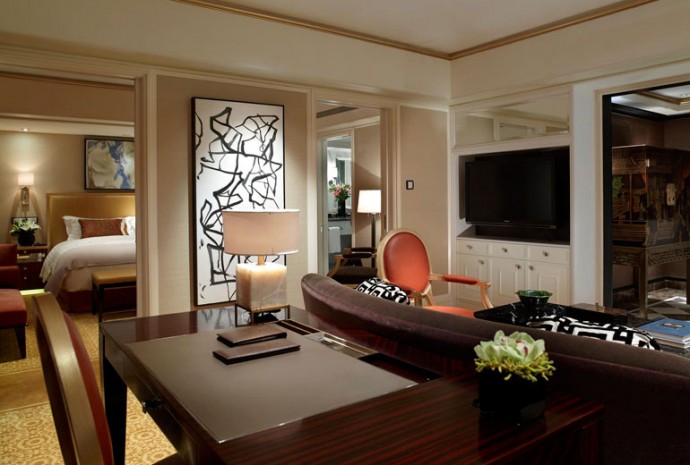 Accommodation
Of its 258 luxuriant accommodations, we checked into one of the 19 newly and lavishly appointed St. Regis Suites. 65 square meters (646 square feet) of space, built in 42" flat screen LCD, Wi-Fi high Internet access, literally a world of amenities. A mammoth bedroom is separated by a sleek sliding door from the lavish living area of the suite. But what really caught our fancy was how well modern technology blended with tradition.
Take for instance the elegant Chinese cabinet on one side of the graceful vestibule that greets you at the entrance. It is elements like these that elevate the overall experience. Having said that, they can also become a cause of dismay. Take the case of our small windows. Or the fact that the rooms faced the extension of the hotel and their views, therefore, were far from exceptional. As for the bathroom, it seemed to be working Remede toiletries with shiny marble.
Food and drink
We woke up to a glorious breakfast buffet with a garden view at The Garden Court that saw a mix of popular international and Chinese preparations, although its most exciting bit has to be the interactive show kitchen. Another venue with a similar name is the Garden Lounge where one can unwind with a drink (or several) under European chandeliers, next to a Roman-style fountain. Another ideal spot for the latter would be Press Club Bar that probably gets its name from the private club-style ambience.
If you're on the lookout for some scrumptious local preparations, head to the relatively restrained Celestial Court, which serves authentic cuisine from Southern China and boasts five private rooms. If not, satiate your Italian cuisine cravings by booking yourself a table at the award-winning Danieli's, a.k.a. haven for Italian dishes complemented by the most extensive Italian wine selection in Beijing. Speaking of wines, Rui Pastry Shop pairs you some excellent ones with sweet favorites.
Facilities
The first luxury city spa in Beijing with natural hot spring water and over 40 western & Chinese treatments! Period. In our eyes, that remains the very greatest triumph of this region's St. Regis. That said, the spacious state-of-the-art fitness center is said to offer yoga, Tai Chi, Pilates, swimming and even ballet classes. And the swimming pool is 25 meters, glass-enclosed, Roman-style and might we add, quite commendable. Post a swim, one can make their way to the hotel's Iridium spa that must, must be experienced.
Verdict
The hotel, a 5-minute walk from the nearest metro station and close to the Forbidden City and Tiananmen Square clearly possesses the allure that only a well-located property can offer to travellers. Even if you don't notice that, the efficient concierge team makes you see all its benefits with their noteworthy recommendations. Our only major negative takeaway from the experience would be the fact that despite St. Regis' renown for its Butler service, we didn't even get so much as an introduction. Said service, for us, remained non-existent.
Note – The St Regis suite costs 2800 + CNY ($ 900) per night. We were provided complimentary accommodation and services. But the opinions expressed herein are my own.
Address:
The St. Regis Beijing,
21 Jianguomenwai Dajie Beijing,
Beijing 100020, China,
Tel: (86)(10) 6460 6688