As children, Alice's adventures in wonderland left us wide-eyed. In adulthood, yet another Alice has geared up to leave you stunned. The whimsical 322-Foot Superyacht Concept called Alice will replace childlike wonders with luxury and entertainment in the form of a spectacular superyacht at this year's Monaco Yacht Show. Yes, the superyacht is aptly named after Lewis Carroll's fantasy classic, Alice's Adventure in Wonderland, and converts priceless nostalgia into a natural beauty. For now, it is a concept with fantastic renderings showing us the marvel of a man's imagination. The Monaco Yacht Show will be held between September 22-25th, where this gorgeousness will be presented by the German shipyard Lürssen. Let's take a peek inside this wonderland on water:

Lürssen's video on Youtube reveals a magnificent 98-meter vessel comprising five decks that replace the main deck with its unique layout.

In a first of its kind attempt, the designers have entirely utilized the expansive and open exterior deck with its small nature park that permits many fun activities. The idea stemmed from the feedback of many owners who say that the main salon is not utilized that much.

The company's designer Jim Robert Sluijter tried a layout like never before, which places dining areas and lounges to the upper decks, a paddle tennis court in the stern. Located below the elevated decks is a semi-enclosed bar and dance floor.

The pool area is nestled between green patches, created with trees and ponds. Only a partially covered area lets the guests look at the pool situated above their heads.

The main deck is a very zen space without the interruptions of diesel engines used to propel the boat. Alice will have a fuel cell propulsion system run on methanol.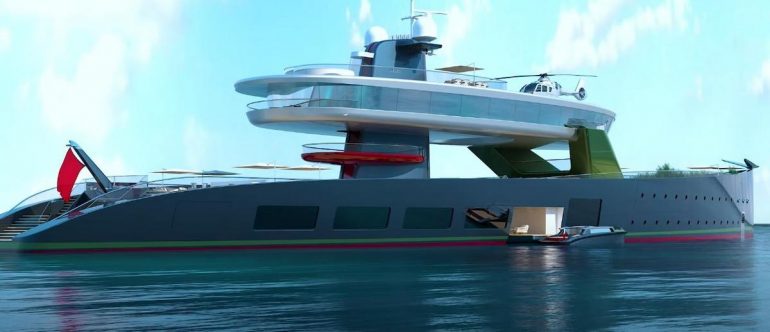 The top of the decks will sport a helipad and a viewing deck, as suggested by the renderings. The water toys and tenders will be electric.

Only a concept, for now, the scale model of the ship can be explored at this year's Monaco Yacht Show.
[Via: Lurssen]