Be ready to get scared; here's some post-Halloween spook that might make you scream aloud, especially if you love exotic combustion-engine cars. The scary images that you see here are of some of the rarest and most expensive modern-era hypercars left to rot in an abandoned state. Broken panels; flat tires; bodywork enveloped in dust and cobwebs – the photos are just too painful to see. But here's the good news: these are not real! That was scary, right? These are highly-realistic digital renderings by an Italian 3D artist who goes by the name of Dizzy Viper from his new series that depicts modern exotic cars as barn finds.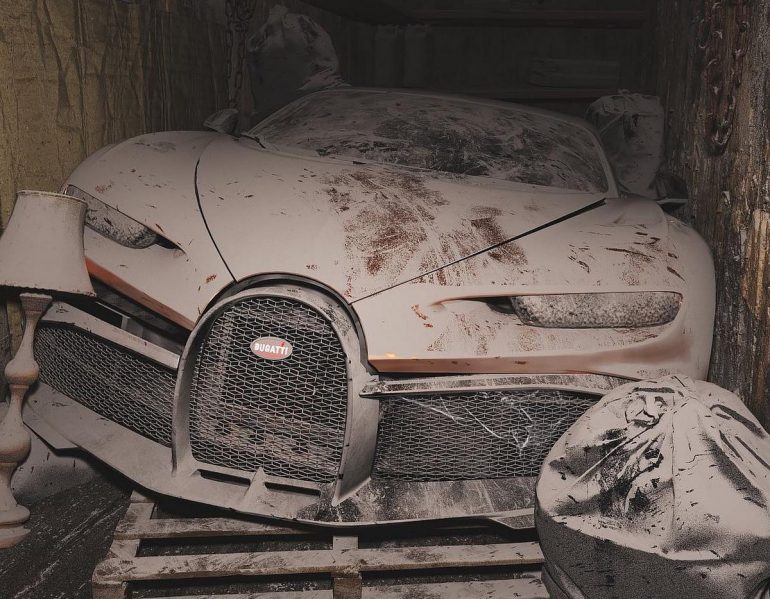 Don't we all love watching barn find hunters search for rare and collectible old cars in derelict condition and have them resurrected; the theme is so popular that we've seen plenty of TV shows made around it. Yet, seeing modern-era hypercars in a similar condition feels so wrong and uncomfortable, despite the fact that it may well be a reality a few decades down the line. The only thing that comes close to these images by Dizzy Viper is seeing beautiful, almost-new luxury cars left abandoned in the scrapyards around Dubai, and it's equally horrifying! Ferraris, Lamborghinis, AMGs, Rolls-Royces, and Bentleys – the car graveyards in Dubai have them all.

In one of the images titled "Horacio's Nightmare," a trio of Pagani Huayra BC can be seen parked next to each other and covered in a blanket of dust. Another picture shows a rare Bugatti Chiron Pur Sport with a broken front bumper lifted over a wooden pallet next to a discarded lamp and a garbage bag. It will simply break your heart.

The 3D artist also created similar barn-find digital renderings for several highly-collectible Lamborghini models, including a Sian FKP 37 and a Centenario. If that was not all, the revered McLaren P1 and the LaFerrari from the holy trinity of hybrid hypercars also make an appearance.

Expectedly, these digital renders by Dizzy went viral on the internet and are also being wildly circulated on social media platforms as real photos, which can be attributed to how realistic these images look. We cannot help but admire the photo editing skills of the Italian 3D artist; it even had us fooled for a few seconds with its hyper-realism. The images immediately reminded us of the very disturbing photos of the exotic cars that were destroyed in the devastating floods in South Korea back in September.

Do these CGI images predict the EV-only era?
We all are pretty well aware that the world is racing towards electric mobility, which sadly means combustion-engine cars might not be around for a very long time. The ever-tightening emissions regulations have already pushed V12s and V8s to the verge of extinction. So, yes, most combustion engine cars will be left to rot in scrapyards when the world finally becomes EV-only. However, most of these exotic automobiles will predictably become a part of private collections, preserved and cherished as artwork. Yet that doesn't completely rule out the possibility of some of them getting abandoned and ending up looking like the ones seen in computer-generated images by Dizzy. Okay, the thought is already making me feel dizzy!