The only sailing yacht that made news recently is Jeff Bezos' Y721. But years before the centibillionaire's sailing mammoth made rumor mills go abuzz, EOS ruled the charts. New York power couple Fox TV mogul Barry Diller and his fashion designer wife Diane Von Furstenberg wowed the world with their schooner EOS in 2006. The beautiful boat flaunts a length of 305 feet, earning her the title of the world's largest luxury sailing yacht until 2017. With such glitzy owners, the three-masted Bermuda rigged schooner has witnessed and hosted a plethora of well-known faces. Jeff Bezos made a few trips onboard EOS, which makes one wonder if it inspired his $500 million megayacht as opposed to the legendary Black Pearl? Bezos wrapped up his final weekend as Amazon CEO on Barry Diller's yacht in Greece, as per Page Six. If one of the world's wealthiest men found refuge in a $200 million EOS sailing yacht, it is undoubtedly worth a dekko. Details below: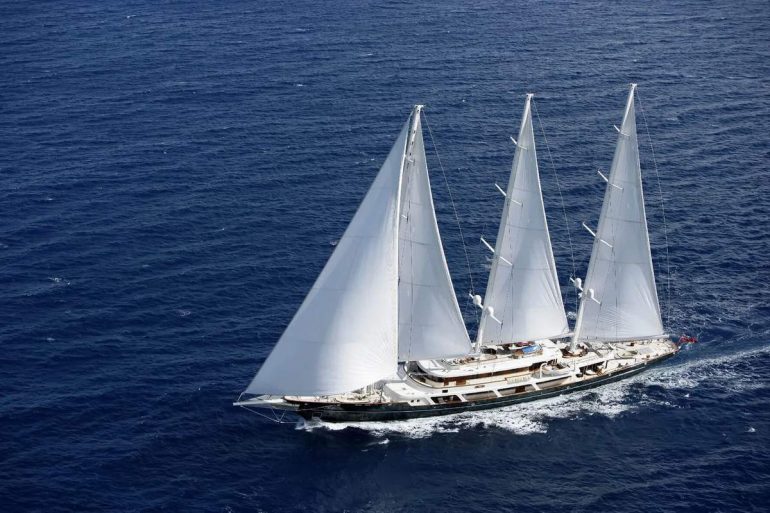 The eternally elegant EOS yacht:
This Lurssen superyacht is a floating eye-catcher featuring exterior design by Langan Design Associates, Inc. and interiors by Francois Catroux. The 305-footer boasts a beam of 13.5m, a draft of 6.5m, and a volume of 1,517 GT. EOS took no less than three years to build. Once completed, it knocked Athena yacht off the number one spot for the largest sailing yacht. The schooner comfortably accommodates 14 people in seven well-appointed cabins serviced by a professional crew of 21 who ensure a luxurious sailing experience. Being a privately owned yacht, there are nearly no images of its lavish interiors. However, every once in a while, Von Furstenberg posts glimpses with celebrities onboard EOS on her Instagram account.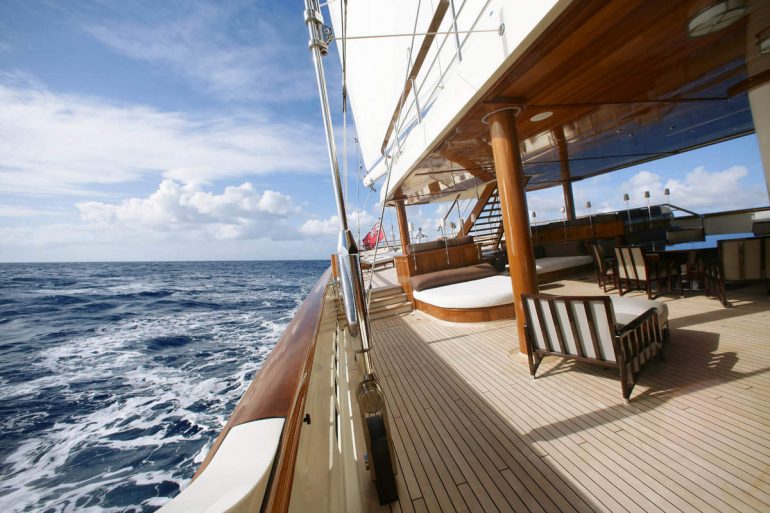 A 2009 news story about EOS' arrival in Fremantle, Australia, described the yacht's interior as "a secret kept by Mr. Diller, but it is believed to boast a glass staircase and panoramic views astern." The outgoing captain said, "I thoroughly enjoy it … I have long, unstructured hours and an ever-changing itinerary. We have no set route but travel mainly between the Mediterranean and the Caribbean." Powered by 2 MTU engines, EOS has a cruising speed of 11.0 kn and a top speed of 16.0 kn.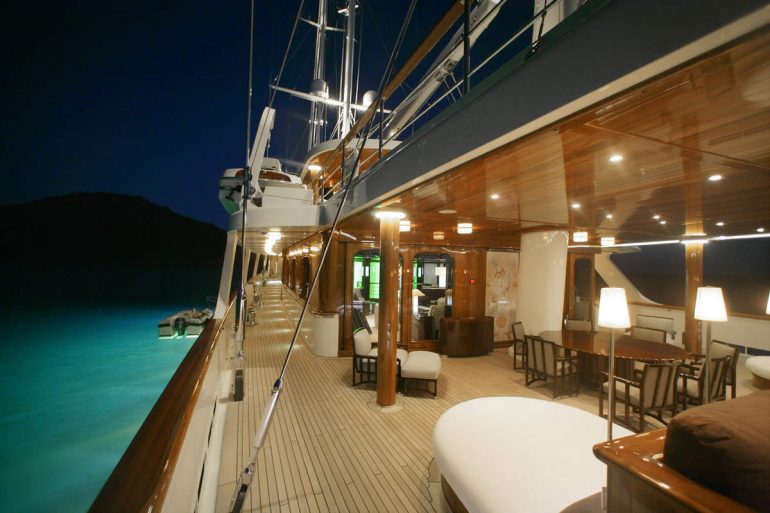 It's not been all fun and frolic for the superyacht that belongs to illustrious owners; EOS had its share of scares, as, on June 30, 2012, the ship caught fire in Oslo, Norway. The fire, though controlled, caused severe damage to the top decks. Lucky, there was no damage beyond the upper deck nor any injuries or loss of life. Barry Diller and his wife were ashore at the time.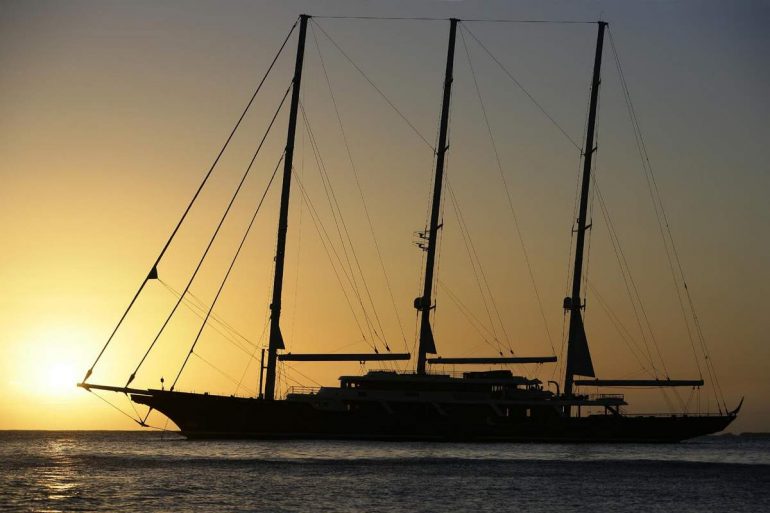 Lesser known facts of the enigma that is the EOS superyacht:
Though its owners have hosted several celebrities (Harry Style, Jeff Bezos, Andy Cohen, etc.), yet so little is known about one of the most striking sailing boats in the world. Among a few fascinating facts revealed, the one that caught our attention was the 9-foot-tall sculpture of Diane von Furstenberg sculpted by Anh Duong.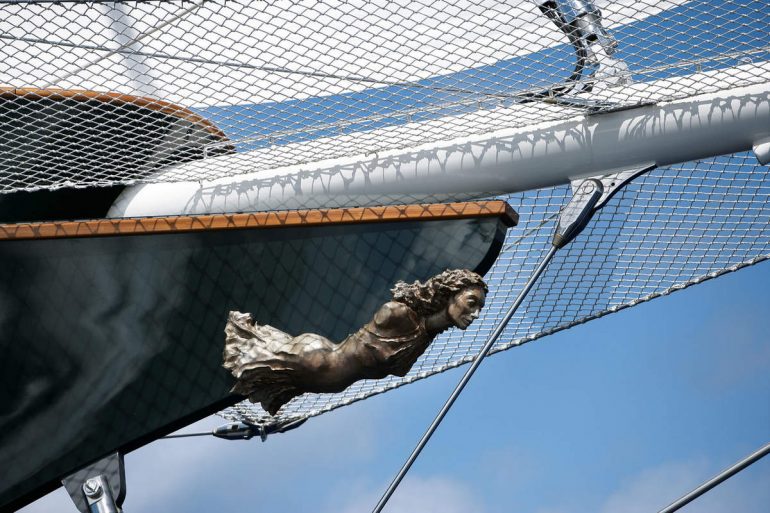 The French-American artist created the sculpture for media mogul Diller to be used as a figurehead of the $200 million yacht. Diane von Furstenberg, the fashion designer, best known for her wrap dress, played muse yet again. Duong painted an 8 x 6-foot portrait of Diane von Furstenberg, which was part of the touring exhibition Journey of a Dress. The EOS yacht also exhibits a 14ft world map mural in her interior.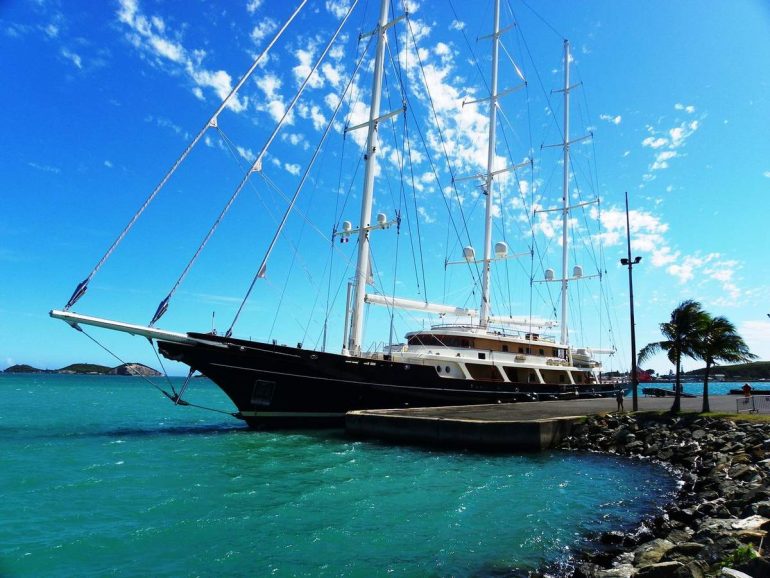 The yacht attracted $2000 a day parking charge
Do you have a parking spot outside your office? Among the lucky ones who do is media mogul Barry Diller. Even the boss had to splurge a whopping $2,000 daily in parking charges. Not to park his supercar but to park his superyacht, EOS, in the Chelsea Piers across from the IAC headquarters. In 2011, after Diller and his wife sailed in from Martha's Vineyard, the yacht remained moored in Chelsea for roughly 20 days at an astronomical cost, as per Insider.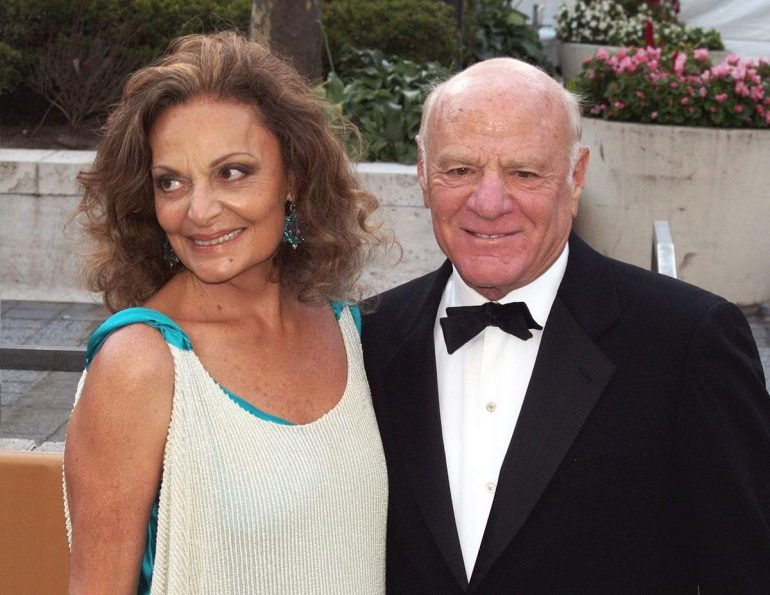 About Barry Diller:
The owner of the EOS yacht, one of the world's largest private sailing yachts, dropped out of the University of California and got a job in the mail room at William Morris talent agency. The American businessman with a net worth of $5 billion launched the internet and media conglomerate IAC in 1995. His exceptional negotiation skills earned him the moniker 'Diller killer' in the world of business.

The Chairman of Expedia was honored by the American Academy of Achievement with a Golden Plate Award in 1992, and he was inducted into the Television Hall of Fame two years later. Not many know that Barry Diller has been on the board of Coca-Cola since 2002. The Simpsons fans have Diller to thank for green lighting the show while working for Paramount and Fox.