Don't we all need second chances? Certainly! Especially when they appear dapper as Kestrel, Bassan & Benedetti Studio's 262-foot converted explorer concept, unveiled at this year's Monaco Yacht Show. This creation was a collaboration with McFarlane ShipDesign and was inspired by the "form follows function" ideology. It retains the original 1C ice-class hull, its equipment, and engineering. However, the interiors have undergone a complete overhaul, offering myriad options for customization.



"There's a growing demand for conversions due to the cost and time savings compared to new builds. Additionally, there's a significant availability of supply vessels on the market," explained a spokesperson for the studio to Boat International. The adage 'money saved is money earned' has evolved. Today, time is money, and every billionaire is keen on saving time. This sentiment enhances the appeal of the conversion superyacht concept, which can accommodate up to 12 guests in its six large staterooms on the main deck, attended by a crew of 25. The upper deck boasts expansive private terraces, an elevated living area, an observation lounge, and an owner's suite.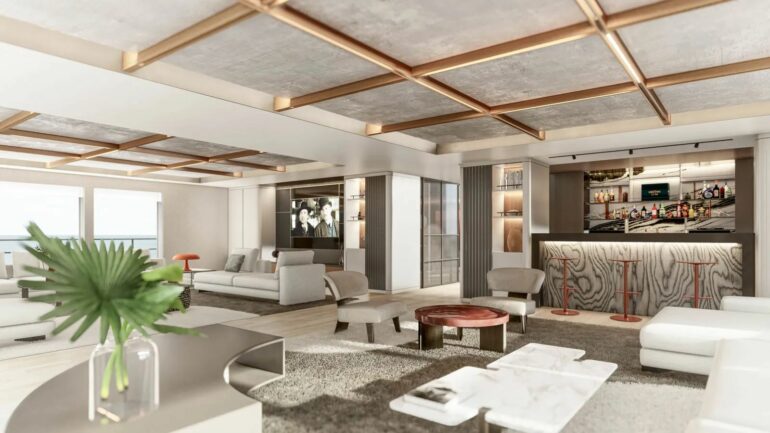 Adopting an industrial-contemporary design, the boat includes a 100 sq. m wellness area complete with a gym, spa, cinema, and a spacious 125 sq.m. toy hangar for Jetskis, diving gear, and even a submersible.

The vessel's features don't end there: Kestrel also has an 18-foot pool, an outdoor cinema, a certified helideck, and scenic dining areas. Performance is always crucial. The Kestrel can achieve a top speed of 18 knots and cruises comfortably at 16 knots.