After living life indoors for an unusually long time, many people love the idea of living life in the fast lane or any lane. For many, off-roading sounds like a good way of making the most of the world out there for which we have the perfect, hunk-of-a-companion? The all-new EXP-8 by Australian company Bruder may look like a beast outside, but inside you will find all the comforting luxuries of a top-notch trailer. The EXP-8 is fit for all rugged terrains during all four seasons. Set to be launched in October 2021, the official website describes the latest offering as the "largest and most spectacular design yet," it "offers a vast interior, spectacular self-sufficient power capability, and true go-anywhere long-range capability."



Let's discuss changes first; the EXP-8 is different from its predecessors as it comes sans the pop-up roof for extra standing space. The outdoor kitchen has been parted with to make space for an additional sleeping unit for two. This way, the expedition trailer will sleep four people with utmost ease. The front end houses the bathroom, fridge, and storage closet. Ahead lies the kitchen opposite the dining area, and it also includes a 12-bottle wine rack.

The exterior is worth applauding, with several beneficial features like an insulated body and a waterproof chassis. The highlight of the Bruder EXP-8 is the 1,600-W solar array on the roof that keeps the 2.5-kWh (1,000-Ah) battery pack full of juice along with a 5,000-W inverter. It also ensures your amenities like a hot water system, ducted AC and fans, pressurized air filtration system, onboard water purification, and a solarized electrical system work smoothly and without crash on your demanding adventures. The Bruder EXP-8 is scheduled for official introduction in October for $177,000.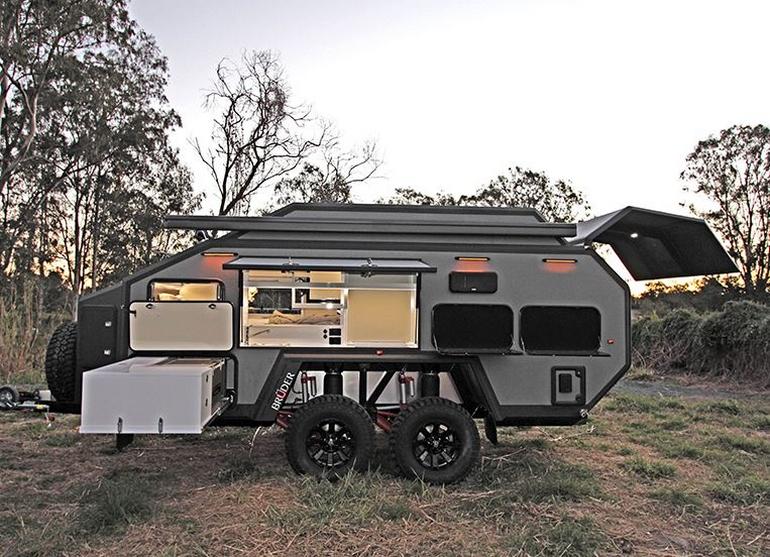 [Via: New Atlas]