If you think Chelsea owner Roman Abramovich only has love for football you have got it all wrong. The man loves luxury and luxurious aircrafts even more after all he owns a fleet; a customized Boeing 767-33A ER nicknamed 'The Bandit' worth $80m, Boeing 737-700 worth $73m and another Boeing 767-300 plane worth $67m are all owned by the man whose net worth is US$11.9 billion. We are going to take a tour inside 'The Bandit' which actually should've been called 'the aerial palace' for its sheer opulence and beauty.



A banquet hall in an aircraft? Why not? Roman Abramovich's lavish Boeing 767-33A ER has one that looks like a palace and can house as many as 30 people.

Bedrooms like these have only been witnessed in palaces on the ground. To have the same luxury in an aircraft is truly prodigal with a double bed, expensive sheets, affluent interiors that glisten in hues of gold.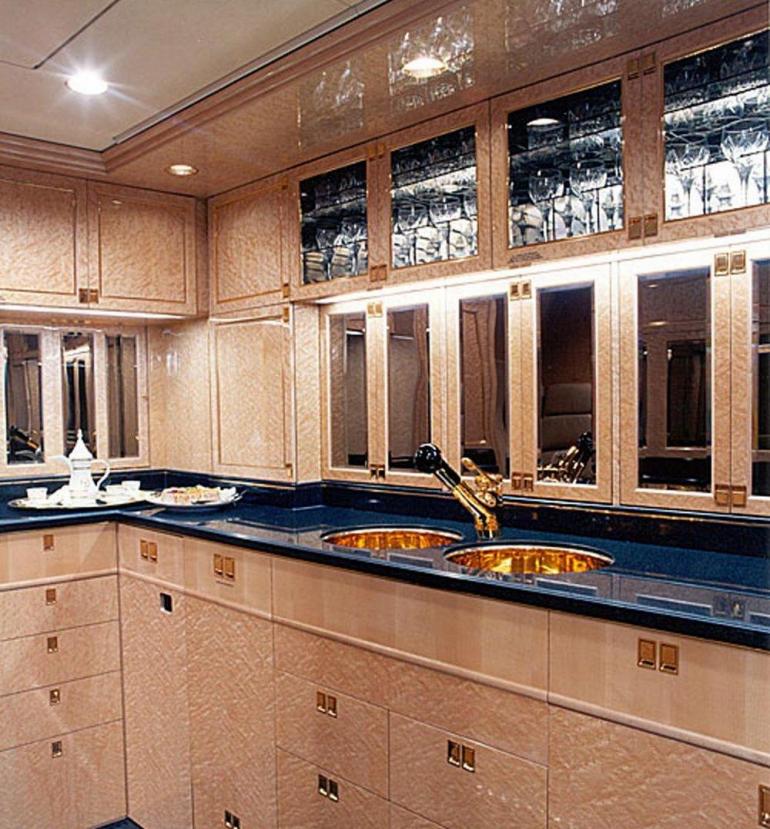 What you see in the picture above is the difference between a kitchen and a kitchenette. The luxurious aircraft comes with a complete kitchen outfitted with double sinks, cabinets, drawers, etc. The posh interiors are observed here too.

We are digging the rich use of chestnut wood and gold trims everywhere. It gives the private aircraft a warm touch while looking plush in all atmospheres.

Style and good taste can be seen in every nook and corner of this massive aircraft. Expensive materials have been used to create unmatched comfort and design.
[Via: Daily Star]