Some recent unfortunate events have shifted the focus on the superyachts of Russian billionaires and their magnificence. No doubt superyachts like Eclipse, Solaris, Dilbar, and Nord, among others, are exemplary, but there are more ships in the sea worthy of the accolades. Lurssen-built A+, formerly dubbed Topaz, has held the attention of the yachting industry ever since its launch in May 2012. A+ is the fourth largest yacht to be launched by the German shipyard and belongs to a member of the UAE elite- Sheikh Mansour. As with most ships belonging to private billionaires and royalty, few details are available about the megayacht. But whatever little is out there is mighty impressive and worth looking into.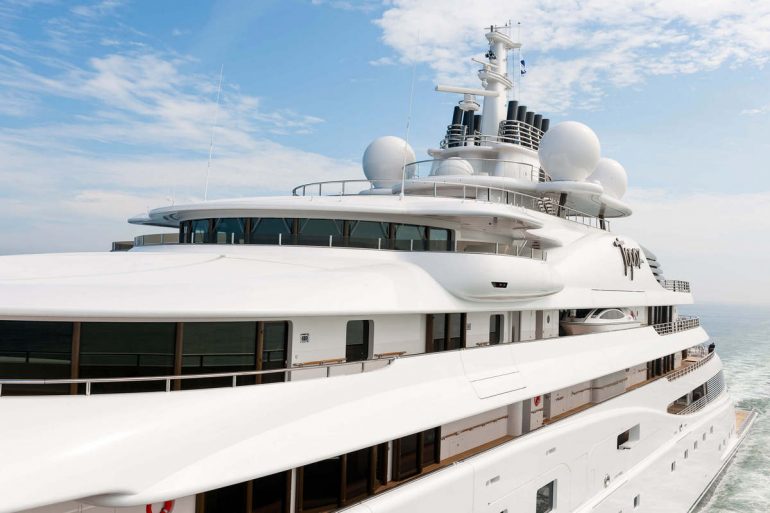 If yachts had grades, A+ would get an A+:
At 483-feet, A+ is one of the largest yachts sailing the seven seas. She flaunts a volume of 12500 GT, making her one massive luxury vessel that befits the stature of her royal owner. The credit for the yachts' fantastic features goes to Tim Heywood for the robust exterior and Terence Disdale for outstanding interiors. Keeping the enormousness of the ship in mind (its beam stretches almost 71 feet), its upkeep is looked after by 79 crew members.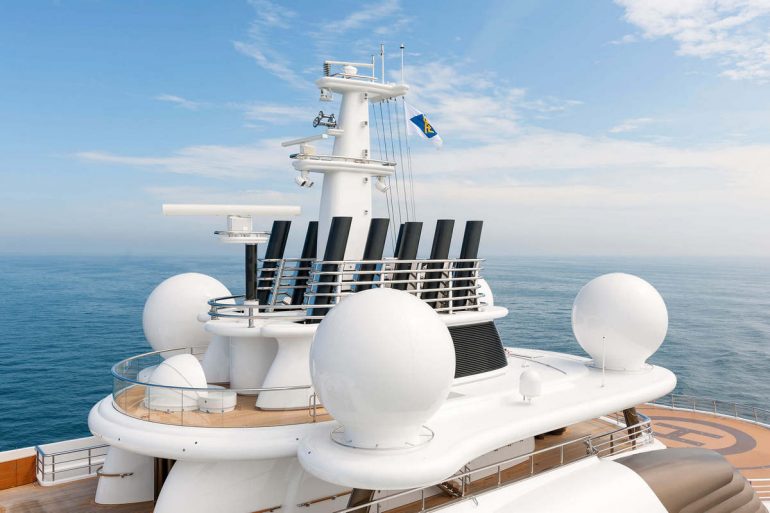 The ship's personnel are trusted to look after 62 guests who can spend leisurely time in 26 lavish cabins. While there are no images of the cabins, we know the A+ has a long list of fabulous amenities like a dance floor, beach club, a well-equipped gym, and a wellness center with a spa, Jacuzzi, steam room, and a beauty salon.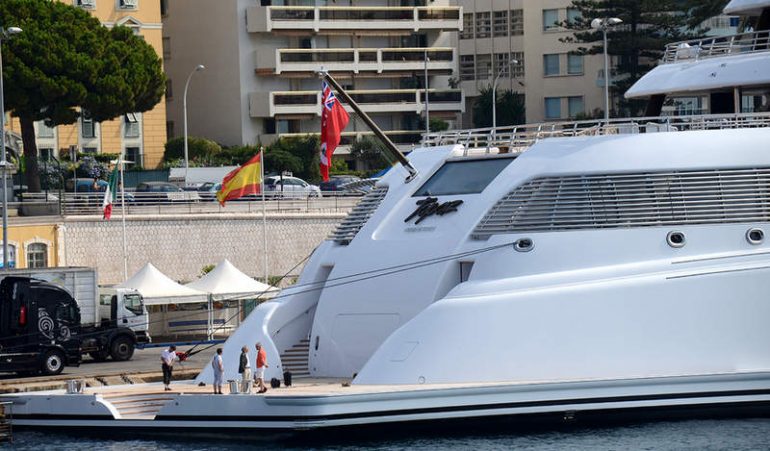 Two elevators connect the eight sprawling decks that lead guests to the helipad and swimming pool. The $450 million megayacht also boasts a deck jacuzzi, movie theatre, and a conference room. Those who love the fresh air will appreciate that the vessel is sprinkled with several dining areas inside and out. For adrenaline junkies, an oversized tender garage holds water toys such as jet skis, a catamaran, inflatable boats, and a mini-submarine as per Yacht Bible.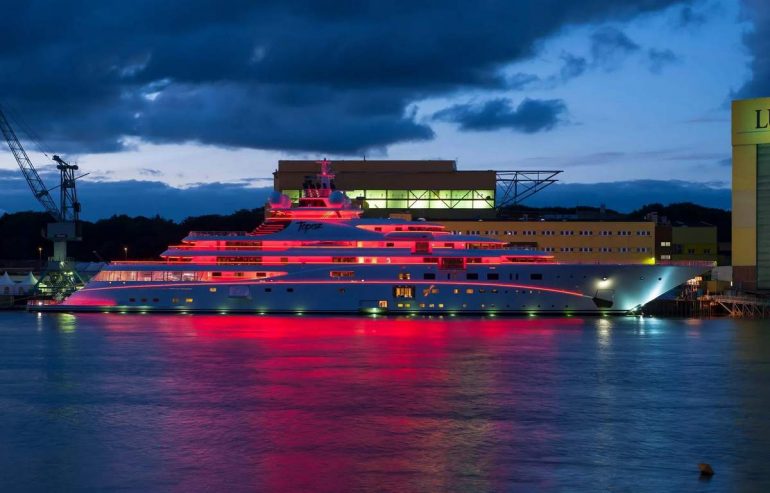 The stunning ship illuminates like a firecracker in the seas with an impressive light display highlighting its name, A+ Yacht. And if that was not enough Showcasing in its full glory at night are dazzling underwater lights. A+ has a top speed of 25.5kn owing to her twin Peilstick diesel engines. The $450 million luxury motorboat took four years to build. CNN shared a UK-based broker Towergate Insurance report that owners are likely to spend at least 10% of the purchase price on the yearly cost of maintaining and operating their yacht. By that understanding, A+ has a running charge of almost $50 million per year.

Leonardo DiCaprio also partied on the A+:
The actor who put ships on the map with his blockbuster Titanic was charmed by the world's fifth-largest superyacht in 2014. Hollywood superstar Leonardo DiCaprio borrowed the luxury vessel from Sheikh Mansour bin Zayed Al Nahyan, deputy prime minister of the United Arab Emirates and owner of Manchester City F.C.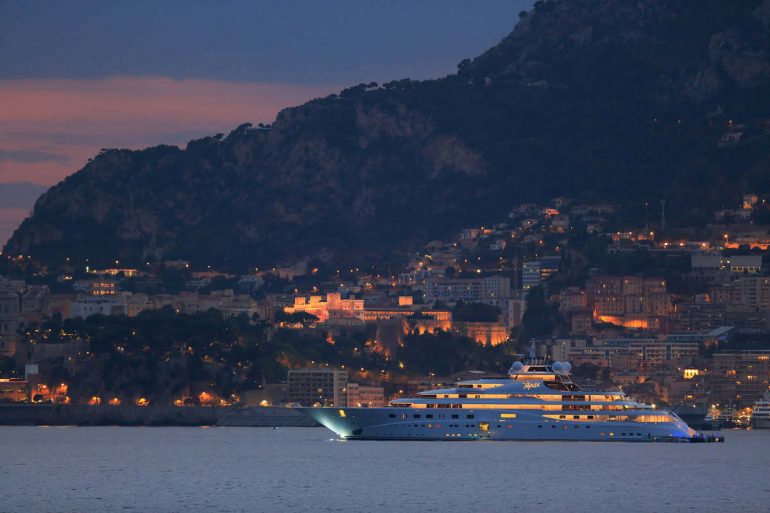 The actor enjoyed the World Cup along with 20 friends in tow aboard the gorgeous A+ in Brazil for the World Cup. It was reported by Daily Mail that Leo teamed up with Jamie Foxx and Orlando Bloom to host an 80s-themed party on the Topaz in New York. One hundred guests attended the glittering bash, and over 80 crew members were sworn to secrecy before the party started.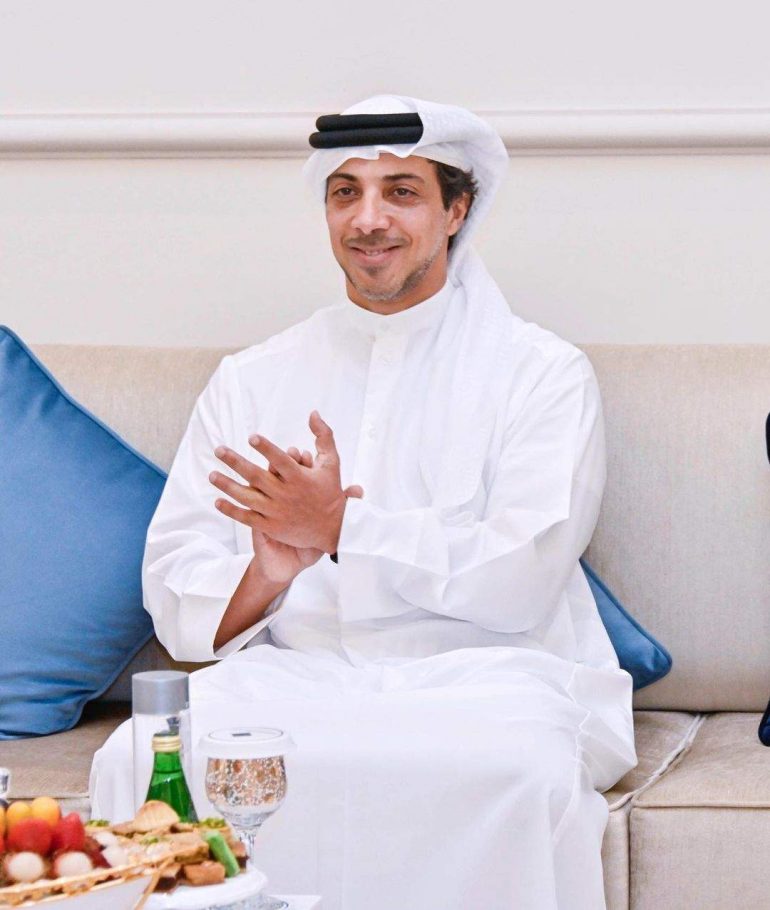 About Sheikh Mansour Bin Zayed Al Nahyan:
A+ belongs to billionaire Sheikh Mansour Bin Zayed Al Nahyan, who is also a member of the ruling family of Abu Dhabi. He is the owner of ADUG Investment Company that owns a 78% stake in the Manchester City F.C. As per Superyacht Fan, the royal enjoys an estimated net worth of $38 billion. Mansour is known mainly for his prominence in the domain of finance. He chaired several of Abu Dhabi's financial entities like the Abu Dhabi Fund for Development, the First Gulf Bank, which is now a part of First Abu Dhabi Bank, and the International Petroleum Investment Company. He received a bachelor's degree in international affairs in 1993 from United Arab Emirates University. The accomplished equestrian attended Santa Barbara Community College as an English student in 1989.