Jeff Bezos' controversial Oceanco Y721 sailing yacht has finally been spotted with her gigantic masts stepped, which suggests the $500 million superyacht is nearing completion and will soon head out for her sea trials. The folks at Dutch Yachting posted a video of the 127m schooner last Sunday on YouTube, giving us a closer look at the gorgeous sailing yacht in her final form with her fore, main, and mizzen masts stepped. With her huge masts finally raised, the truly overwhelming size of the superyacht can be properly appreciated.



After all, the Oceanco Y721 is not only the largest superyacht built in the Netherlands but also the biggest sailing yacht in the whole world. To put her colossal size into context, the Y721 is almost twice the length of the Airbus A380 and is taller than the Great Pyramid of Giza with her masts raised.
Only a few days back, the Y721 sailing yacht was taken out of the dry dock in an unfinished state and quietly towed to Greenport in Rotterdam in the wee hours to avoid attracting attention. In case you're somehow unaware of the controversy surrounding the $500 million schooner, the vessel grabbed headlines across the globe earlier this year when several news reports claimed a historically important bridge in Rotterdam had to be partially dismantled as her masts were too tall.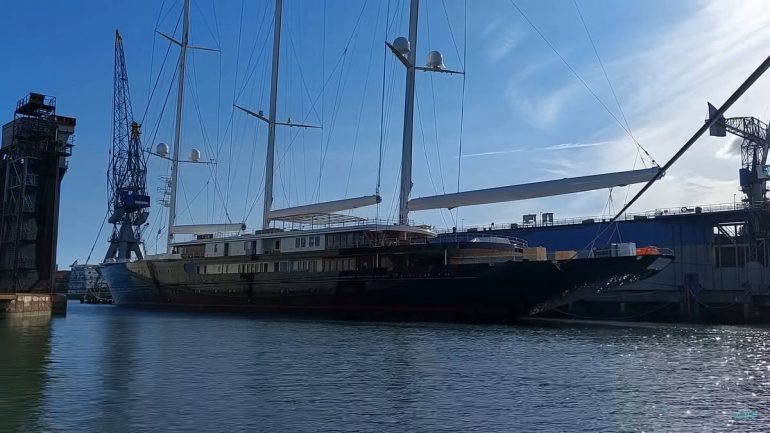 There were widespread protests and some locals even started an online campaign to throw rotten eggs at the superyacht if the iconic Koningshaven Bridge were to be dismantled. Dutch shipbuilding company Oceanco finally decided not to peruse the matter that stealthily tow the vessel without her masts to Greenport for the final stages of completion. The company even chose to take an unusual route while transporting the yacht and even used bright flashlights to deter fans from taking videos and pictures.