Sheikhs are found in palaces, superyachts, and the lap of luxury. The Minister of Foreign Affairs, UAE's Sheikh Abdullah bin Zayed bin Sultan Al Nahyan, added 'soup' to this extravagant mix. Knowingly or unknowingly, the son of the founder of the United Arab Emirates, Zayed bin Sultan Al Nahyan, sailed with this gargantuan yacht Opera in the protected waters off the Tuscan island of Giannutri, Italy. For the commoner, this Tuscan paradise is off-limits, left only for rare marine species of the Mediterranean to enjoy. The practically human-free zone is an untainted and fragile domain subject to considerable prohibitions. While people are allowed to visit the island, it is restricted to 100 people a day who need an entry ticket for access while being mindful not to disfigure the flora and fauna heritage. For the island's safekeeping, even pets need to be leashed at all times.

In the above video, multiple jet skis and perhaps even a yacht tender or a speed boat can be seen speeding around the Opera megayacht.
As reported by the Italian daily Repubblica, the locals were justifiably flabbergasted to see a $450 million yacht weighing 12,518 tons sailing in all its glory with literally no care in the world. Environmental association Legambiente stated superyacht Opera, owned by Abdullah bin Zayed al-Nahyan, had violated the protected waters on July 17. "Like in a film, motorboats and water scooters emerged from the belly of the megayacht and romped about in the protected waters of the island, an area off limits to normal mortals."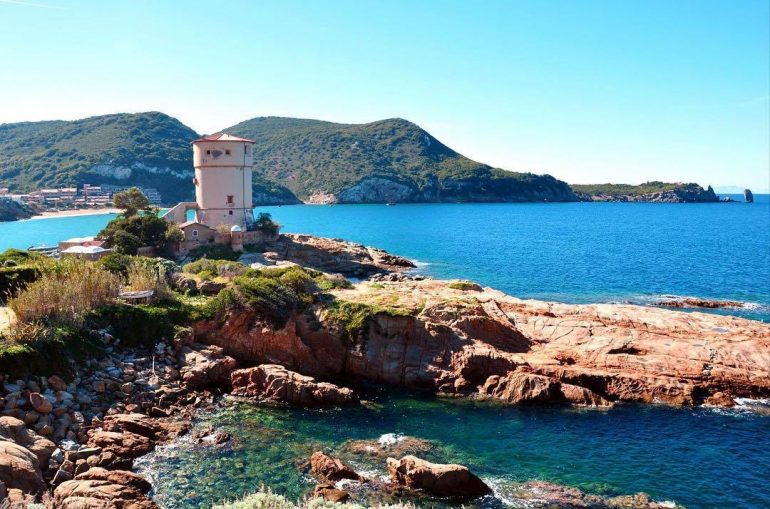 The locals were obviously hurt given that they cannot access the pristine waters as it is forbidden to swim, but the same rules don't apply to the affluent billionaire sheikh worth $10 billion. A video was shared by an Italian publication LA 17 featuring a massive superyacht in one of the unprotected corridors, with toys and tenders liberally zipping in and out. "We dream of bathing in places like this, but these people do what they want," said a local. The Legambiente campaigners urged ministers of the Environment, Foreign Affairs, and Marine Policies, Gilberto Pichetto Fratin, Antonio Tajani, and Nello Musumeci, to act against this "violation of environmental and maritime sovereignty." Still, Italian authorities cannot risk destabilizing relations with one of Italy's key economic and diplomatic partners. Who is in a soup now?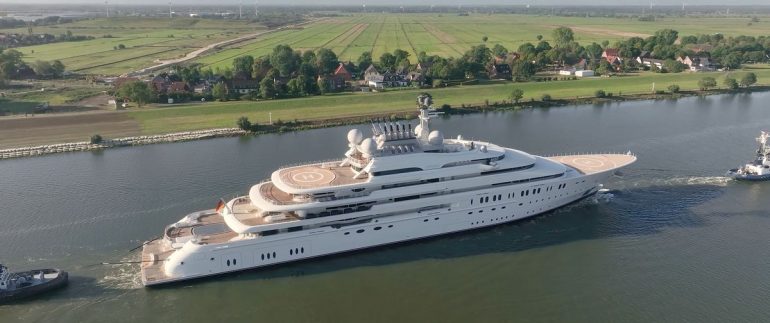 The $450 million opulent rule-breaker Opera-
478 feet long, 7 decks, and a gross tonnage of 12,150 GT give a pretty clear idea that the Opera Yacht is as 'mega' as they come! If that wasn't enough, perhaps the nearly half-billion cost and a regal owner should do the trick. The Lurssen behemoth was the largest and most expensive yacht delivery of 2023. Sheathed in secrecy, the stunning ship reveals only its exteriors for admiration. Opera boasts a teak deck, a steel hull, and an Aluminum superstructure, but there is more beneath than meets the eye. Designed by Terence Disdale, Opera features among the top 10 superyachts in the world, with space for up to 48 guests in 24 staterooms and a staff of 80.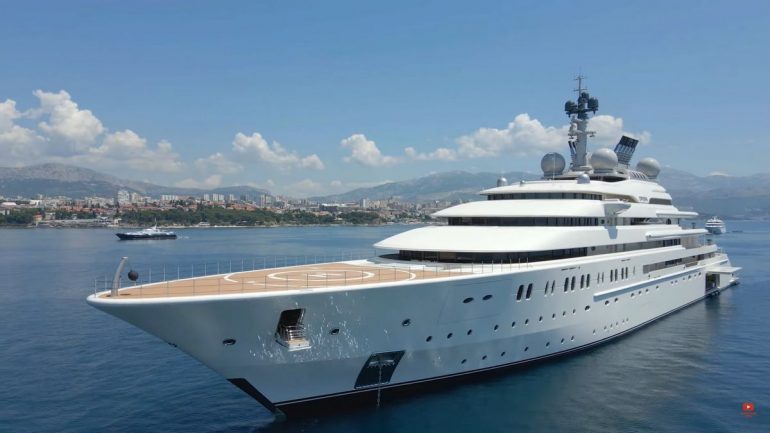 The magnificent luxury vessel will unquestionably house every lavish amenity. Still, we are sure of a Jacuzzi on the sundeck and a swimming pool on the main deck aft. Images also reveal a helipad on the foredeck. Compared to other megayachts, it is safe to presume Opera will include a cinema, spa, wellness center, several alfresco dining areas, a hospital for the royal family, some enviable artwork, and top-notch features that would put 5-star hotels to shame.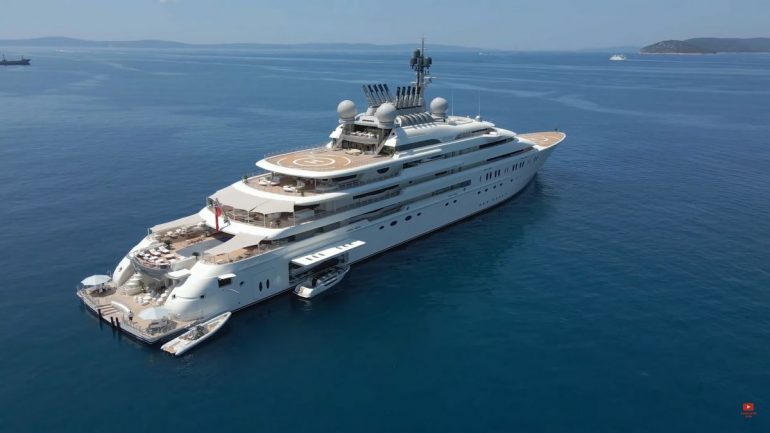 The $450 million boat powered by MTU engines boasts a top speed of 20 knots and comes with an annual running cost of $35-$40 million. The royals and their massive cruiser continue to bask under the Italian sun as the ship is currently at port Civitavecchia, Italy, nearly three hours away from Giannutri.

Giannutri is one of the seven islands comprising the Tuscan Archipelago National Park-
The island of Giannutri features 18,000 hectares of land and 60,000 of the sea. The crescent-shaped island forms the southernmost part of the Park. Its natural habitat hosts fin whales, sperm whales, dolphins, poseidonia, and sea roses, as well as the wrecks of Etruscan and Roman ships.

Even though the entire coastline of Giannutri is not accessible (Zone A, the southern part, exercises stricter restrictions), it still charms snorkelers and scuba divers with its clear blue waters and bio diverse seabed.

Sheikh Abdullah bin Zayed Al Nahyan boasts a $10 billion net worth-
Appointed Minister of Foreign Affairs of the United Arab Emirates in 2006, the affluent politician has remained focused on maintaining clear political positions, fostering international partnerships, and establishing specialized diplomatic capabilities. The 51-year-old half-brother of the late President of UAE and Ruler of Abu Dhabi, Khalifa bin Zayed Al Nahyan is a political science graduate from UAE University.

An avid reader and keen sportsman, he is particularly interested in scuba diving which must have drawn him to the marine life-rich Giannutri islands in Italy. In addition to sports like football and cycling, the father-of-five also enjoys classical music.