The Italian shipyard Admiral Tecnomar launched the Tecnomar NADARA 30 meter a.k.a. superyacht Zahraa. So while Formula 1 mogul Eddie Jordan's superyacht comes with a nightclub, this one is the first boat to boast a stunning hull-of-its-kind, besides hosting ultra luxe contemporary interiors to complement its lush bronze glamor. Designed by Tecnomar Centro Stile the fit-for-eight vessel with red waterline and design metal grids at aft is the mother lode of all cruisers. Lets learn how.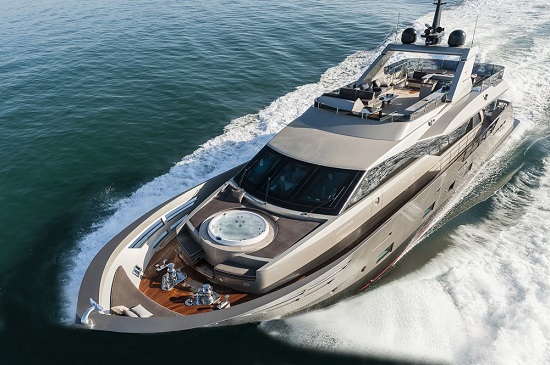 A large main aft deck and swimming platform, wait aboard. An apostle of modern-day grandeur, the panoramic foredeck and exquisite sun deck are also the stars of the yacht's stylish outdoors. This fact is further established via al fresco dining areas, framed by stunning vistas. And the impressive sunbathing and lounging area, which offers large sun pads and a big Jacuzzi as well as a set of lounge sofas. Clearly the superyacht sparkles on the outside but its strong silhouette is met by warmth and comfort within.

Starting from the elegant saloon wherein lie large, inviting sofas, in with crisp white leather upholstery and a corner bar in backlit onyx. The union of these two key saloon ingredients is witnessed by soft, light carpeting and contrasting dark, wooden wall paneling. Not to mention, giant windows that welcome ample sun into the saloon's metropolitan splendor. The luxury of the main saloon extends to Zahraa's guest quarters.

Located on the lower deck, the quarters consist of one spacious full beam master aft, one large VIP suite fore and two big twins, all classic Zahraa, all captivating. When we say captivating, we're obviously pointing out to the spacious stateroom within each suite. The master suite even offers an extra spacious en suite, and his and hers wardrobes; clear signs the guest accommodations are not just absolutely splendid but also perfectly inviting.
[Via – Superyacht-Times]