Over the years, we have seen plenty of very interesting Mercedes-Benz Sprinter Van builds, including really cool campers and opulent mobile offices more luxurious than private jets. However, we had never come across a Sprinter van converted to a mobile barbershop until now. Well, here it is – a well-equipped luxury barbershop on four wheels. Created by HQ Custom Design, this Sprinter Van barbershop has everything from a full-size barber chair to proper plumbing, tools, and all else you'll expect from a good saloon. We're surprised to see how well the space is managed inside the cabin of this mobile barbershop; at least from the pictures, it doesn't look cramped.



HQ Custom Design is a New Jersey-based customization shop that specializes in Ford Transits, Cadillac Escalades, and Lincoln Navigators. To be fair, the mobile barbershop looks quite impressive. The cabin is wrapped in white upholstery, which is necessary to make the interior feel airy. The cabin also gets a nice wooden-finish flooring along with matching wooden laminated counter tops along with a large sink with running hot/cold water. The centerpiece is the barber chair with caramel-colored upholstery. The chair can also recline and swivel, which is quite impressive for the amount of space inside the van.

In addition to everything needed for making it a functional barbershop, the Sprinter van also gets additional features like a 32-inch TV, Wi-Fi connectivity, LED ambient lighting, and window shades. The custom shop has also equipped the van with lithium batteries, a custom battery tray, a 3,000W power inverter, and a diesel heater. "We have worked with a wide array of professional barbers, hairstylists, and nail technicians to customize these types of mobile work units," an official statement by the New Jersey-based tuner states. Both cargo and passenger versions of the Sprinter can be converted into mobile barbershops. While everything sounds great and I'll love a haircut on the move, but I was wondering what happens if the van hits a pothole?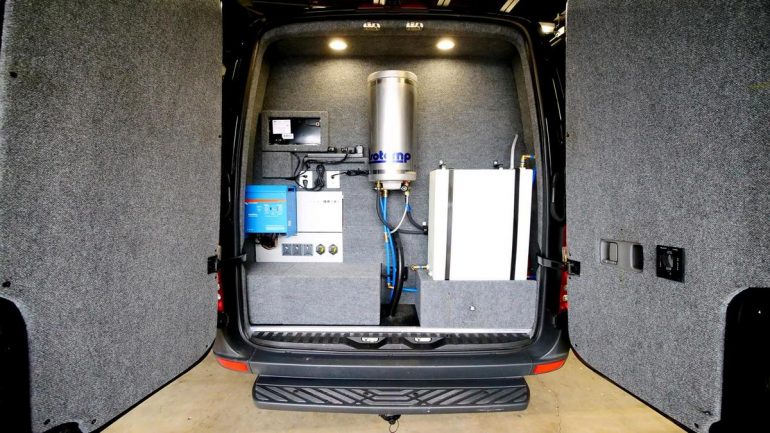 [Via: autoevolution]