It was at the end of May when sanctioned Russian billionaire Andrey Melnichenko's $300 million Motor Yacht A was first spotted in UAE after it switched off its tracking system (AIS) in March to avoid being seized by the western authorities. The blade-shaped superyacht has not transmitted its location for close to 5 months now and global marine traffic tracking systems continue to show the Maldives as its last confirmed location. However, after spending over two months anchored opposite Ras al-Khaimah's city-center fish market, the 119-meter pleasure vessel has finally moved to a new location. According to a YouTube channel named eSysman SuperYachts, the Motor Yacht A was recently spotted in Dubai close to The World Islands.



The World Islands is an archipelago of small artificial islands constructed in the shape of a world map and is located off the coast of Dubai. While the YouTuber didn't have pictures or video footage to support the claim, he did come up with satellite imagery of the islands where two massive superyachts can be seen. Apparently, the other superyacht that's located close by is the 140-meter superyacht Ocean Victory owned by sanctioned Russian steel tycoon Viktor Rashnikov. Rashnikov was one of the first Russian oligarchs to be sanctioned by the EU and the UK after Russia's invasion of Ukraine. To protect the $300 million superyacht from getting seized, the AIS transponders of Ocean Victory have also been switched off since March.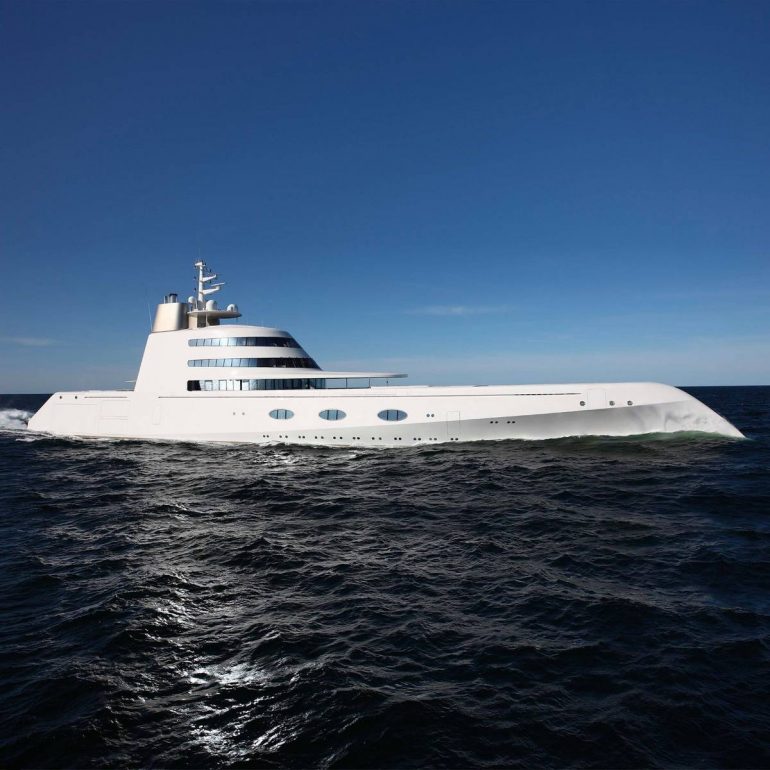 Interestingly, Motor Yacht A was de-flagged by the Isle of Man as a part of the sanctions against Melnichenko. The fact that the superyacht finally moved after being moored for such a long period indicates that the vessel might have a new flag state; although, there's no official confirmation. The superyacht-themed YouTube channel also points out that the tender boats of Motor Yacht A have been spotted flying the Marshal Island flag. But a superyacht and its tenders can have different flag states, as pointed out by the YouTuber, and Motor Yacht A did carry the Marshal Island flag in the past. It will be interesting to see what Melnichenko plans next for his prized possession.