Known for crafting masterpieces in customized luxury coaches Lexani Motorcars have done it yet again. The Californian custom- coach company has introduced its newest brainchild, a beautiful armored Mercedes-Benz B6 Sprinter for the ultimate in luxury and personal security.



The Reále oozes extravagance and poses an experience so indulgent with the perfect blend of technology and elegant artistry. Clients can create a bespoke five star experience to serve their every need be it business, family, entertainment, security, all with a heavy dollop of luxury.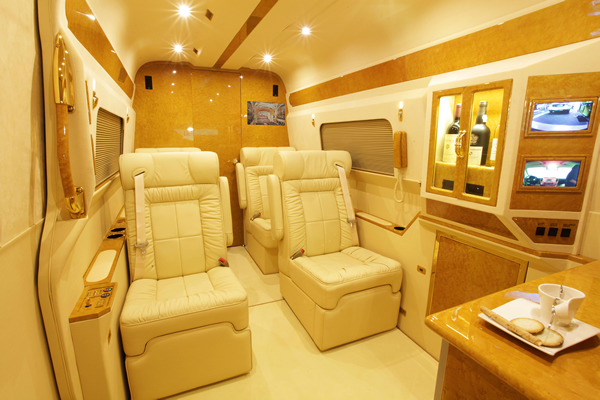 Lined with Alcantara suede, the spacious interior appears immensely inviting, featuring plush overhead and side panels and handcrafted fine leather seats.

It also includes a charming galley kitchen replete with fine modern wining and dining features.

The Reále also features a luxurious lavatory enclosing an exuberant ceramic toilet and a breathtaking gold-plated sink, marble floors, and even a concealed coat rack.

The luxurious, one-of-a-kind Lexani Motorcars Mercedes-Benz luxury coach features an unassuming exterior and an interior design with only the finest bespoke trimmings rivaling those found in high-end yachts and private jets. With intricate attention to detail the meticulously crafted coaches are the ultimate in drool- worthy merchandise that defy the bourgeois and define modern luxury travel.

The Mercedes-Benz B6 Sprinter can be customized off as well as online and clients can attain custom- coach nirvana, executive- suite- style, albeit at a price that crosses the $450,000 mark.
[Via – Lexani-Motorcars]