The Rimac C_Two electric hypercar finally has a proper name. Meet the Rimac Nevera, the production version of the concept that was showcased by the Croatian EV manufacturer three years ago. Named after a Mediterranean storm, the electric hypercar arrives with jaw-dropping technical specifications. Although the production version looks near identical to the original concept, especially the exterior design, Rimac has finetuned different aspects of the hypercar to make it a truly remarkable machine. According to the manufacturer, all the different design changes have resulted in a 34 percent increase in aerodynamic efficiency compared to early prototypes. The electric hypercar is equipped with many active aero elements, including the front hood, underbody flaps, and the rear wing and diffuser. On the 'Low Drag' mode, all the active aero parts come together to minimize drag and bring down the drag coefficient to 0.30. While the 'High Downforce' enables the aero elements to boosts downforce by a whopping 326 percent.



On the inside, the cabin is wrapped in the finest leather, Alcantara, and carbon fiber. The design is a mix of traditional and futuristic elements, which we must say it looks absolutely beautiful. There are a total of six displays, which include the tablet-style central infotainment screen, an all-digital instrument panel, a standalone passenger display, and three tiny screens fitted inside the knobs. The infotainment display will also access Rimac's first-of-its-kind 'AI Drivers coach', which utilizes Nevera's 12 ultrasonic and six radar sensors, as well as 13 cameras to help "optimize and enhance the driver's on-track performance."

The Rimac Nevera features a quad-motor setup that can cumulatively produce 1,914 horsepower and 1,741 pound-feet of torque. But, wait till you hear the performance figures! The electric hypercar sprints to 60 mph in just 1.85 seconds. It can go from zero to 186mph in just 9.3 seconds and will top out at 258mph. The two-seater hypercar will only take 8.6 seconds for the quarter-mile run. It's simply insane! Powering the hypercar's electric motors is a large 120-kWh battery that promises a rather respectable 342-mile range. The in-house developed battery pack only needs 22 minutes to charge from 0 to 80 percent with the help of 500-kW fast-charging. Rimac has said that only 150 units of the Nevera will be made, each priced at 2 million euros (approximately $2.4 million). Each one will be personally signed off by the company founder and CEO Mate Rimac. Rimac even goes on to says no two Nevera hypercars will be identical.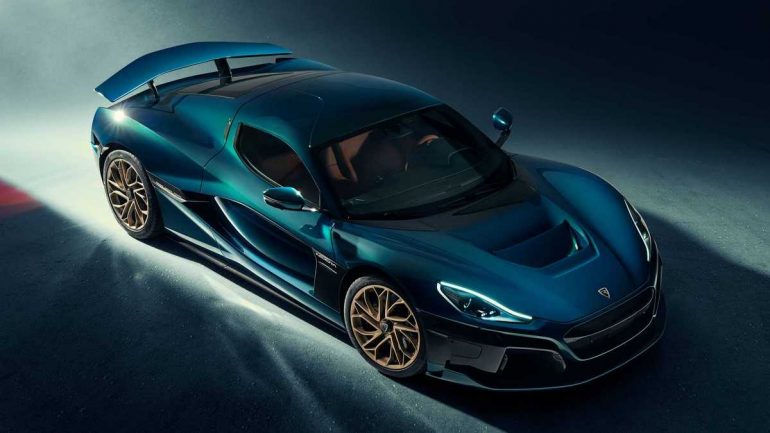 [Via: Motor 1]