Remember Japanese billionaire Yusaku Maezawa who was announced as the first moon tourist on Elon Musk's Space X back in 2018? Well, he might still be looking for his crew of eight more people to assist him on his lunar voyage, but in the meantime he has commissioned a bespoke Rolls-Royce Phantom designed and handcrafted by the British luxury automaker in collaboration with Hermès. The Japanese entrepreneur, who also happens to be a world-famous art collector and supercar enthusiast, envisioned the bespoke Rolls-Royce as a 'land jet' to complement a recently commissioned private aircraft.


"It is the result of a deep, genuine collaboration between the Houses of Rolls-Royce and Hermès, in which designers, materials specialists, and skilled craftspeople worked side by side to create a truly one-of-a-kind Phantom," said Torsten Müller-Ötvös, CEO of Rolls-Royce Motor Cars. Specialists from both Rolls-Royce and Hermès pooled their expertise in using top-notch materials, techniques, and know-how to create the one-off Phantom for Maezawa.

The bespoke Rolls-Royce features a distinct two-tone exterior finish that combines MZ Oribe Green and cream. According to the automaker, the paint scheme has been inspired by colors in the client's world-class collection of ancient Japanese ceramics. The unique green shade of the upper section of the Phantom was created exclusively for the client and was made available by Rolls-Royce for use on his private jet. "This unique Phantom is a fusion of East and West, ancient and modern, serenity and exhilaration," said Michael Bryden, Lead Designer, Rolls-Royce Bespoke Collective. "It was a great creative and cultural exchange working with Hermès; we learned a great deal from each other. It is always a pleasure when a client brings us a bold, clear, and imaginative vision and a great thrill to see it realized so perfectly."

The bespoke cabin of the one-off Phantom is wrapped in Hermès Enea Green leather, including all the immediate touch-points of the owner such as the steering wheel, duchess handles, gear selector, and the rotary controls for the motor car's climate settings. The Hermès leather also finds its way into less visible places like the glove compartment and luggage compartment lining, center console, decanter stowage compartment, and Champagne cooler. The headrest cushions and calf supports of the rear seats get delicate Hermès piping, while the green upholstery is contrasted with soft Seashell White accents and matching lambswool floor mats. The glove compartment lid also features the signature Habillé par Hermès Paris.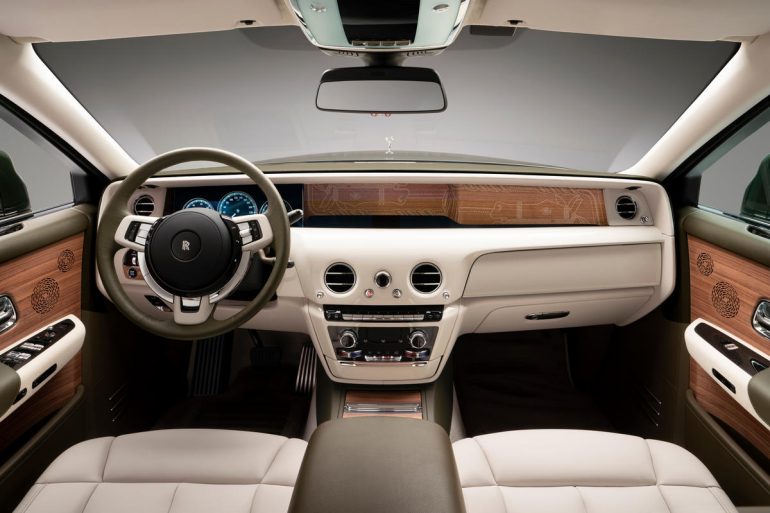 The Rolls-Royce Bespoke department's craftsmanship can be seen on design elements such as the wooden speaker frets made using perforated Open Pore Royal Walnut veneer, which can also be found in the center and rear consoles and picnic table backs. For Phantom's Gallery, Hermès commissioned an artwork based on a design by the celebrated French artist and illustrator Pierre Péron (1905–1988), who created many of the House's iconic scarves. Inspired by the famous Hermès horse motif, the artwork is hand-painted on Open Pore Royal Walnut and is presented as staged in an art gallery behind glass.