Tired of pesky drones flying around your property without permission? Well, then you might want to have a look at this Mad Max-style armored SUV that is equipped with an advanced anti-drone system. It can not only detect a hostile drone but also take it down in a dramatic fashion. Called the MAX 3 Six-Wheeler, this monstrous vehicle is the creation of a South African company called SVI Engineering and it was recently unveiled at the Africa Aerospace and Defence Show (AAD2022). The military-grade truck is built on Toyota's trusty Land Cruiser 79 chassis and is powered by the Japanese manufacturer's indestructible 4.5-liter V8 turbodiesel powertrain. While the engine has not been tweaked by the South African company to simplify servicing requirements and sourcing spare mechanical parts, the vehicle has been added with an extra pair of wheels to increase its off-road capability.

You might have noticed that the name doesn't feature the 6X6 suffix; that's because the additional axle at the back isn't powered to keep the cost and complexity in check. However, the company has modified the track width to align the track of the rear wheels with that of the front. SVI says it was done to fix the Land Cruiser 79 anomaly.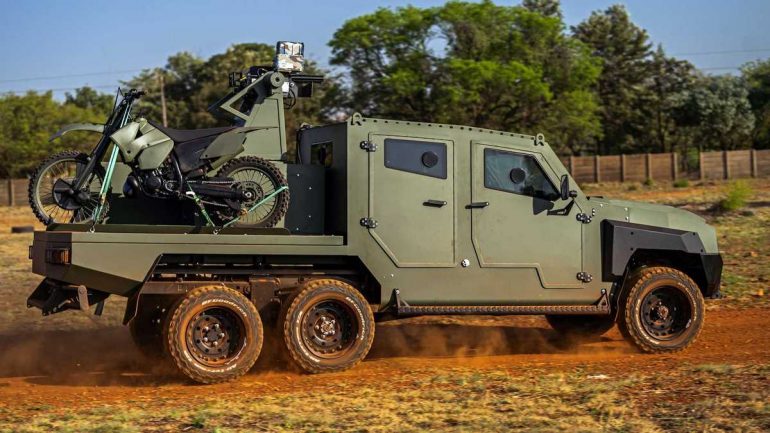 Furthermore, the suspension components and the brakes have also been upgraded to support the added weight and the additional axle. SVI replaced the soft-skin body of the donor Land Cruiser 79 with an in-house designed hull manufactured from armored steel plate which offers a protection level of EN1063 BR6. However, the company offers the option to upgrade the armor plating to BR7.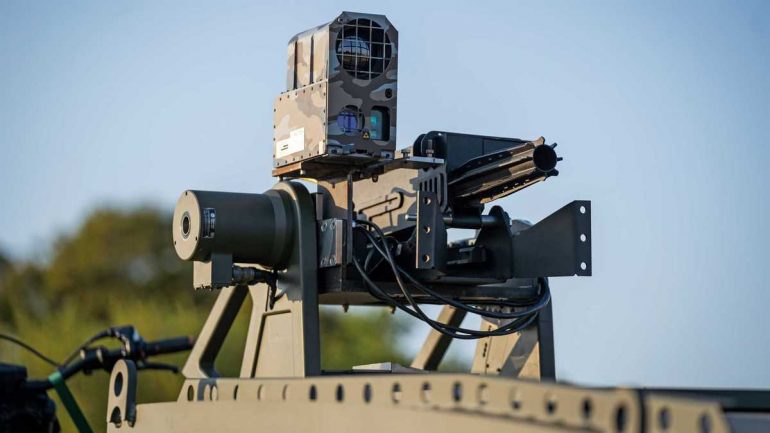 Finally, the MAX 3 Six-Wheeler comes equipped with an anti-drone system that consists of a radar that detects the location of a hostile drone. After the drone is identified, the information is sent to the battle management system which triggers an onboard automated grenade launcher to take down the flying craft. The truck also has an off-road motorcycle mounted on the back that can be used to retrieve the shot-down drone. The concept revealed at the defense show is based on the double cab body style, but SVI says it can also convert the single cab and the SUV versions. Have a look at the pictures, the vehicle looks badass!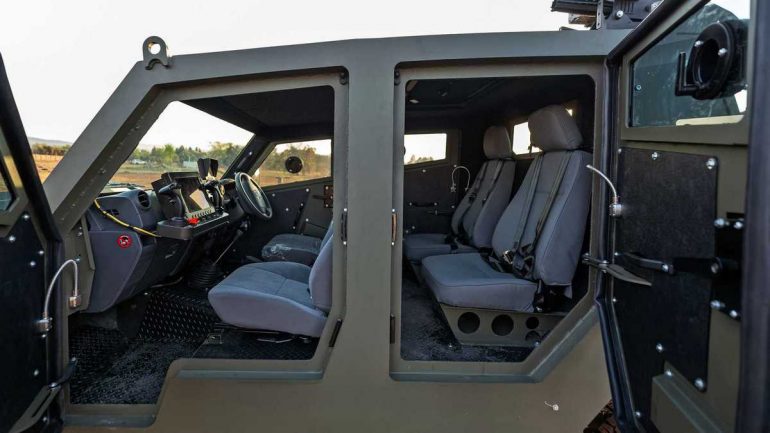 [Via – Motor1]