The Lamborghini Huracan STO is a full-blooded race car with license plates and few other components that barely make it road-legal. In fact, the STO suffix which is short for Super Trofeo Omologata basically means it's a road-going version of the Huracan Super Trofeo Evo race car. Everything about the supercar focused on extracting maximum performance at race circuits. However, this has made the STO so uncompromised that it's not welcome at some race tracks. See the irony? YouTuber Shmee150 learned it the hard way when he was asked to leave the Nürburgring after his Huracan STO was deemed too loud to be driven around the legendary German race track.



It has been a tradition for Tim Burton, aka Shmee150, to make a visit to the motoring mecca every time he adds a new car to his so-called Shmeemobile collection. Obviously, he was super-excited about driving the track-focused STO at the Nürburgring to test the supercar's true potential. Although the Nürburgring Nordschleife race track nicknamed "The Green Hell" has been around for almost a century and still hosts a lot of motor races, the 12.93-mile circuit is a public toll road open to everyone and follows the normal road rules.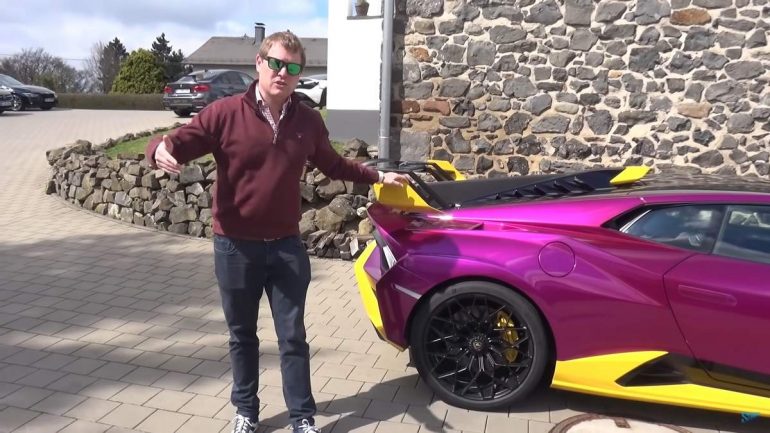 Even before heading for his first lap around the Nürburgring, Tim had the premonition that the STO was too loud even with the stock titanium exhaust and he might be booted out from the circuit. And that's exactly what happened! After completing his very first lap, he was pulled aside by a marshal and was politely asked to leave.
Apparently, the Nordschleife has a limit of 130dB and his purple STO was over the sound limit by 4dB. Thankfully, the loud exhaust was not an issue when we drove the brutal Huracan STO on an F1 circuit; you can read about the exhilarating experience here.

Who is Shmee150, aka Tim Burton?
Tim Burton is a very popular automotive influencer from London who has more than 2 million subscribers on YouTube. He began his journey as a YouTuber in 2010 by posting videos of interesting supercars spotted on the streets of London. He quickly gained popularity which helped him amass a big collection of very expensive cars, which includes a Ford GT, a McLaren Senna, a Mercedes-Benz SLS AMG Black Series, a Porsche Taycan Turbo S, a Mercedes-Benz AMG GT Black Series, and the STO.
[Via: Motor1]