When you think of fashion, style, new trends, innovative designing the only place that come to mind is Europe. With Paris and Milan being the fashion capitals of the world, it comes as no surprise that Europe is the pioneer in creating malls and shopping streets centuries ago. The Trajan's Market in Rome and the Grand bazaar in Istanbul are testimony to this fact. Europe has given a new meaning to shopping all over the world Some of the world's largest shopping malls are actually in Asia and the United States, according to Forbes.com. In comparison, the malls in Europe might seem much smaller, but that doesn't mean they're necessarily tiny. The largest malls in Europe are located in England, Turkey and Portugal and feature not only an impressive number of shops and restaurants but also plenty of entertainment options to keep you around long after you've finished shopping. We present to you the 10 biggest malls in Europe



10. Bielany Retail Park – Wroclaw – Poland
Shops – Over 80
Area – 170,000 sqm
This boasts of being the largest mall in Poland. With its new renovations, they will now have 8 cinema screens, including the premier room for 500 people and a capacity to park 4,700 cars. It also houses the biggest Ikea store in Poland. The shops offer furniture to fashion to interiors to restaurants and cafes. This offers a complete family outing and entertainment to its visitors. 9. MEGA Family Shopping Centre – Khimki – Moscow Oblast
Shops – Over 250
Area – 210,618 sqm
These are a chain of shopping centers owned and operated by IKEA. Its anchor tenants are the IKEA store, a hypermarket and a DIY store. Moscow Oblast is the second largest shopping mall in Russia and houses, luxury goods, electronics, apparels, fashion accessories, furniture, home décor and restaurants galore. 8. Paradise Center – Sofia – Bulgaria
Shops – Over 330
Area – 80,000 sqm
This is the largest mall in Bulgaria and holds the title of being the biggest in the whole of Central and Eastern Europe. It does justice to its name as one really feels like in Paradise when you enter the mall.
The Paradise center is divided into 4 zones in terms of their interior design – the boulevard, the canyon, the terrace and the garden each uniquely different and having their own style and concept. With waterfalls, a lake with a bridge, a well lit garden, boulevards with sidewalks, trees, fashion stores, banks and pharmacies it gives its visitors a feeling of being transported through different places. The second floor houses all the entertainment with 14 multiplex theatres, an ice rink, a food court and 4 restaurants. The third floor has the fitness center, a spa, Squash and tennis courts and a few more restaurants and bars. The roof terrace has a theme park that young and old can enjoy. With a variety of stores that sell everything from clothes to jewelry, to furniture to interiors to electronics they seem t have something for everyone. 7. Arena Centar – Zagreb – Croatia
Area – 62,000 sqm
Arena Centar has 2 levels of shopping area and part of the third level is dedicated to entertainment. The concept of the interiors takes inspiration from the atmosphere and traditions of the 5 areas of Croatia. The result is an innovative interior design with a light and open atmosphere. With shops like Zara, Massimo Dutti, Pull & Bear and Sephora it attracts visitors to spend the day at the mall. 6. MEGA Belaya Dacha –Kotelniki – Moscow Oblast
Shops – over 330
Area – 300,000 sqm
The biggest shopping mall in Russia has shops and entertainment centers and restaurants within the mall to cater to all their customers. With the hypermarket, electronic and home appliance stores, sporting goods stores, the Crazy Park entertainment center, the Cosmic Bowling and Billiards Club, a 15 screen movie theatre and Detsky Mir (Children's World) it is favorite with visitors. 5. Puerto Venecia – Zaragoza – Spain
Shops – 150
Area – 206,000sqm
The location of this mall is its trumpcard. This two level shopping mall, family entertainment area, cinemas, sport and adventure area is set around a boating lake which is used for outdoor activities. Because of the horizontal dimension predominance the buildings were designed with different textures, volumes and materials to accomplish a rich and diverse urban development. The mall is well planned and designed in order to facilitate its visitors. With numerous shops and varied entertainment options this is a well loved mall. 4. Trafford Centre – Greater Manchester – England
Shops – 280
Area – 185,000 sqm
This large indoor shopping centre and leisure complex is the second largest shopping centre in the United Kingdom. The interiors of the mall are exquisitely done and is a sight to behold. It is decorated I the shades of pink, gold and white with ivory, caramel and jade coloured marble throughout. The middle dome is believed to be bigger than that at the St Paul's cathedral. The overall effect is opulent and rich. The centre has four main areas, Peel Avenue, Regent Crescent, the Dome and the Orient. The ODEAN cinema and the Laser Quest offer enetertainment at the mall. The orient food hall is themed around a steam ship and is a visual delight. The Orient and the Great hall house the restaurants, food cafes and coffee shops. The Great hall has a elegant staircase and a chandelier that is supposed to be the biggest in the world. Lego land, a mini golf course, arcade games, bowling, indoor football and a sky diving centre are the attractions here. The Apple Store, H&M, Gap, Selfridges, John Lewis, Boots have all made their home here at the Trafford Centre. 3. Mediterranean Cosmos – Thessaloniki – Greece
Shops – over 200
This is the largest retail and entertainment development in Southeastern Europe. With its shops of fashion and electronic goods, cafes, restaurants, bars, multiplex with 11 screens, a supermarket, an amphitheatre that can hold 400 people and an Eastern Orthodox church it attracts a lot of visitors daily.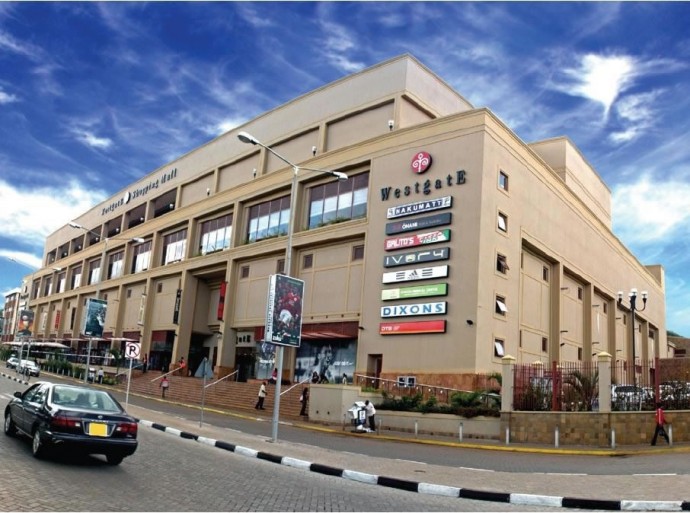 2. Westgate Mall – London – United Kingdom
Shops – 365
This is believed to be London's ultimate shopping destination with urban trends, high street favorites along with haute couture. With eateries that showcase global cuisines, leisure and entertainment facilities, cinemas, bowling alleys and a casino this is a hot spot with young and old. The multilingual concierge team at Westfield is on hand with their world class service to help the visitors with whatever they require. The Westgate mall offers a great experience and promises a fun filled day for all.

1. Istanbul Cevahir – Istanbul – Turkey
Shops – over 343
Area – 420,00 sqm
The six retail floors of this shopping center houses the shops, 34 fast food restaurants and 14 exclusive restaurants. Some of the shops in this mall are the first to sell certain International brands. With a large stage for shows, 12 cinemas which includes a private theatre and cinema for children, a bowling hall, a small roller coaster and other entertainment facilities. The glass roof of this mall carries the second biggest clock in the world. This mall is a must visit when in Istanbul.