We all like a bit of magic in our lives. And what can be more magical than crystal sheets of snow spread across hills and valleys sprinkled by quaint little villages with cobbled streets, oil lamp posts and horse sleighs, towered by sprawling stone castles and tall pine tree forests, and the backdrop of snow-capped peaks. Like living in a Disney dream land.
Time and again, Switzerland has lured many a dreamer into its arms of enchantment. And if you wish to live this dream, then pack your bags, and leave on a jet plane to the scintillating Alps.
Perched on an altitude of 6100 feet above sea level, on the Eastern Engadin (long valley) of the Alps, is the sparkling resort town of St Moritz. For a first impression, imagine the magical landscapes as in the recent block buster animation movie 'Frozen'. St Moritz offers this Alpine charm, in the lap of opulence and luxury.Once considered to be a winter hideaway for the rich and the famous, today it is quite popular with the well-heeled crowd.

There is an interesting story behind on how St. Moritz a remote village in the Alps, got transformed into a chic resort destination.It is all thanks to hotelier Johannes Badrutt. The story begins when he settled into this quiet town in the mid nineteenth century and bought a small B&B. In 1864, he placed a bet with four British tourists who had escaped the morbid, gloomy, and wet London weather for some sun. Badrutt asked them to return to St Moritz during winter and if they didn't enjoy it he would reimburse their travel costs. Reluctant, as they dreaded the chilly months, they took the bet anyway. And that move made history. The following winter, the Englishmen were spellbound by the captivating peaks. Not only did they happily lose the bet, they became pioneers in making the British loyal patrons of St Moritz. Thus was the birth of the oldest winter resort in the world.
If this hasn't convinced, allow me. I spent a good 72 hours to experience this dream destination and the legendary Swiss hospitality and here are some reasons why visiting St Moritz should be on the top of your bucket list.
12 – All about the journey, as much as the destination
Europe's highest airport is at St Moritz. During peak season, in winter, it welcomes up to 40 private jets a day. However, if you don't belong to the upper echelon of '0.1%' then the best way to get to St Moritz is the Glacier Express from Zurich. I must say Rail Europe makes its trains work like clockwork or should I say as precise as Swiss clockwork.

As a classic paradox, the journey is far from express and one of the slowest in the world, and also unbelievably scenic. It snakes through sheets of snow, across mountain landscapes, past sprawling resorts, above deep gorges, through 91 tunnels and across 291 bridges including the Landwasser Viaduct constructed in 1902. This is a single track arched railway viaduct, part of the Albula Railway line, a world heritage contender.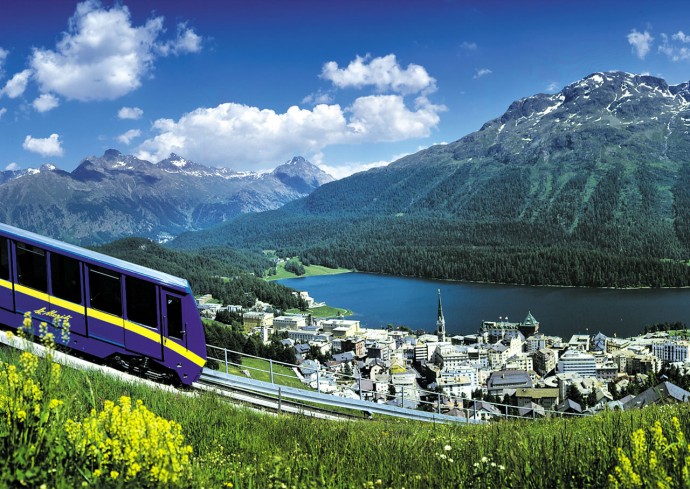 11 – Up above the world so high:
St Moritz is situated at 1,856 m above sea level. But the fun only begins there, followed by an expansive stretch higher up the snowy peaks. Once you have settled down, take a hike either through ski-lifts or a tram to enjoy eating at the summit. Mountain restaurants are the best thing about St Moritz because of the spectacular views they offer. That is if you are looking for a relaxed holiday. For the raring daredevils the slopes become a playground to swoon and swish down steep slopes with the fresh Alpine breeze kissing your face.

10 – Retail therapy
Shopping in St Moritz is as exquisite as is the rest of its magnificence. This is home to Europe's highest lying shopping street, Via Serlas which is a more modest version of the Rodeo Drive in Los Angeles and Bahnhofstrasse of Zurich. It hosts fashion houses par excellence such as Prada, Versace, Louis Vuitton, Gucci, Chanel, Bulgari, Cartier, Chopard, Asprey, Van Cleef and many more. And of course there are many a watch boutiques as what is a trip to Switzerland if not indulging in its legendary watch craftsmanship.
Other retail haunts include exclusive knitwear at the family-run Lamm Cashmere House while Jet Set offers luxury sport wear. Fine jewellery, designer furniture and fine wine are the finesse you shouldn't miss.
And don't forget, the sweet cherry on top – Swiss chocolates and confectioneries. A trip to the Swiss Alps is incomplete without Hanselman and Laderach in your luggage. Another treat to try is the nut cake. This rich culinary heritage is also the reason behind hosting an annual Gourmet Festival which attracts chefs and patrons from the world over.