While some members of the Saudi Arabian Royal family are dropping their change on palatial homes abroad and long-lost paintings, others are spending their dinars on pricey charter planes. Khalid bin Salman al-Saud is not only the brother of Saudi crown prince Mohammed Bin Salman but also the Saudi ambassador to the United States. According to the Daily Mail, the price has dropped a cool $8million while on the job as an ambassador, spending a reported $30,000 per hour on a luxury Boeing 767.

US officials have come under fire for using taxpayer money to fund trips on private planes, but we doubt that even they travelled in luxury like this!


The plane has a master bedroom and comes with 63 seats. Its lavish interior has been custom created and can rival any luxury hotel room. Pictured here is the office space.


Forget seats that recline all the way back, this bedroom on the plane has two full sized beds for you in-flight nap!


And the bathroom is probably bigger and fancier than the one you have at home.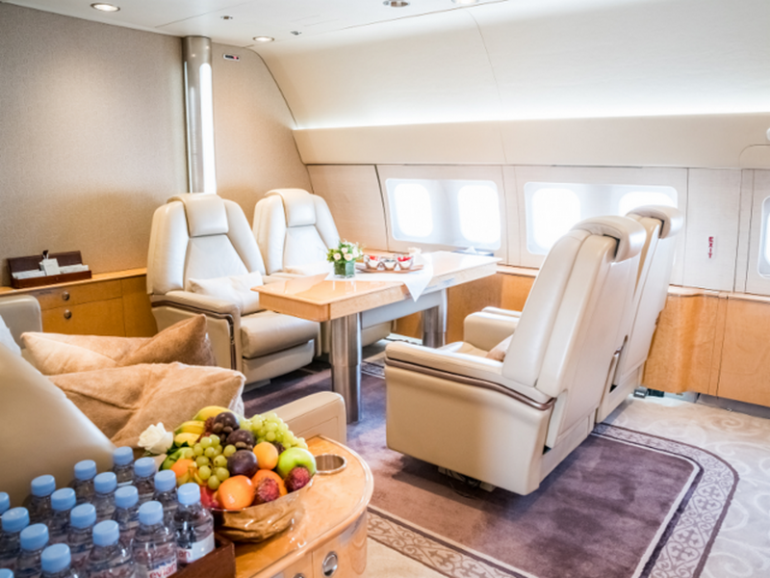 The cushy cabin spans cabin 1,066 square feet and offers eight feet tall ceilings for passengers to really stretch out.


There's also plenty to keep the price entertained on long flights from Wi-Fi, an iPod and iPad docking station, to six portable DVD players with screens, and seven television screens.
[Via:Businessinsider]