Many people think of Berlin or the Neuschwanstein when they think about traveling to Germany. These are wonderful places to visit, but the Black Forest has a rich history and a variety of luxurious settings for every traveler. Bounded by the Rhine Valley, the Black Forest is a mountain range in southwest Germany. It gets its name from the incredibly thick foliage of mostly spruce trees, which in some places prevents sunlight from reaching the forest floor. The area is known for glass making, clock and jewelry manufacturing, and a wide variety of spa locations, including ski resorts. The warm thermal pools of Baden-Baden were a spa destination as early as 69 AD, and today they come complete with the finest modern comforts. The lakes offer many opportunities for recreation, and due to the high mountain altitude, temperatures are often agreeable in summertime. Travelers can enjoy gourmet cuisine in Baiersbronn, a 160-kilometer route through the forest's wine country, and the beautiful architecture of Breisach. Although not as widely known as other locations in Germany, the Black Forest offers a hidden treasure trove of unique, upscale locations to visit and enjoy.



Baden-Baden
This tiny town in the Black Forest is home to twelve famous thermal springs. In fact, Baden-Baden has been known as a spa resort for more than two thousand years, with the Romans establishing the first baths there around 69 AD. Today, the area hosts a variety of spas, hotels, and health-related businesses for visitors who want to try the thermal pools. The spring water bubbles up from thousands of feet below the ground, and its path makes it rich with minerals like magnesium. Many people believe soaking in the baths eases aches and pains, while others simply enjoy the springs for relaxation. Even the drinking water in Baden-Baden has won awards. If you get tired of relaxing in the baths, the city also offers a shopping district in Badeviertel, the Brahms house where classical musician Johannes Brahms lived, and Castle Hohenbaden, a medieval castle that provides breathtaking views of the Rhine Valley.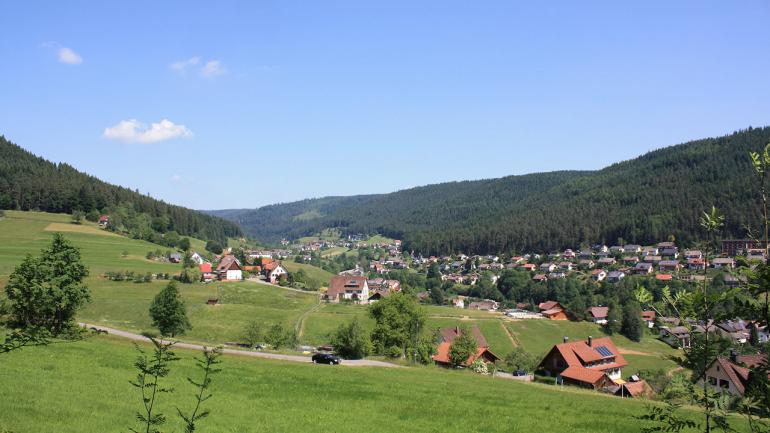 Baiersbronn
Nine separate villages make up this picturesque resort in the Black Forest. Siddhartha author Herman Hesse was born here, but recently the resort has become famous for its three Michelin-starred restaurants and unique food culture. Ideally situated amidst the country's best growing regions, Baiersbronn gives top chefs access to fresh strawberries and grapes, north-coast seafood, and even regionally unique delicacies like mushrooms foraged from the Black Forest itself. Don't worry, you'll have a chance to burn off the calories on the ski slopes, or swimming in an outdoor, heated saltwater pool. If you like dessert, do not miss out the famous Black Forest cake. This article shows you three recipes for homemade Black Forest Cake.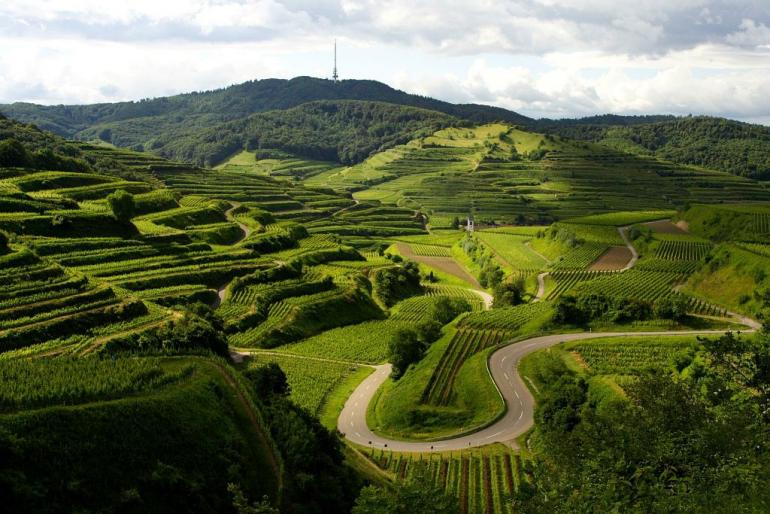 Badische Weinstrasse
As the name might imply, Badische Weinstrasse is a 160-kilometer route through the Black Forest's wine country. Built in 1954, it goes from Laudenbach to Weil an Rheim and encompasses Germany's third-largest wine-growing region. It also has an alternative route from Baden-Baden to Freiburg with sightseeing stops that include historic castle ruins and of course, local vineyards.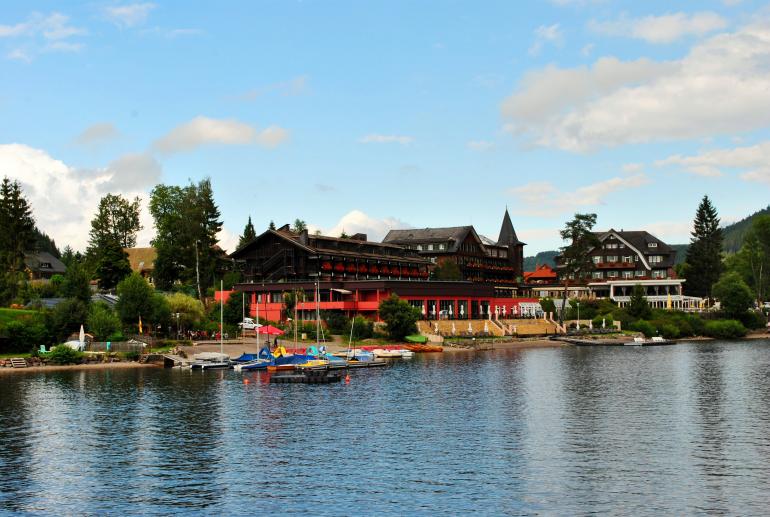 Titisee
Titisee is the largest natural lake in the Black Forest. A popular destination for a variety of watersports, the area offers something for everyone. An 8-kilometer trail curves around the lake, where you can take a cruise or enjoy windsurfing. Boat rentals are also available. The lake is closed for activities in winter, but you can still visit a ski jump, or enjoy local restaurants and beer gardens. The lake also offers a beautiful setting for travelers interested in photography, with the Black Forest hills providing a stunning backdrop.

Freiberg
Often called the gateway to the southern Black Forest, Freiberg has many luxurious attractions. In summer, the Stuhlinger Kirche local farms convert into pop-up, outdoor restaurants. Guests sit amid walnut and cherry trees and enjoy local specialties, including Spatzle (egg noodles), and Bibiliskase, an herbed quark on fresh-baked bread. Local vineyards provide an eclectic selection of wines. Schauinsland, a 1,284-meter mountain, towers over the city, and many travelers enjoy the historic buildings. These include Martinstor and Schwabentor, two gates that have been preserved since medieval times.