Getting to witness even a single superyacht can be quite a jaw-dropping experience. Imagine seeing the best of the best lined up; that's the trappings of a great show, specifically the Monaco Yacht Show. The best, biggest, and brightest examples of the yachting industry get together each year to showcase their latest masterpieces. The Monaco Yacht Show leaves you with an after-effect that makes you pine for pot loads of wealth only to buy one of these sailing beauties. The assemblage includes more than 100 of the world's best superyachts descending on Monaco from the 28th of September till the 1st of October. We have handpicked the most glorious examples set to gather in Port Hercule and enthrall yacht fans-



9. Sunreef 80 Eco –
In March 2021, Polish shipbuilder Sunreef Yachts unveiled the Porsche Taycan of the seas, an all-electric and ultra-luxe catamaran called the 80 Eco. The state-of-the-art catamaran measures 78 feet in length and accommodates up to 10 guests in five well-appointed cabins on the lower deck.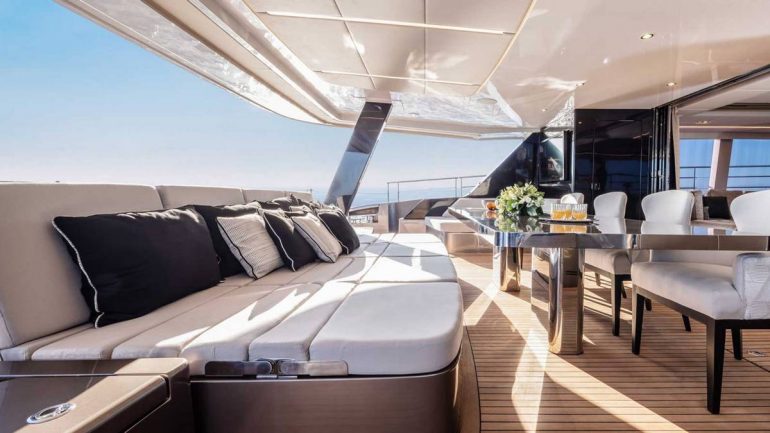 The aft deck features sun loungers and seating space for hosting parties of up to 16 people. The sailing yacht includes ultralight composite-integrated solar panels within the hull sides, mast, superstructure, and bimini, allowing its photovoltaic system to deliver up to 36kWp—a revolutionary example of environment-friendly sailing.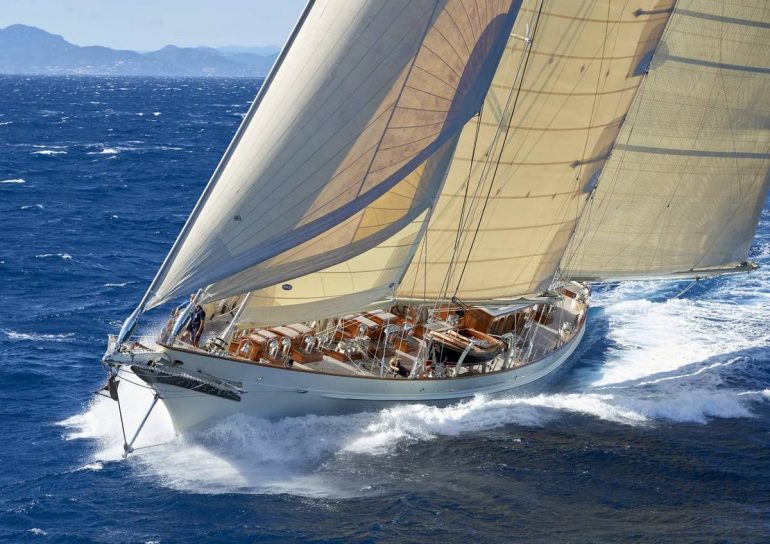 8. Borkumriff IV –
This 165-feet auxiliary sailing schooner is the perfect family yacht delivered by Dutch sailing superyacht specialists Royal Huisman in 2002. British designer John Munford lends the $13 million superyacht a classic interior displaying exquisite mahogany paneling, and twin deckhouses teleport you to the age of gentleman's yachting.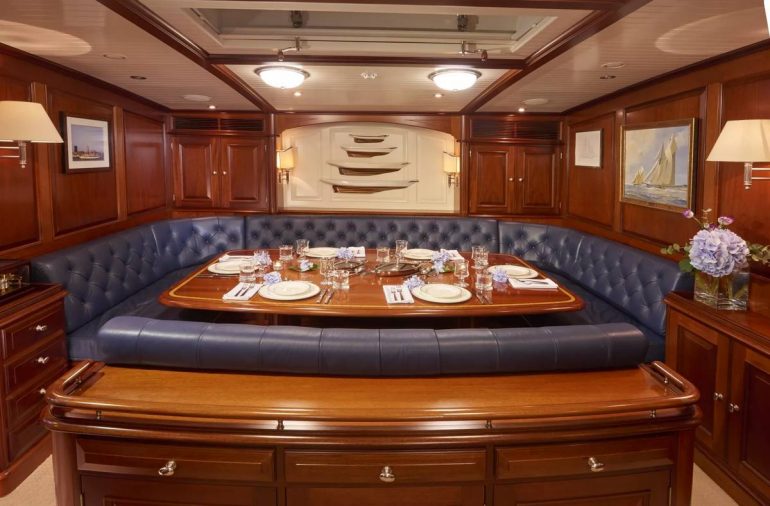 With a 30.2ft beam and 254GT volume, Borkumriff IV boasts versatile teak deck space. The superyacht comprises a cockpit, the main saloon featuring formal dining to port, and a lounge and entertainment area to starboard.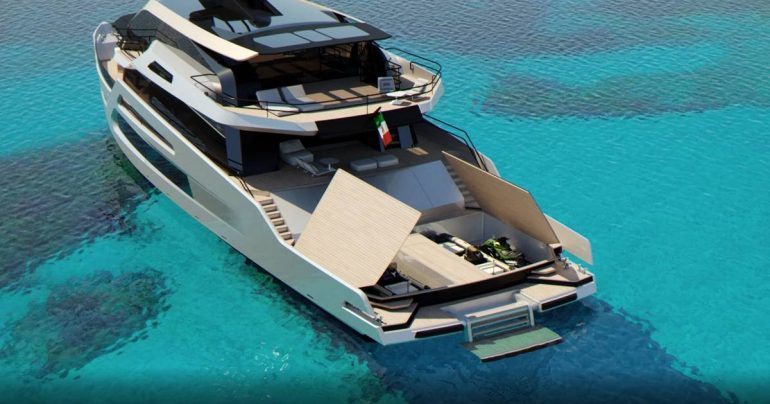 7. Maori 125 –
Maori 125 superyacht is a 125-footer launched in June 2022. The grey and black exterior make it stand out, and she does break free from the typical silhouette. The $14 million flagship of her Italian yard presents an eye-catching beach club at her stern that doubles up as a lounging, socializing space, and an al fresco dining area.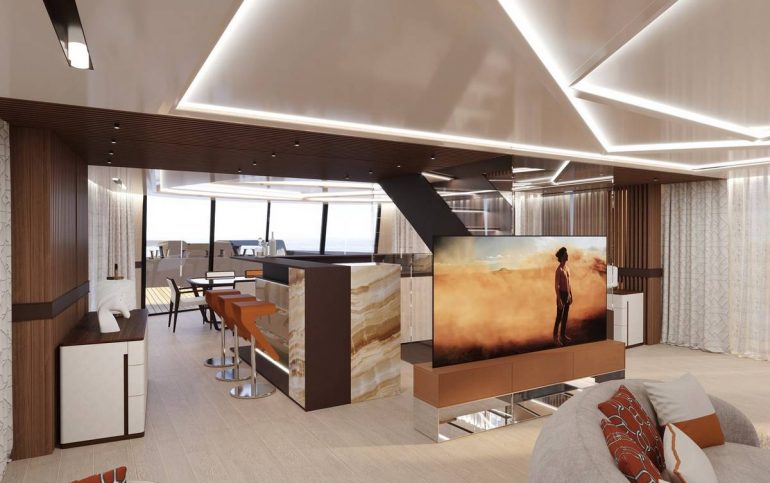 Pulina Exclusive has drawn the yacht's interiors which comfortably rest ten guests in five cabins.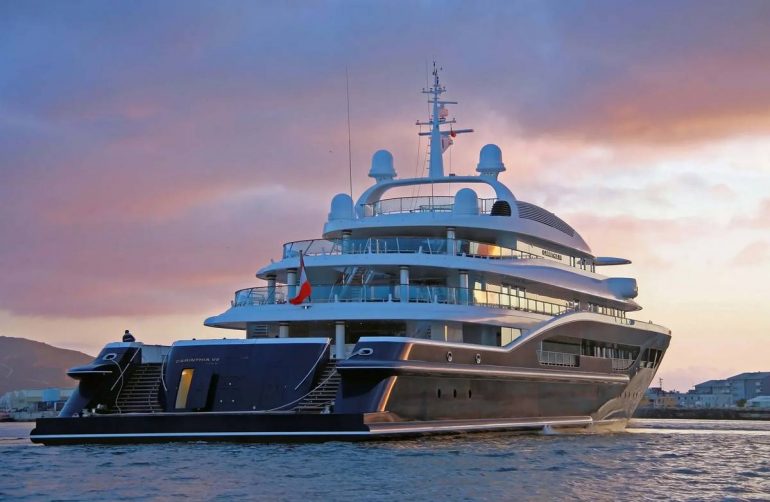 6. Carinthia VII –
Billionaire Heidi Horten's iconic 318-feet Lürssen Carinthia VII is a $130 million marvel that brought two stalwarts together- acclaimed designer Tim Heywood and the revered Lurssen brand. The 318-feet luxury vessel became the talking point of the yachting world owing to her striking blue hull that the color was dubbed "Carinthia blue."

The charming Carinthia VII gloats over luxe amenities such as a helipad, a Jacuzzi on the sundeck, a library, and windows made of bulletproof glass. The two elegant decks are divided among eight staterooms, six more cabins on her main deck, and crew quarters for a team of 40. As expected from a lavish ship, the primary suite is placed on a separate owner's deck alongside an office and additional stateroom.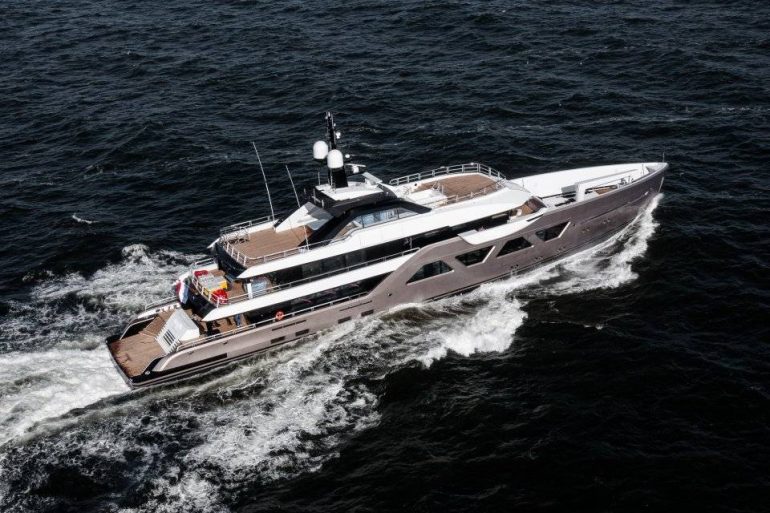 5. Come Together –
Amel's Come Together is a 196-foot reason to gather your friends and family and enjoy time at sea. Blending beach vibes, luxury and comfort together is the Amel's 60 Limited Edition pleasure craft with a custom-made interior by Winch Design.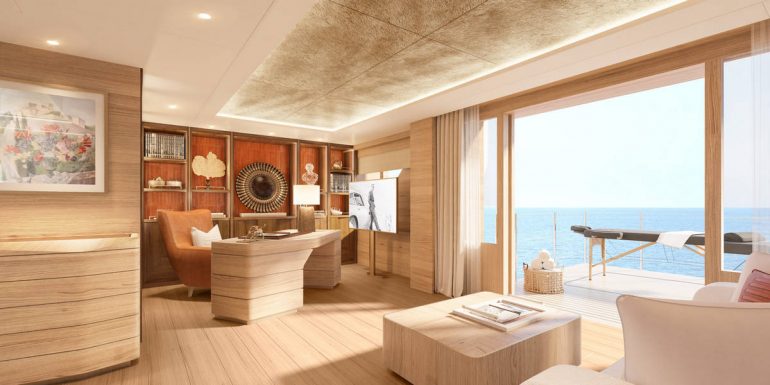 The $68 million ship looks impressive with exteriors handled by Espen Oeino and five stately cabins. The full-beam owner's cabin comes with a minimalist main saloon, "tailored to replicate a relaxed family home on the water," according to a representative from Winch.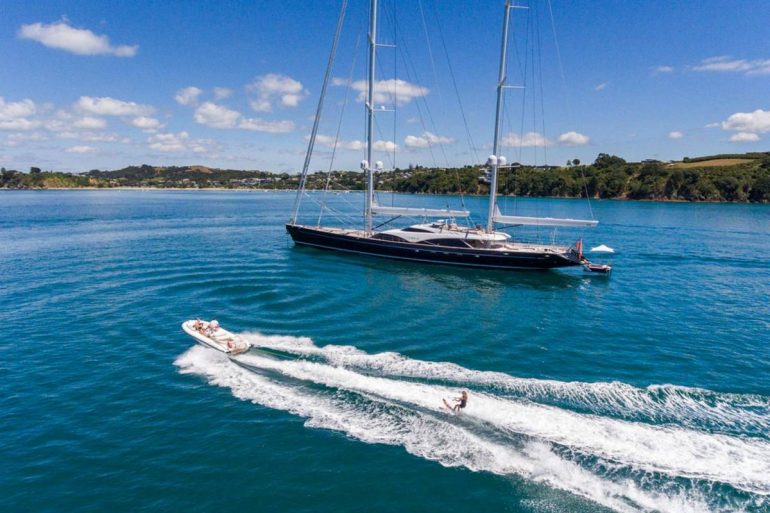 4. Twizzle-
Royal Huisman is regarded as one of the world's best builders of sailing yachts, and Twizzle superyacht shows you why. Michael Bradfield's $45 million features exterior design by RWD, interiors by Todhunter Earle, and naval architecture by Dubois Naval Architects Ltd.

Twizzle motoryacht accommodates up to 8 guests in 4 staterooms, with 11 crew members. A dining area, saloon, and the main galley are situated on the mezzanine deck with a pilothouse on the raised deck.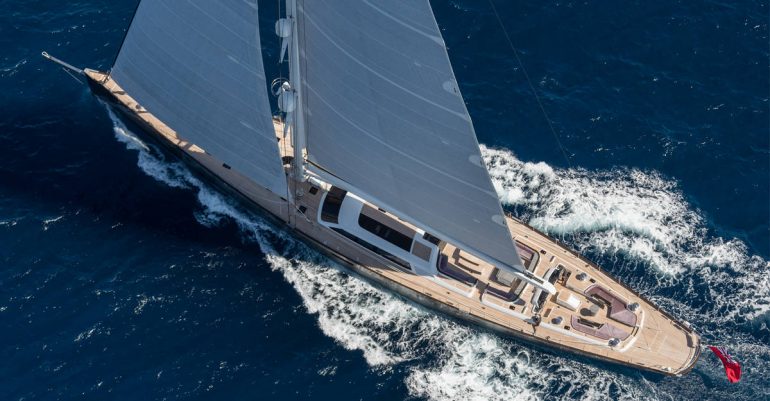 3. Pink Gin VI-
Fantastic structural engineering, distinctive styling, and noteworthy topside balconies make Baltic 175 Pink Gin a praise-worthy and award-winning schooner. one of the largest carbon composite sloops, Pink Gin VI, flaunts naval and exterior design from German team Judel / Vrolijk & co. Professor Hans Georg Näder's penchant for unusual interiors and fascination with Cuba resulted in the eclectic and astonishing treatment of the boat, which is anything but understated.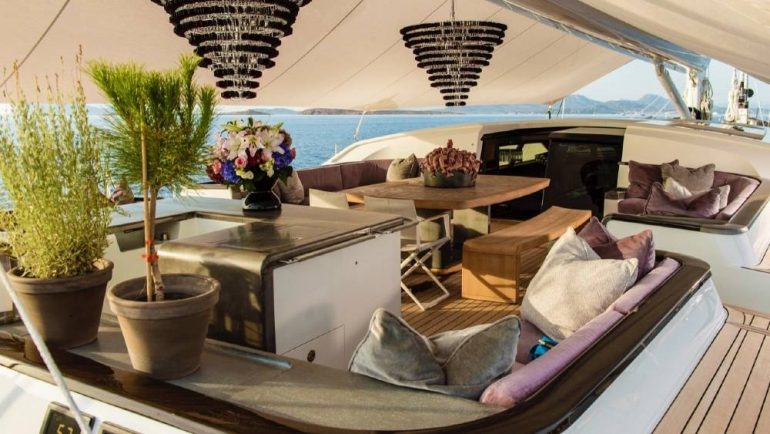 The $53 million boat doesn't cease to impress as she carries a bright pink 1,838 square meter asymmetrical spinnaker that weighs nearly a quarter of a tonne. The interior was penned by British studio Design Unlimited.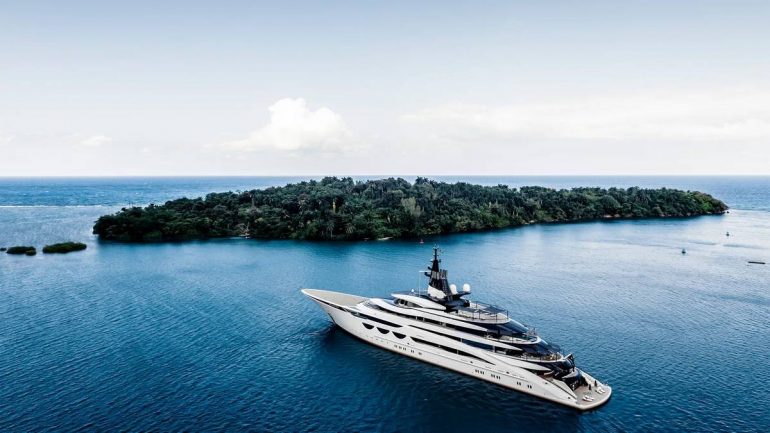 2. Ahpo-
Billionaire Michael Lee-Chin's pleasure craft Ahpo is a Lurssen-built 378-footer made to delight owner and onlookers alike. The $300 million six-decker balances technology and opulence with an extra dose of Nuvolari Lenard's talent.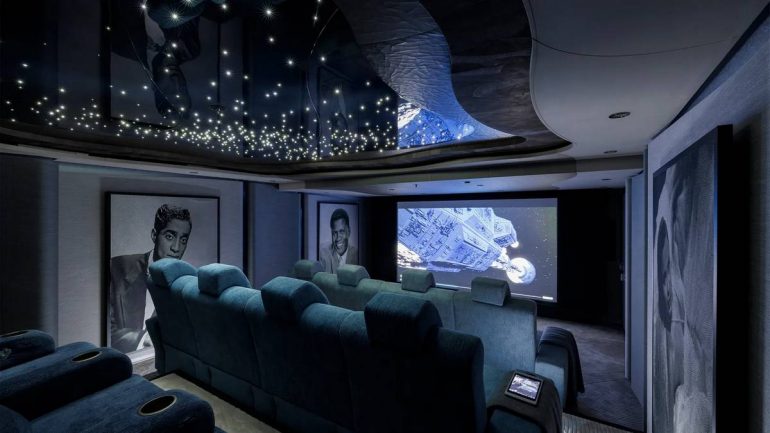 The cruiser boasts a staggering $2.6 million a week rent, and rightly so as it has a dazzling owner's suite, a well-appointed spa and beach club, stately guest cabins with a breathtaking two-story owner's suite, and a well-appointed spa and beach club.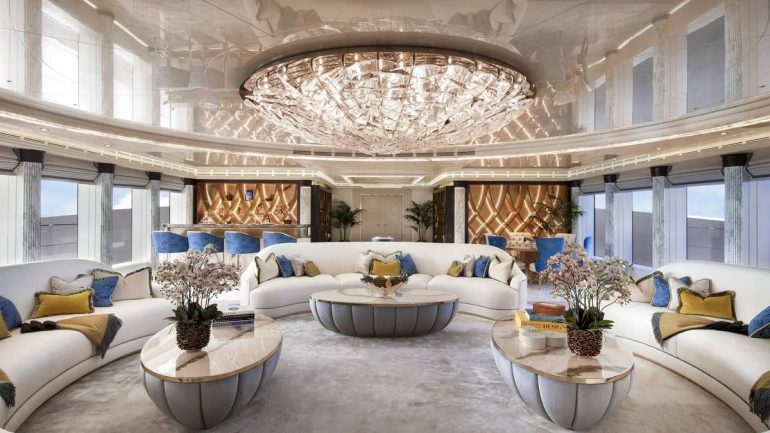 At the owner's request, parts of the boat are done up in luxurious silk wallpaper, hand embroidery, and decorated inlays. The luxury cruiser accommodates 16 guests in 8 impressive cabins who have entertained IMAX Dolby cinema, with LED star-studded ceilings and navy box seats. Yes, there is a helideck too!

Project X-
289-foot ship Project X will do more than stir the waters in Port Hercules as it is not an everyday occurrence when British architecture met sophisticated Italian style resulting in an exquisite yacht.

With a GT of 3000, the boat has seven fantastic staterooms and every amenity in the book. Guests are entertained by a great gym, luxurious beach club, glass-enclosed swimming pool, and a Turkish Hammam and Finnish Sauna spa.

The upper deck is the perfect place for conversations, cocktails, and food featuring a giant 18-seat marble dining table for alfresco entertainment. This Golden Yachts wonder conceals a three-deck atrium with internal balconies and a circular glass elevator.