While you and I wander around airports wiling away our time at the lounge or the nearest Starbucks, a few airports offer attractions I guarantee you'd be amused to know of. While Doha's Hamad International airport boasts an indoor swimming pool, Hong Kong's International airport has an IMAX cinema tucked away somewhere.
We bring you 9 of the most peculiar attractions offered by airports across the globe.


Indoor swimming pool at Hamad International Airport
At a meagre $35, you now indulge in some fitness between flights. Inside Doha's impressive $16 billion airport, an indoor swimming pool awaits! Not brought your swimming trunks with you, purchase one at only $40. And all of this is open 24 hours a day, seven days a week.

Rooftop cocktail bar at Singapore Changi Airport
What better way to start a weekend than with a drink ? I'm certain you have been to one of the many Harry's Bars in downtown Singapore, but this is something else. With more than 40 different concoctions varieties to discover, the bar offers you an extended drinks selection for your exploration. Besides champagne, premium wines and international beers, there are also fine handcrafted cocktails, including signature drinks like the Dirty Harry and a vodka-fuelled Eye Candy.

IMAX cinema at Hong Kong International Airport
Layovers can be a bit of a nuisance and well, Hong Kong Airport sympathises with us. Only a few years ago, Hong Kong airport installed it's very own IMAX cinema! The IMAX cinema entails a giant screen — 13.8 meters high and 22.4 meters wide — and 358 seats, making it the largest of Hong Kong's three IMAX theatres.

Aquarium at Vancouver International Airport
Vancouver International Airport (YVR) is undergoing a $200-million expansion of the International Terminal. Forget the improved inventory space and the numerous luggage belts, a man-made stream now runs from the new aircraft gates through the centre of the building. I kid you not! At the end of the stream, a huge aquarium has been installed featuring native BC sea life and a jellyfish tank that includes 100 moon jellyfish.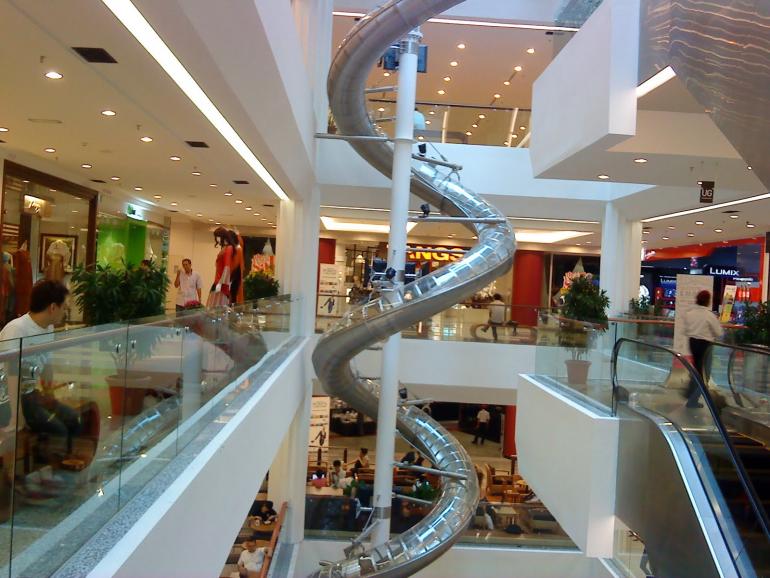 40ft slide at Singapore Changi Airport
In addition to nature lovers, Singapore's Changi airport has also a little something for the adventurous ones.When you arrive at Terminal 3, don't be amused to discover an adventurous installation. Changi visitors now have the chance to unwind before, between and after flights by sliding down four stories at speeds of up to 19 feet per second. It doesn't stop there! For the faint of heart and frugal thrill seekers, Changi has installed a free one-and-a-half story tall slide just below [email protected] in the terminal's basement level.

Slot machines at McCarran International Airport, Las Vegas
It's only fitting that Las Vegas' airport entails a slot machine section! I mean, how else would one recover from a loss on the city's infamous "Strip". If you believe it to be child's play, let me tell you only last year, one of those machines paid out nearly $1 million to a lucky Las Vegas traveller. McCarran, which sees about 40 million passengers a year, has more than 1,300 slots machines in its terminals. Well, the party starts and ends at the airport!

Cactus Garden at Singapore Changi Airport
For all you nature lovers, the next time you happen to visit Singapore we have highly recommend the Cactus Garden. The first thing we noticed notice as we entered the Cactus Garden is Cactus Pub. We're always bias towards a good pub. Are you aware that the world's preferred spirit Tequila is made from Agave Plants, that are abundantly found in Mexican desert? The most interesting part is that the Cactus Garden is at the roof top of one of the busiest airport in the world and most cacti and succulents are from desert areas so clearly Singapore is not their natural habitat.

Oxygen bar at Narita International Airport, Japan
Considering travel has become quite a regular phenomenon in our lives, we'd love a remedy for that fatigue and jet lag. The next time you find yourself in Japan, check out the Narita International Airport's oxygen bar. In addition to indulging in 10 minutes worth of oxygen, you can also spoil yourself with a variety of scented flavours. Head towards Terminal 1, post-security.

Brewery at Munich International Airport
The world's only airport brewery is found right in the hub of the beer capital! We stumbled upon Airbräu, the greatest airport brewery in the whole wide world. Along with several seasonal types of beer, three different types are thankfully always available: "Fliegerquell", a fine bitter lager; the more mature wheat beer "Kumulus" and the pils "Jetstream", the latest addition to the range. Fortunately, Airbräu prices are a bargain – a pint of beer costs just €2.75. Naturally, Bavarian cuisine is also on the menu. Our personal favourite is the "Weißwürste" (Bavarian-style pork sausage).