Spotted: frequent flyer with oodles of style. We talk of the airline amenity kit! Yes, these little rascals are quite the loaders in charm (and charismatic cosmetics) and have taken luxury travelers' attention by storm! This post suited most to airline amenity aficionados (or boarders of the first class, in general), we bring you a list of top five first-class airline amenity kits.



5) British Airways
While the bags are Gladstone style, Anya Hindmarch and stock the basics, eye mask with adjustable straps and cotton socks, the classic all-amenity-bag-pervading Colgate also makes its way in. While for me, that's a deal-breaker, the Ren cosmetic products revive the flailing romance giving the kit story a new Rendition. The D.R. Harris & Co toothbrush might as well pay its classic testimony to it.

4) Etihad Airways
Having won the 2012 TravelPlus award for the best first-class male amenity kit, the Etihad already has a repertoire (and kit-repository) to boast of. A delicate leather box contains the not-so-delicate Schick razor and shaving cream along with lush La Prairie toiletries. The equally award-winning-caliber female version comes in a crystal-encrusted (gasp!) clutch bag designed by Swarovski.

3) Emirates
Emirates brings out the big guns by (bigger) way of Bulgari. While I needn't say more, here's the dope: Bulgari designed brown leather bags for men with, well, Bulgari products and razors. The female kit, besides featuring the usual fare, contains a small mirror and (tada!) Bulgari au Thé Rouge perfume. Also in the kit come the Colgate toothpaste, Gilette shaving cream, and Axe deodorant. On second thought, I needn't have said more.

2) Singapore Airlines
Singapore Airlines sings 'Sothys' with its airline-skin combating skin-care range consisting of body lotion, lip balm, and moisturizer. The Parisian collectibles by Sothys are a French treat, to say the least; the usual features follow suit.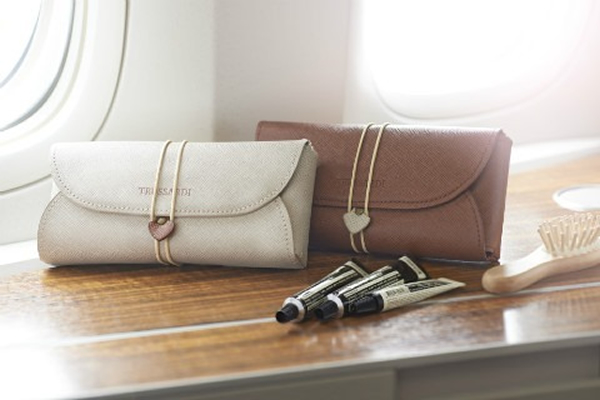 1) Cathay Pacific
Brace yourself with this one. With their recent redesign, Cathay Pacific's first-class suites are rolling out the superlative in airline-amenity luxury. The Ermenegildo Zegna bag for men boasts (besides itself) of skincare products from Acca Kappa, whilst the clutch bag for women, designed by Trussardi, contains products from high-end Australian label, Aesop. Also being party to this amenity party are a shoehorn, a compact hairbrush or comb, mouthwash, and the likes of these.
With major luxury labels like Bulgari and La Prairie constituting amenity kits (even as Zegna and Swarovski make them), the first-class experience is luxury-infused, at its fragrant best. Who would've guessed that, much like their glamorous proprietors, these fashionable fix-its would like to fly so high as well!
[Via – Forbes]