Rock climbing is a great way to exercise and stay fit; however, it also means getting grimy and dirty in most cases. The Nova concept allowed you to climb in your home while the Iceberg floating wall is a great toy for children. However, Green Yachts has come up with a concept that completely revolutionizes the idea of rock climbing. They have created an incredible inflatable climbing wall that can be attached to a mega yacht for a sort of outdoor gym experience. The courses offered on the wall include one for beginners and professionals. The beginners are marked in green and easy and ergonomic; the yellow one has a medium degree of difficulty while the red one-feature holds that are smaller and positioned further away. This rock-climbing wall is perfect for challenging friends as well as just get in some daily exercise. It fixes many issues of griminess as it hovers right above the water, hanging on to the yacht, giving you a view to match natural rock climbing.

The wall can be totally customized for your yacht and is available in a standard size of 5m x 3m. Even the courses can be customized to your liking and have been designed by professional rock climbers.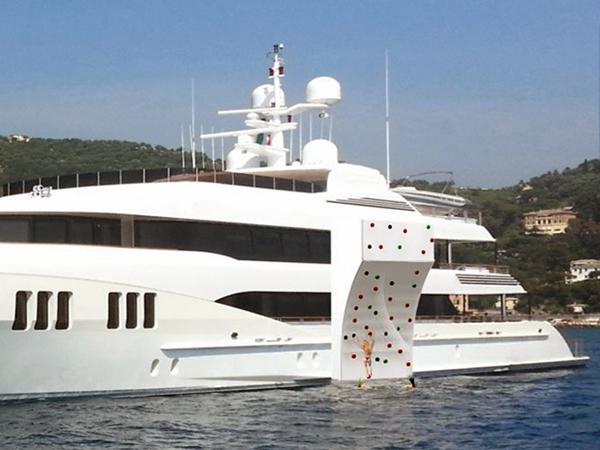 The starting price for a standard Climbing Wall is about 13,000 Euro ($17,500), including personalization of colors, text, and logos. Since the wall is customized to fit the side of yachts and superyachts, the pricing will vary according to the need of the yacht owners.
The company is also developing a new horizontal climbing wall for this summer. It will be completely customized and developed on a yacht.
[Greenyachts and Campaign-Archive1]