Unless you're an explorer or an enthusiast in the performance of timepieces that have to brave extreme conditions, you would be surprised to learn that some watches tend to fog up. This happens when there are severe temperature changes. This is why Montblanc has tirelessly endeavored to eliminate these nuances. The Montblanc 1858 Geosphere Chronograph Zero Oxygen achieves this with its superior technology.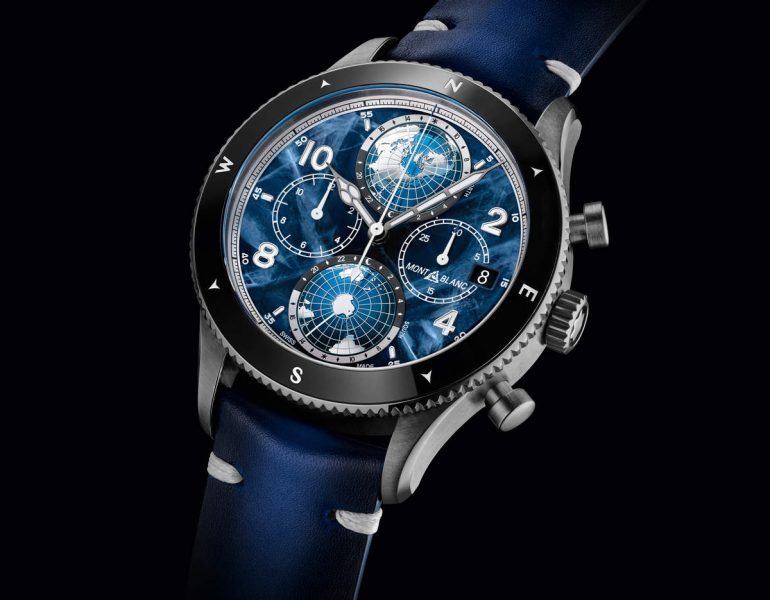 The Geosphere range has always been focused on creating timepieces that can stand the test of time and harsh environments. The Zero Oxygen watch not only avoids fogging but also prevents oxidization. This not only ensures the good-as-new looks of the watch but also sustains the efficiency of the watch. To prove their point, each of the 290 limited-edition watches comes with a Zero Oxygen certificate. The horologists put the watches through a 500-hour test. But that's not all.

Montblanc commissioned MBE-awarded (Member of the Order of the British Empire) mountaineer Nimsdai Purja, to test the watch at the heights of Mount Everest. He holds several records for quickest ascents to many peaks, across the world. In May 2022, he will undertake an expedition to the summit of Mount Everest, without supplemental oxygen, while wearing the Zero Oxygen watch. Such is the commitment of the watchmakers to give explorers only their best through research, superior mechanics, and a resounding testament. The watch employs specific oils for the movement, which perform effectively at temperatures of -50˚ Celcius.

This is also the first time that the Geosphere line is being bestowed with a chronograph function, which will help Purja record elapsed time during a number of smaller operations. There are several complications to aid climbers as well, including a central chronograph seconds hand that is powered by the caliber MB 29.27 movement, a 30-minute chronograph at 3 o'clock, and a 60-minute chronograph at 9 o'clock. These time intervals can be extremely crucial for an unassisted climber like Purja.

The 44mm polished titanium case is light, the bi-directional ceramic knurled bezel has cardinal points to keep climbers in the right direction, the dial is glacial blue, and the homage to Mount Everest complete this timepiece that has all the makings of a legend.