Montblanc has released an eight-piece limited edition sculptural timepiece to pay homage to the first ascent of Mont Blanc – the famous French peak the brand is named after. The Star Legacy Suspended Exo Tourbillon Skeleton The Ascent LE features an open-work dial that is decorated with gold engravings of the first man to climb Mont Blanc successfully, Jacques Balmat, along with something called a wyvern – a mythical monster that was believed to live on the French mountain's Mer de Grace glacier. Till the mid-18th century, the fear of wyvern prevented mountaineers and adventurers from scaling the 4,810-meter peak. In 1760, naturalist Horace-Bénédict De Saussure offered a substantial prize to the first person to find a way to the summit. After numerous unsuccessful attempts, an ambitious young hunter and gold seeker, Jacques Balmat, took up the challenge and enlisted the help of Michel-Gabriel Paccard, a doctor with a passion for botany and minerals.



The duo reached the summit of Mont Blanc on August 8th, 1786, a whole century before the word "alpinist" even entered the dictionary. They achieved the historic feat with some of the most basic equipment, including leather backpacks containing blankets, pouches for rock samples, and various measuring instruments. The pair did it again a year later, taking their patron Horace-Bénédict De Saussure along on the expedition so he too could experience the thrill of summiting Mont Blanc.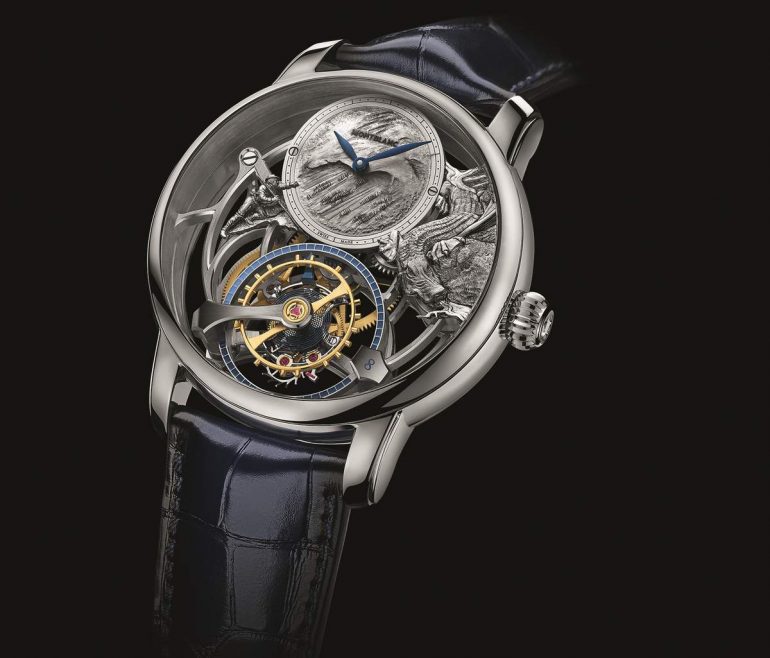 The commemorative piece comes with an 18k white gold case that measures 44.8 mm x 15.1 mm and features a polished finish. Housed inside is an open-worked hand-engraved dial with the 3D miniature figures made of 18K gold. The sculpture of Balmat in a climbing pose can be found between 9 and 10 o'clock, while the dragon-like wyvern resides between 1 and 3 o'clock. Placed between the two figures is the time subdial that features a hand-engraved relief of Mont Blanc itself. Montblanc's proprietary Exo Tourbillon sits right underneath at six o'clock.

Powering the watch is the manual wound caliber MB M18.69 which takes 12 months to be reworked into a skeletonized movement. The Star Legacy Suspended Exo Tourbillon Skeleton, The Ascent LE, is limited to just eight examples and is available with a price tag of $156,000. It comprises 188 open-worked components and features no less than 420 internal angles that must be polished by hand.