It's time travel at its Vacheron Constantin best! The Swiss house of watches opened its doors to the English elite by launching its first UK boutique on London's opulent Old Bond Street. And what's more, is that the flagship is featuring a bejeweled traveling exhibition of Vacheron Constantin Metiers d Art High Jewelry watches. A collection of six such timepieces that have never been displayed together in a retail environment is up for the rare occurrence of purchase without any wait, like, say, a two-year one buying a Kalla entails.



Set over two floors and including its own in-house watchmaker, the boutique offers an opportunity to come face to face (and to wrist) with watches that take around 6,000 hours to craft and of which only one or two models each are in existence. This exquisite selection is the most expensive watch of its time, the Vacheron Constantin Kallista, created in 1979, priced at $8 million. Carved from a 1kg solid gold ingot and set with 118 flawless emerald-cut diamonds, the Kallista inspired a series of high jewelry diamond watches named Kalla, which follow it to the fascinating assortment.

Among them is Métiers d'Art Lady Kalla, imbued with the spirit of the original Kallista. The bracelet style, 128-diamonds bedecked watch won the 2001 "Geneva Watchmaking Grand Prix." With 2009's Lady Kalla Flame, on the other watch-clad hand, Vacheron Constantin founded the "flame cut," which decreed each diamond 57 facets and the shape of a roaring flame.

Also imbibed by two secret watches, the cut is not so much a secret if you own the Kalla Haute Couture a Secret with tiny white gold hands that are only visible if you look up close or the Kalla Haute Couture a Pampilles, $8,50,000, where the hour comes hidden behind a diamond-set cover.

And making up for the absence of another embellished watch-work, the award-winning Kallania is its men's rendition, The Kalla Duchesse, $1.5 million, with individually cut diamonds that elegantly escalated Vacheron Constantin's mastery in high jewelry.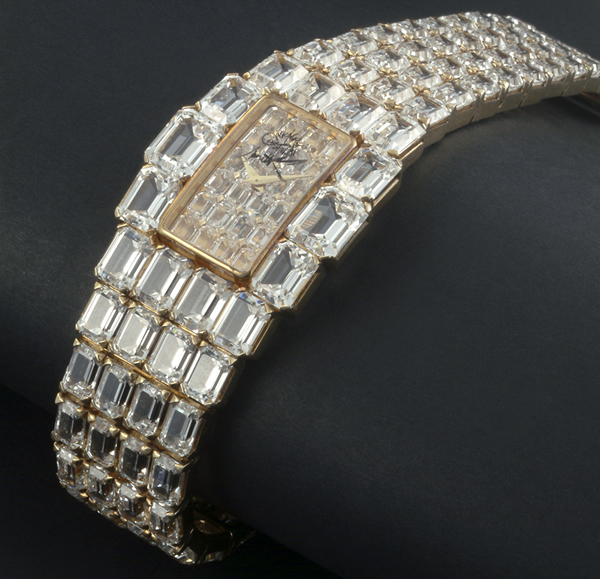 The six stunning timepieces are on display at the brand's Bond Street boutique until October 15, after which they take their exceptional artistry to Geneva and then Paris.
[Via – The-Jewellery-Editor]