Die-hard Rolex-ionados, prepare to drool! To mark 50 years of the Rolex Daytona, Christie's is doing what it does best, staging an auction of 50 of these exquisite timepieces! Many of these watches have never been seen at auction before so, brace your luxury-loving selves. To be held on 10 November 2013 in Geneva, the event has estimates ranging from $10,000 to $300,000.



The 'Choco-line' Grené Rolex
Among the highlights is the very first 1963 Daytona. From its days as the 'Cosmograph,' the 'Choco-line' Grené Rolex is a rare rendition of the early stainless steel chronograph wristwatch. With brown registers, "underline double Swiss" dial, and bezel calibrated for 300 units, it carries an estimated $40,000-80,000.

'The Arabian Night'
Personalized Daytonas being rare luxuries, Sultan Qaboos Bin Said Al Said, the Sultan of Oman's aptly christened 'The Arabian Nights', bears a black dial with the red signature of His Majesty and highly covetable artistry. Manufactured in 1972, it has a stainless steel visage besides a royal appeal and an extravagant estimate of $300,000 to $500,000.

The 'Jean-Paul Belmondo'
Jean-Paul Belmondo's Rolex fashions the French actor's New Wave chic. The black dial Daytona dates back to antiquity with its association to such a personality. The stainless steel Oyster Cosmograph chronograph carries an estimate of $60,000 to $120,000.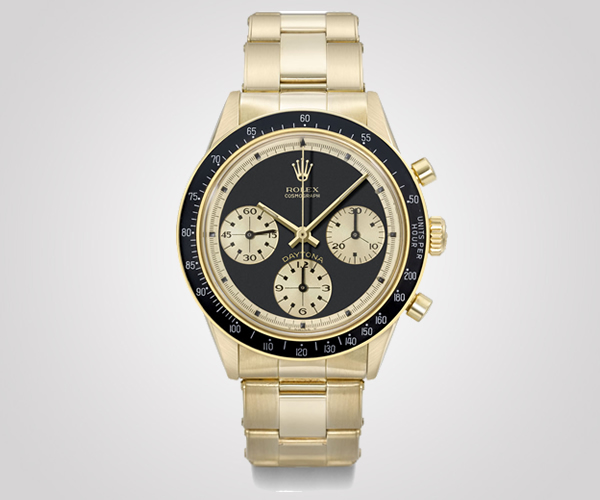 The 'John Player Special'
Of the ten featured 'Paul Newman' models, the 'John Player Special' reflects his particular brand of charm and humanitarian appeal. Gleaming in gold, circa 1969, the Daytona chronograph wristwatch with black dial and gold bracelet has an estimated $80,000 to $120,000.

The 'White Rainbow'
A white gold, diamond, and sapphire-set Daytona, The 'White Rainbow', true to its name, channels a colorful revelry that incidentally juxtaposes well against the black diamond-set dial and white gold bracelet of the circa 2012 chronograph wristwatch. The exotic timepiece has an estimate of $50,000 to $80,000.

The 'Jack of Diamonds'
The 'Jack of Diamonds' Rolex Daytona is indeed the jack of dazzling Daytonas in its gold, diamond, and sapphire-set mastery. Manufactured in 1988, it carries an estimate of $180,000 to $280,000.
The fact that Rolex doled out Daytonas in small doses and personalized too, for say, armed forces, corporate honchos, and individuals of esteem adds another fetish factor for collectors. Led by Aurel Bacs and guided by Pucci Papaleo, Christie's watch team, a leading Rolex Daytona scholar and collector, traveled the world to hunt down these unique pieces. Pucci Papaleo, who has published many books on Rolex, and the Daytona in particular, says, "on the one hand, this has made the phase of selecting the lots extremely difficult, but on the other hand, this has allowed us to remain in agreement when finding pieces of absolute originality and quality. This resulted in this stunning selection of 50 of the indisputably highest level of Rolex Daytona watches ever to be presented at auction."
[Via – The-Jewellery-Editor]