In a world full of bad-boy billionaires, India's Mukesh Ambani is considered by many as a rare anomaly. With a net worth of $83.4 billion, he's currently the richest person in Asia and ranked at number 9 on the world billionaire list. Yet, the 65-year-old camera-shy business tycoon almost never departs from the carefully crafted image of a man of simplicity, which is perfectly demonstrated by his unglamorous dressing sense. He's often seen dressed in a simple white short-sleeve shirt and a pair of loose-fitting black trousers, a choice inspired by his father Dhirubhai Ambani who founded Reliance Industries in 1958. While Mukesh Ambani can easily afford the most expensive watches ever made, the billionaire chooses to stick to his understated look and wear nondescript, unremarkable watches, as seen in the picture below.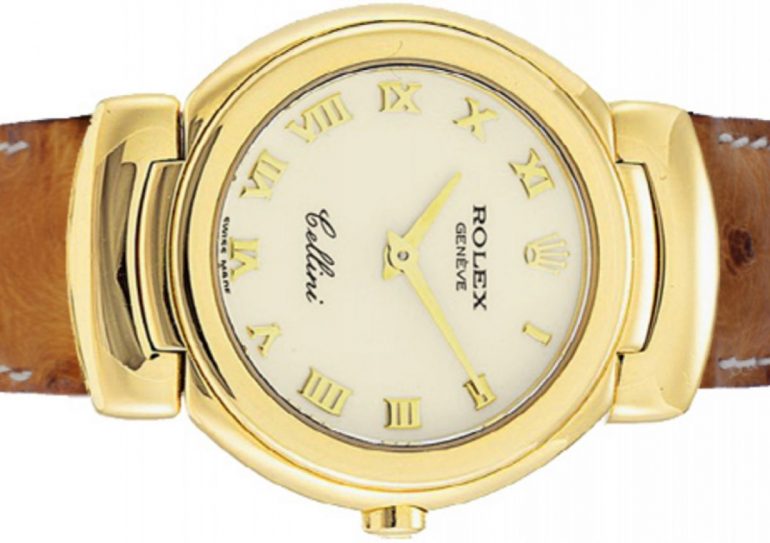 The undated picture was recently shared by a social media page called The Indian Horology, which claims that it's a Rolex Cellini reference 6621/8S worn by Asia's richest person. The quality of the image is pretty bad for us to individually recognize the timepiece. Presuming they have accurately recognized the timepiece, it's an interesting choice. Rolex Cellini is a discontinued model that currently sells for around $8,500 on pre-owned watch platforms, making it one of the most affordable Rolex watches. But there's something more shocking than its price. While its tiny case makes it perfect for someone looking for a modest watch, Rolex Cellini ref. 6621/8S is a ladies' watch, which is what makes it a bizarre choice for Mukesh Ambani.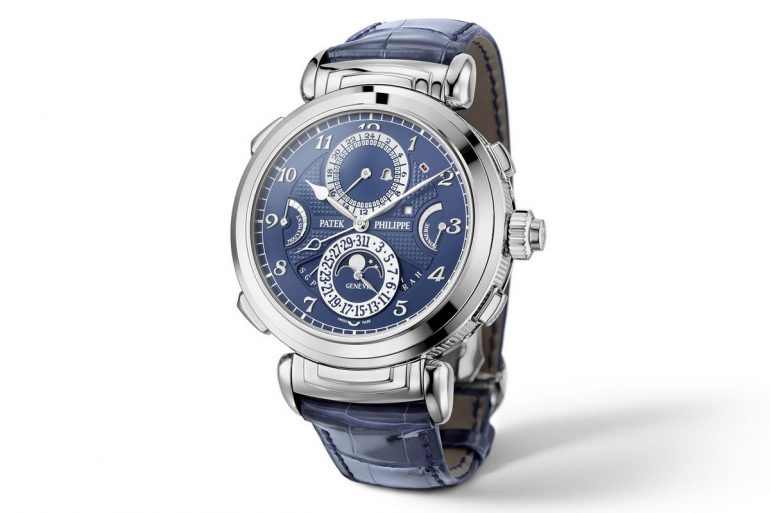 The timepiece has a diminutive 18k gold case measuring 26mm in diameter. Underneath a scratch-resistant sapphire crystal is a champagne dial with Roman numerals and is powered by a battery-powered Quartz movement. The watch is worn on a brown leather strap with an ostrich pattern. The ordinary-looking Rolex is in complete contrast to the ultra-rare Patek Philippe Grandmaster Chime Reference 6300G worth $9 million worn by Mukesh's son, Anant Ambani, at an event recently. It is the most complex watch ever made by Patek Philippe with a movement that features a whopping 20 complications. But don't be fooled by Mukesh Ambani's choice of clothes and watches; the billionaire and his family enjoy an unmatched life of luxury. Here are some of the expensive things owned by the Ambani family.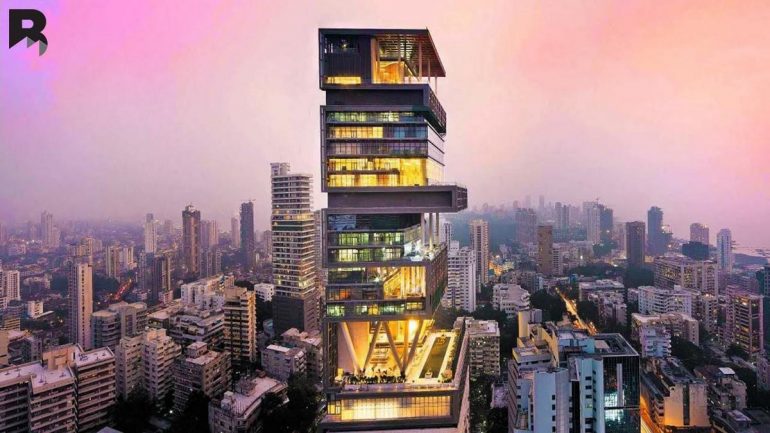 He stays in the most expensive private home in the world and it has a snow room
The Indian billionaire and his family live in a 27-story skyscraper in Mumbai which is believed to be built at the cost of $1 billion, making it the most expensive privately-owned house in the world. The engineering marvel is named Antilia after a mythical island believed to be in the Atlantic Ocean near Portugal and Spain. Out of 27 floors, the top six are reserved for the family and can be accessed via nine high-speed elevators. In addition to that, six floors are dedicated to car parking that can accommodate up to 168 cars. Additionally, the building has a helipad, a 50-seat movie theatre, three floors of Babylon-inspired hanging gardens, a yoga studio, a fitness center, a ballroom, a spa, a health center, a temple, and also a snow room. Antilia is designed to sustain an earthquake of magnitude 8 on the Richter scale.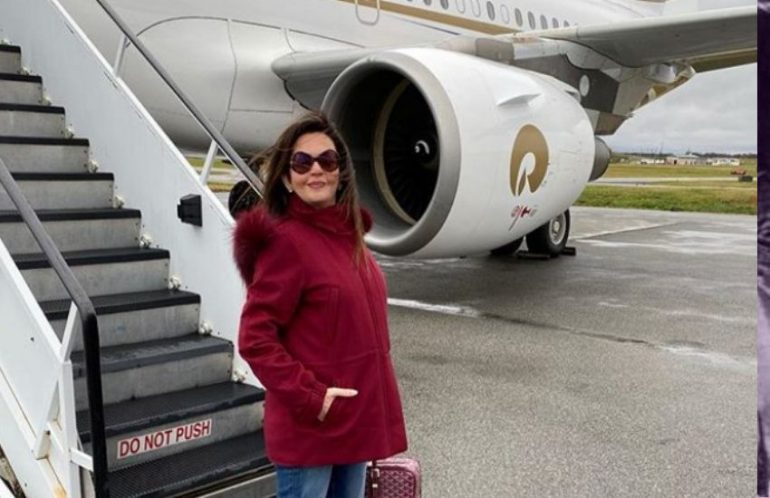 A fleet of private jets
As one of the richest people on this planet, Mukesh Ambani obviously needs private jets to ferry him and his family to different parts of the world. The billionaire has a total of 3 private jets, which includes a fully decked-out Falcon 900EX. Powered by three Honeywell TFE 731-60 engines, the aircraft has a range of 4,500 nm and a top speed of 0.85 Mach (about 650mph). He also owns an Airbus A319 that can carry up to 18 passengers. The cabin is divided into VIP quarters and is equipped with top-shelf amenities. In addition to that, Mukesh Ambani's fleet also includes a Boeing Business Jet that's no less than a flying 7-star hotel.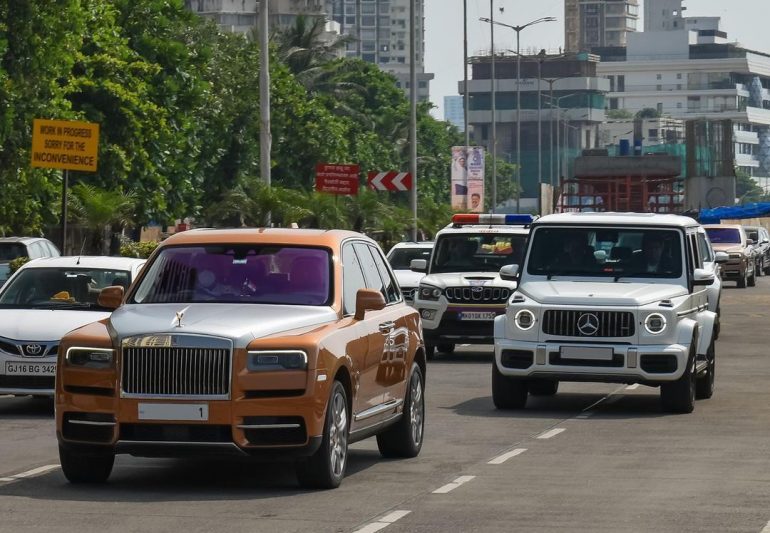 A collection of some of the coolest and most expensive cars
The Ambani family is known for its love for cars and their mega garage is home to some of the most expensive cars in the world. In fact, Mukesh Ambani is believed to own the most expensive car in India which is a completely personalized Rolls-Royce Cullinan worth $2 million.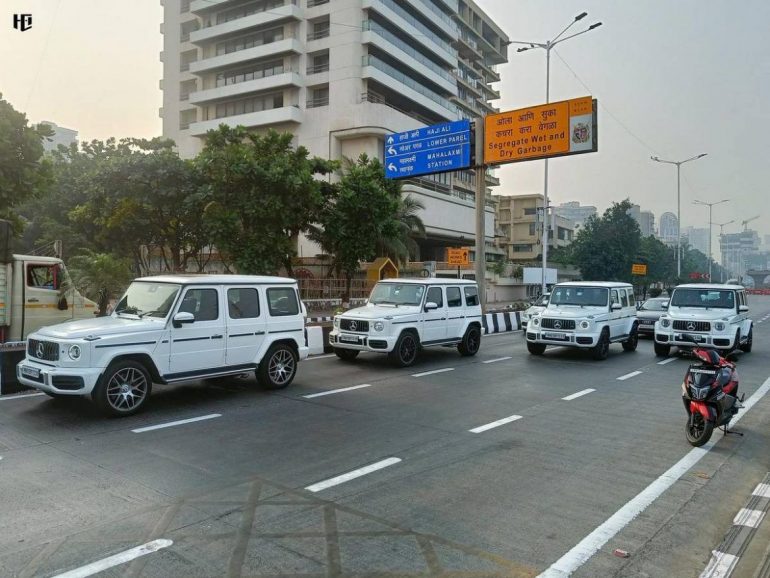 If you thought that was awe-inspiring, wait till you see the fleet of vehicles that carry the security personnel protecting the billionaire and his family. It includes no less than 6 Mercedes-AMG G63 SUVs that cost close to an equivalate of $500,000 apiece in India.
Note – As of writing this article according to Forbes, Mukesh Ambani's networth is $85 billion.