Just when you think Hermès Birkins couldn't get any more expensive, Christie's swept in to prove you wrong. The auction house has sold a Himalayan Niloticus Crocodile Birkin with diamond-encrusted gold hardware for the awe-inspiring sum of $300,168 at a Hong Kong auction, smashing the previous record for the most expensive handbag ever sold.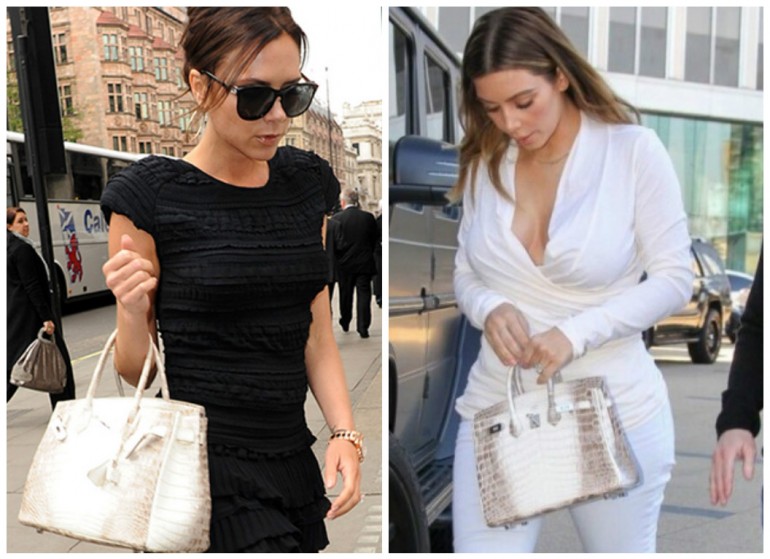 You may recall that this particular style of Birkin has been on the auctioneer's block before, but it sold for a little under $200,000 at the time. Notorious Birkin collectors Victoria Beckham and Kim Kardashian are both fans of the style. It has been reported that only one or two pieces are created each year in this style.
An anonymous Asian collector purchased the handbag after a bidding war pushed the final price over $300,000. But Christie's believes that this is money well spent. "The diamond pieces created by Hermes are exceptional, but none are nearly as iconic as the Himalaya," Christie's said in a press release before the sale. "It is believed that only one or two of the Diamond Himalayas are produced each year, globally, making it one of the lowest production runs for handbags," the house said in a statement.
The Beckhams and Kardashians of the world may love using these as gym bags, but these days Birkins are hot property with people looking to make long-term investments. New York-based appraiser Helaine Fendelman of Helaine Fendelman & Associates, told CNN, "I remember when I wanted to purchase a Birkin bag at auction for about $7,500, and my husband thought I had lost my mind. That same bag today sells for double that price, at least."
[ Via : Cnn ]