The wait is still on for the Porsche designed condominium in Miami, Florida. A cylindrical structure, literally engineered in luxury from top to bottom, is evidence of this. Luxury that we've only come across in Bond and Iron Man flicks is soon to turn into reality by 2016 with the completion of the Porsche Design Tower project. Giving you a quick flashback, the Porsche Tower is an extraordinary project that the German luxury brand is developing with Dezer Developers, enabling you to drive all the way up to your doorstep, further allowing you to park your car in the luxurious expanse of your home in a mirrored cubicle. If not, you also have the valet-assisted option to have your car parked on the sun-kissed terrace of the Porsche condominium. Yes, there has been considerable progress on this project with the ground-breaking ceremony last month. We have here all the juicy details for you.



The Porsche Design Tower, Miami has been designed in collaboration with the Sieger Suarez Architectural Partnership, and the design is one that would stun and allure you.

Engineered in unsurpassed technological innovation, the elevators in the tower follow a three-step procedure. First, the car is scanned, secondly placed on a turntable that aligns the car with the lift, and thirdly, a robotic arm pulls the vehicle into one of the three glass cars lifts, taking you all the way to the comfort of your car home.

You even have another option, wherein you can get into a passenger-only lift while the valet takes your car onto the car lift.

A specialized Car Concierge will assist with regular maintenance, tire rotations, washing, and other services.

In most units, a glass window between the living quarters and the sky garage allows residents to enjoy viewing their vehicles from the comfort of their homes.

The interiors, like its counterparts, exude utmost luxury with European design finishes, giving you breathtaking views of Miami. You will fall in love with this!

Other features in the high-rise opulence to be created by Porsche would include entirely mirrored exteriors that allow you perfect views of the ocean expanse outside, a spacious balcony equipped with private pools, and summer kitchens.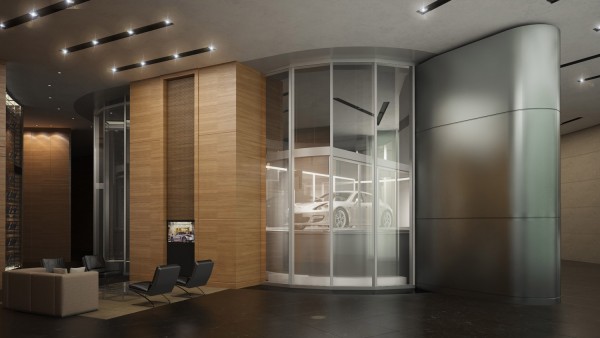 Porsche Design Tower Lobby

Porsche Design Tower Restaurant

Porsche Design Tower Bar

Porsche Design Tower Sunset Terrace

Porsche Design Tower Pool And Beach
Other lifestyle amenities include a lobby, restaurant, bar, sunset terrace, spa and fitness center, entertainment room, pool, and beach.
WSJ reports that The building's residences range in size from 4,200 to 17,000 square feet and cost from $4.5 million to $25 million. The 60-story tower has 132 residences, and more than 50% of them are under contract, representing more than $400 million in sales.
[Via – Porsche-Design and Wsj]