"We live in a world where the Taliban has a huge presence on Twitter, yet your favorite American President has been silenced," posted Mr. Trump. That's not a statement someone makes lightly. While the fact of him being anyone's favorite American President is debatable, the crux of the matter is he wants to be heard in a world where even terrorists have a voice. Not entirely wrong at that, the enterprising man is paving his way yet again. Who can forget Trump's own Twitter, the deadbeat version called "From the Desk of Donald J. Trump?



The latest development in that respect is Trump Media & Technology Group creating a rival social network called Truth Social. The latest version of Donald Trump's thoughts will come to fans in early 2022, via an app, with Trump preceding as TMTG's chairman. DailyMail shared his statement, 'I created TRUTH Social and TMTG to stand up to the tyranny of Big Tech. We live in a world where the Taliban has a huge presence on Twitter, yet your favorite American President has been silenced."

He continued, 'This is unacceptable. I am excited to send out my first TRUTH on TRUTH Social very soon. TMTG was founded with a mission to give a voice to all. I'm excited to begin soon sharing my thoughts on TRUTH Social and to fight back against Big Tech. Everyone asks me why doesn't someone stand up to Big Tech? Well, we will be soon!' A TRUTH Social app is currently available for pre-order on the Apple App store, with plans to launch a beta version for testers in November.

Is From the Desk of Donald J. Trump gone for good?
It indeed seems like the venture that was supposed to be the 'voice' of the very opinionated former President of the United States is no longer operational. Why else would he move on to what could be a more effective medium? The desk was launched in May after Twitter, Facebook, YouTube, Snapchat, and other major social media sites removed Trump's accounts in the wake of the Capitol riot. It was never as easy as opening the website and reading what the man had to say and came with several terms and conditions.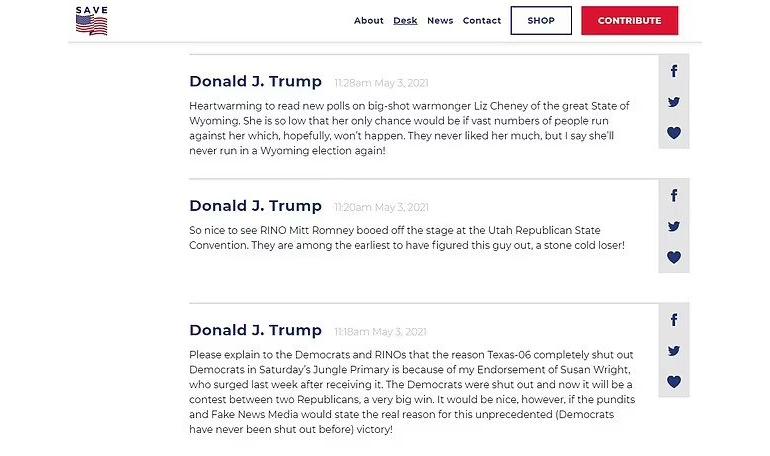 The only way fans could use this platform is by reposting the statements Trump has been emailing to reporters to their Facebook and Twitter feeds since he was suspended from the media. As opposed to a single Twitter post from the former President that pulled in hundreds of thousands of likes and retweets, he barely managed little more than 212,000 engagements on his platform.

It wouldn't be wrong to say the traffic and engagements on the desk of Donald Trump were dismal. Trump couldn't use the platform to his true benefit and mostly bored his audience with his favorite topics like pushing baseless voter-fraud claims, congratulating political allies, and attacking enemies. No wonder the platform is poorly tanked.

Trump's dream of launching a new social media network that could compete with Facebook and Twitter was trumped in months. The Desk of Donald J. Trump made no impact whatsoever and didn't make a speck of difference to any social media platforms; being a rival was a far cry. Let's see if the Truth social app can do the unattainable.