Hollywood actress and Goop founder Gwyneth Paltrow has made plenty of headlines for her controversial wellness methods – from bone broth and rectal ozone therapy to jade vaginal eggs – but lately, this March, she's been in the news for a lawsuit case over a 2016 ski accident. She just won the case and was just awarded US$1 in damages upon the court's verdict (yes, US$1).

The civil court case was brought forward by Terry Sanderson, a retired eye doctor who claims he suffered life-altering injuries after Paltrow allegedly crashed into him while skiing in February 2016.

Lawyers for Sanderson allege that Paltrow was distracted by her children and landed on top of him. He claims this left him unconscious and that he suffered brain injuries and four broken ribs from the crash. Paltrow, however, rejects the optometrist's version of events, and says that it was he who skied into her back.
Sanderson had initially sought US$300,000 in damages. In turn, the actress responded by counter-suing for a mere "symbolic" US$1 – oh, and lawyer fees that could run into the six figures – states Deadline.
From the "odd" questions posed by Sanderson's lawyer, to Paltrow getting full marks for her soft power-dressing skills, the fascination around Gwyn was at full throttle. With the case just finished, we take a look at how Gwyn regained fashion relevance through her choice of courtroom 'fits.

The unusual courtroom moments
Gwyneth Paltrow being, well, Gwyneth Paltrow meant that unusual courtroom moments were bound to emerge.
The 50-year-old apologised for her use of foul language during the incident in question (she told Sanderson: "You skied into my f****** back) and talked about the extent of her friendship with Taylor Swift, explaining that they are "friendly" but "not good friends". (The topic came up as Swift similarly sued for US$1 in a 2017 lawsuit.)

The stealth wealth
While the courtroom is no stranger to Hollywood stars (who can forget that Johnny Depp v. Amber Heard trial?), it's common to see celebrities flaunting their wealth through designer gear while facing the law, like showing off designer handbags. In Paltrow's case, however, her choice of courtroom fashion is more subtle and has been dubbed as "stealth wealth" and "low-key rich b****" by the media.
From the Iron Man star's perfectly coiffed blonde waves to "casually" thrown together polo necks with oversized trenches, it's easy to think Gwyn's look is on the basic side – but that's far from true.
Her courtroom attire has been filled with more subtle luxury brands that don't scream expensive with signature logos, but still pack a hefty punch to the wallet. This "soft power dressing" has made Paltrow the centre of many narratives around how fashion can influence public perception.

The day one look
On day one, Paltrow wore a cream-coloured polo neck from the Olsen twins' label, The Row. According to High Snobiety, the coat costs US$3,500 and the polo neck jumper is US$1,700. She paired the look with a pair of US$1,200 Celine boots and Ray-Ban sunglasses.

The meme-worthy glasses
Paltrow became an instant meme after the glasses she wore in court went viral. Not only was she mocked for wearing lenses in a case involving an optometrist, but she was also compared to serial killer Jeffrey Dahmer, the subject of a recent hit Netflix series, for the aesthetic. Rolling Stone reports the glasses are from online optical brand Caddis and are one of the star's more affordable pieces at US$289.

The innocent self-promo cardi
Paltrow promoted her own brand on March 22 wearing an ivory "Bennet" belted cashmere crew neck cardigan from G. Label By Goop. The cardi is US$595, according to the brand's website. Paltrow wore khaki pants and added a brown leather Celine tote. The Oscar-winning actress teamed the 'fit with chunky gold jewellery, some of which is also available on Goop.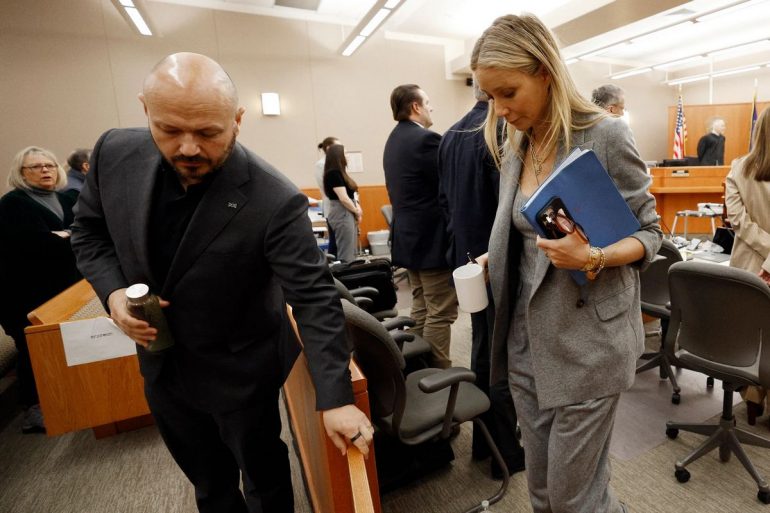 The Scandi vibes
Gwyn exuded "Scandi chic" vibes when she walked into court wearing a grey double-breasted blazer from Brunello Cucinelli with a matching top and trousers. She had a blue Smythson notebook in her hand, which reportedly costs US$250.

Prada all the way
On March 24, Paltrow went for head-to-toe Prada, wearing a long navy skirt, long-sleeve top and Chelsea boots (worth US$1,320) from the brand. Studies have shown that navy blue or dark grey colours can suggest "seriousness".

Soft in pink
On March 28, she re-wore her Celine boots and opted for trousers from Proenza Schouler White Label with a blush pink blouse from G. Label by Goop.
Note: This story was originally published on SCMP and has been republished on this website.