Tom Cruise is a perfectionist. He gave his all to his movies and stunts and did the unthinkable for ex-wife Katie Holmes when the two were together. The daredevil actor etched a message for his wife, Katie Holmes, on the top spire of Dubai's Burj Khalifa while filming stunts for his movie Mission Impossible: Ghost Protocol. Who can get over his death-defying stunt on the planet's highest skyscraper? But there was more to being atop the Burj Khalifa than filming the action-packed scene.

The marking consists of Cruise's signature, along with a heart symbol and an inscription to his wife and children, who were present at the shoot location. "The only person who will ever see [his signature] is the guy who paints the building some day," the film's stunt coordinator Gregg Smrz told the New York Post newspaper. Immortalizing his relationship with Holmes in this somewhat odd, gravity-defying way took Cruise way up a series of elevators and 200ft of ladders to the top of the tower.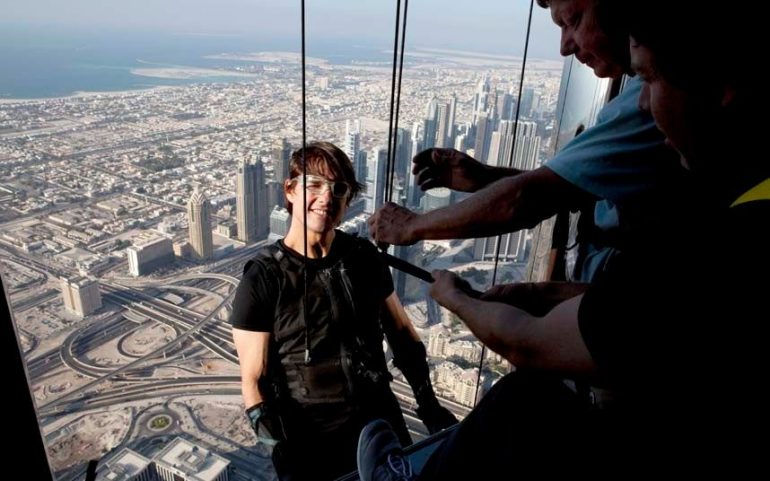 It didn't end there; the benevolent star was lowered outside the tower's spire to imprint. The stunt was shot without a body double against the dramatic backdrop for the action flick. Cruise performed a series of heart-stopping stunts clinging to the exterior of the 2717 feet tall Burj Khalifa. "Fear of falling was the first thought that went through my head when I lunged out of that building," recalled Cruise, while hanging nearly 100 floors off the ground, adding: "I just really, really hoped I wouldn't fall," Cruise said.

The film made its world debut at the Dubai International Film Festival, where the Hollywood actor was joined by HH Sheikh Mohammed bin Rashid Al Maktoum, ruler of Dubai.

Unfortunately, only a year later, the couple that married in 2006 in a Scientologist ceremony in Italy announced their separation in 2012. The bitter split made Suri, Cruise's daughter, estranged from her father.