First it was Karl Lagerfeld confusing a real from a fake, now it's us. And I don't mean jackets like in the designer's case, I mean supermarkets. For Paris Fashion week, the fashion wizard conjured up a supermarket where there should've been a catwalk. Then what? Rihanna in a cart and grocery shopping models.

Yep, you read that right. The Grand Palais was transformed by the designer into a high-end supermarket where spectators stared as models scooped up not just, "eau de Chanel" water or Coco chocolate bars but other models and singer Rihanna herself!

Coco Carbone anyone?
The Chanel themed goodies became such a rage that instagram was flooded with images within minutes of them appearing! Aptly (and fashionably) christened 'Chanel Shopping Center', the glam marche carried every Chanel themed goody imaginable. Speaking of, we're especially loving the Beaux Ballets.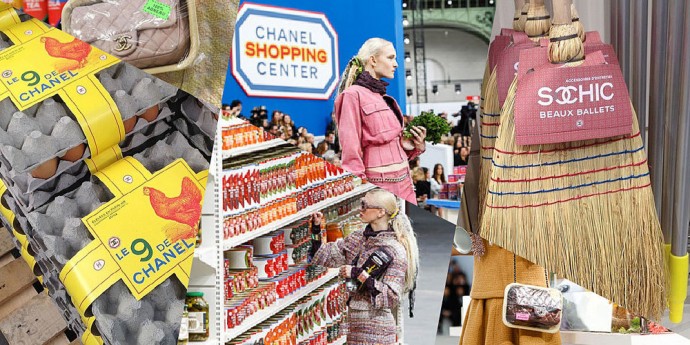 So chic!
It wasn't just the merch that caught our eyes though. While there were shopping center minutiae from vivid posters that scream out offers to gigantic trolleys, it was the baskets with the label's famous chains dangling that had our hearts dangling instead.

Ken-dall, will do.
Clearly there were heart stopping moments galore at the show. Count this in. Kendall Jenner made her shiny Chanel debut carrying aforementioned basket and glittering eyelids. The stylista rocked the label A/W '14 look, looking squeaky clean yet glamorous.

And last but not the least, the fashion. Ju-st kidding! Kendall's outfit leads us to the best part, trainer fashion. Which would also explain why a supermarket was like, only the best idea ever. No model donned anything but trainers and when I say trainer, think, a Chanel-ed up version, with some color, some clashing prints but mostly, luxe fabric. As for the clothes, everything from midis to cut away gloves. Sam McKnight even created tweed dreadlocks for the models' hair to match their clothes. Oh, and did I say track suit? If I didn't, well track suit. And FYI, we're floored by Cara's top-to-toe peek-a-boo look.

We said we'd give you everything on Chanel's radical 'supermarket' show. And we're keeping our word. Word is, with all that Chanel merch and no clue of if it'd ever reappear, not even the most discerning of the audience could keep their hands off the shelves.
"Dear valued customer, the Chanel store is now closing. Please feel free to pick up your complimentary fruit and vegetables as you leave." And that!
So no reason to be jealous of anyone who could've snapped up that darling "Mademoiselle Privé" doormat, produce was all anyone got. And any sneaky attempts of prop smuggling were thwarted by security guards.
[Via – Dailymail]