This Monday, the annual list of the "World's 50 Best Restaurants" was announced in an awards ceremony at the Guildhall, London. And those still reeling from the controversy of 60 diners falling ill with food poisoning after eating at Noma will be shocked to know that the Danish restaurant has usurped its previously held number 1 spot, that too from the temple of modern Spanish cuisine, El Celler de Can Roca. Created by Restaurant magazine, the list was compiled by more than 900 industry experts. But even though the chefs, restaurateurs and food critics vote for their "bests" based on personal experience at restaurants, barring the aforementioned news, the biggest spoiler perhaps is- no need for spoilers.

10) The Ledbury, London


After holding the 13th position on last year's list, this Brett Graham run restaurant has luckily progressed in the right direction. Breaking into this year's top 10, it's a great marriage of modern French food and the fashionable Notting Hill location.
9) Alinea, Chicago


Appearing earlier this year on our 11 most expensive restaurants in America list, this Daniel Boulud favorite makes waves on yet another kind of list for its food that is so experimental it sometimes has to be served directly onto the tablecloth and not on plates.
8) Arzak, San Sebastian


Yet another apostle of successful Spanish restaurant tradition, Arzak remains family-run and serves "avant garde" cuisine. Not cloning other leading cuisines, nor renouncing anything, the restaurant earns critical acclaim for its innovation whilst retaining its Basque pedigree.
7) D.O.M., Sau Paulo


Adopting an ingredient used only by the cosmetic industry and fusing its flavor into sweet and savory dishes is just one example of its Chef and winner of this year's Chef's Choice Award Alex Atala's brilliance. His contemporary Brazilian menu has many unusual Amazonian contributions thus making D.O.M. restaurant par excellence.
6) Mugaritz, San Sebastian


This and the 8th entry combined put San Sebastian on the gastronome's globe. With dishes such as egg yolk with sea urchin, Mugaritz reinforces its reputation as highly experimental although it doesn't exactly win too many points from the general public too often.
5) Dinner by Heston Blumenthal, London


From experimental to traditional British recipes dating back to the 14th century, the list sure does come full circle. And what better way to do it than with Heston Blumenthal's Dinner. With Ashley Palmer-Watts as its executive chef, the restaurant woos diners from its ivory-painted spot at London's Mandarin Oriental Hyde Park Hotel.
4) Eleven Madison Park, New York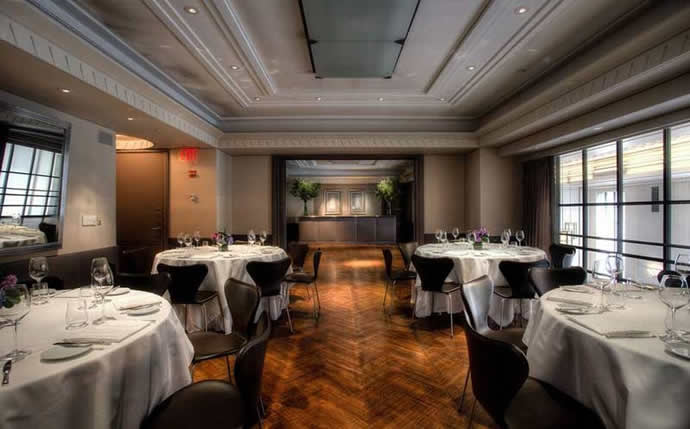 Yet another picture of elegance, Eleven Madison Park does what could perhaps be called native to an NYC establishment, serve what it serves, in this case modern French "with a New York twist". The good thing is, their multi-course tasting menu focuses on the agricultural bounty of New York and its centuries-old culinary traditions.
3) Osteria Francescana, Modena


"Twelve tables in the heart of Modena tell a story of tradition in evolution". Nothing more perhaps, needs to be said of Massimo Bottura's Italian restaurant except that, that explains why his food is famously touted "brilliant yet eccentric". Taking the essence of Italian cooking, the culinary wizard whips up an 'exclusive' storm for the select few who can brave the unexpected.
2) El Cellar De Can Roca, Girona


While world's Best Pastry Chef award this year went to Jordi Roca of El Celler de Can Roca, the restaurant run by three brothers lost its number one spot. Still, we're thinking its success will sustain owing to the massive popularity explosion it experienced last year. And to the extravagant evenings it is hosting in partnership with The Macallan, called The Ultimate Dinner.
1) Noma, Copenhagen


The 45-seat restaurant in a dockside warehouse, headed by chef René Redzepi, is famous for its focus on reinvented, seasonal Nordic cuisine. Its return to the top would mean a surge in the popularity of unusual ingredients it sources from the local landscape, such as reindeer moss and cod liver. What it would also mean is securing a reservation here is about to become time-consuming.