The Royal Mansion is located on the 18th and 19th floors of Atlantis, The Royal, arguably the world's most ostentatious hotel. Its magnificent sky bridge houses one of the most luxurious suites in the world, filled with grandeur and opulence. While the hotel boasts 17 restaurants and a 21-foot aquarium containing 4,000 jellyfish, it's the Royal Mansion that truly shines as a modern-day palace. With features like a private foyer, double-height ceilings, open-air elements, and entertainment areas, this suite stands out as Dubai's pinnacle of luxury, offering accommodation for nine adults and four children. Ideal for large families and groups, the signature suite also includes a vast private terrace with breathtaking views of the captivating city skyline.

The experience of staying in this massive suite may be costly, but it offers extravagance to match. Imagine immersing yourself in the sweeping vistas of the Arabian Sea from the comfort of your own infinity pool – it's a surreal experience. The Royal Mansion offers everything from a grand 12-seater dining table for formal gatherings to a casual entertainment room, complete with a 98″ LED TV screen, an extensive library, and a well-stocked bar area.

For those who enjoy indoor games, indulge in a game on a limited-edition marble and crystal Backgammon set priced at $18,000, or in friendly competition over a bespoke ping pong table crafted by Louis Vuitton. This suite is truly a haven of luxury. And while pictures might be worth a thousand words, they scarcely capture the essence of this place. To truly appreciate the allure of Dubai's most luxurious and opulent suite, one needs a drone's eye view. Dive into the details below to discover the unparalleled features of the Royal Mansion, and prepare to be astounded.

Kingly accommodation-
What better endorsement does a hotel suite need than having hosted music royalty like Beyoncé? Priced at a reported $100,000 per night, this room spans 11,000 sq. ft and is a two-level penthouse. It boasts four chambers: two master bedrooms with separate bathrooms for him and her, each featuring a steam room, and another two bedrooms with ensuite bathrooms.

The rooms come equipped with walk-in wardrobes, dressing rooms, a safe room, an in-suite elevator, and a 10-seater sunken Majlis. Step outside to whip up something special in the outdoor kitchen and enjoy breezy evenings with your group.

The most stunning ensuites-
The two master bedrooms boast luxurious his-and-hers bathrooms equipped with steam rooms. The grand master bathroom features freestanding bath that provides serene vistas of the Emirate. The third and fourth bedrooms also come with their own ensuites. Every corner of the suite exudes class and is stocked with exclusive Hermès bathroom amenities. Additionally, there are cozy Italian bathrobes, crafted by Frette from 100 percent cotton.

A royal treatment indeed-
Aptly dubbed the Royal Mansion, it treats its guests like kings and queens with a 24-hour elite butler service, a 24-hour bartender, and top-of-the-line Hermès amenities. Guests' airport transfers are also luxe in a Mercedes-Benz Maybach S-Class. If you dont feel like leaving your not-so-humble abode, then dont, as with services like luxury in-room shopping experiences with Valentino, Level Shoes, and Graff, everything is served on a platter.

The emperor of entertainment-
Atlantis, The Royal, is the first hotel in the Middle East and North Africa to showcase a vast Samsung LED screen 'wall'—a modular Micro LED display that spans 146 inches and boasts 4K resolution. The regal suite is equipped with a 98-inch LED TV screen situated in a dedicated entertainment room, which also includes a library and a bar area, complemented by 24-hour bartender service. As you might imagine, a movie night here will be an experience in itself.

Sleeping in style-
Your stay is enriched with great attention to detail. The pillow menu alone consists of seven different types of pillows. Italian bathrobes by Frette, 800 thread count luxury linens, and bespoke mattresses by Hypnos ensure you sleep like a baby.

Gold amenties for that regal touch-
The charm of the Royal Mansion lies in its details. Opulence is not limited to just the furniture or design elements; it is also evident in something as basic as bathroom essentials. Hotel guests enjoy complimentary gold-plated toothbrushes and combs, along with custom-made gold razors, loofah sponges, and bath brushes. Affluent guests are also welcome to take these alluring amenities home if they wish.

Amenities for kids-
Atlantis, The Royal, ensures that vacations with children and infants are exceptionally stress-free. They cater to nearly every need for a seamless stay at the Royal Mansion. Guests will find bamboo hooded towels, bath toys, and products designed by Eau my BB, along with soft toys, baby slippers, a STOKKE high chair, and a sterilizer readily available.For older kids, there's a specially curated collection of children's amenities, flip-flops, and Lego-shaped chocolates. To keep them entertained, the hotel offers top-notch attractions like the Skyblaze Fountain Show, The Lost Chambers Aquarium, and the world's largest waterpark, Aquaventure, which is included in the stay.

Exceptional design features-
The design features and services of the Royal Mansion at Atlantis The Royal make it one of the most luxurious hotel suites in Dubai. An imposing grand lobby flanked by two 100-year-old olive trees makes for extraordinary decor. It is further amped by using luxurious materials, like Calacatta marble, rustling silk draperies, Lalique and Christofle vases, and warm wool and leather upholstery.

The opulence is enhanced by gorgeous, custom-made crystal and brass Preciosa chandeliers that frame the rooms. The suite is attached to a private terrace flaunting an infinity pool with mind-blowing views.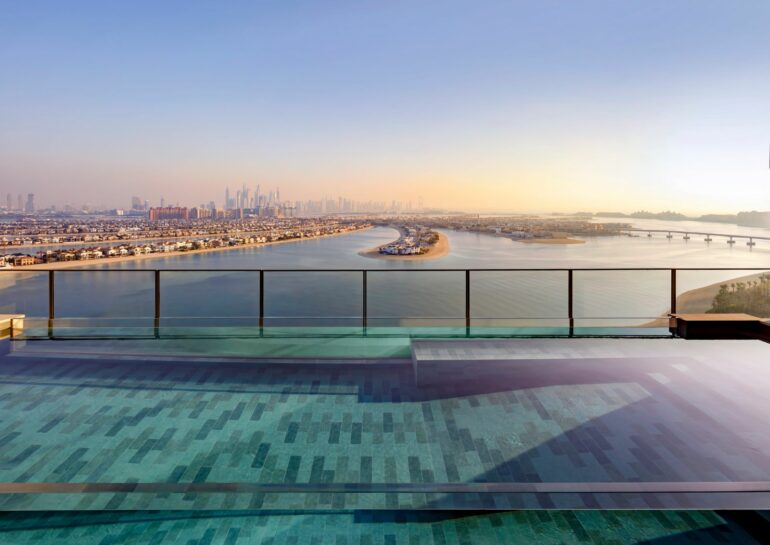 The thoroughly lavish experience ends just as beautifully. What screams luxury more than a luggage-free departure for guests flying with Emirates. Prior to departure, guests' luggage is checked in and transported to the airport, with boarding pass and baggage tag handover
from the comfort of the resort.
(All images provided by Atlantis The Royal]