Last week we raved about our stay at The Westin Sohna Resort and Spa, and our meal there, at Xiao Chi. But as they say, we've saved the best for last. And its called Heavenly Spa's Balinese massage. But it's not just the massage; we were in awe right from entrance on. Then again the last place you expect to not see water features at a water-bodies specked property should be the spa. And while there is enough anecdotal evidence to make one believe that spas need to be the picture of dimness, Heavenly Spa by Westin proves that one needn't depend on lack of light for its sense of calm.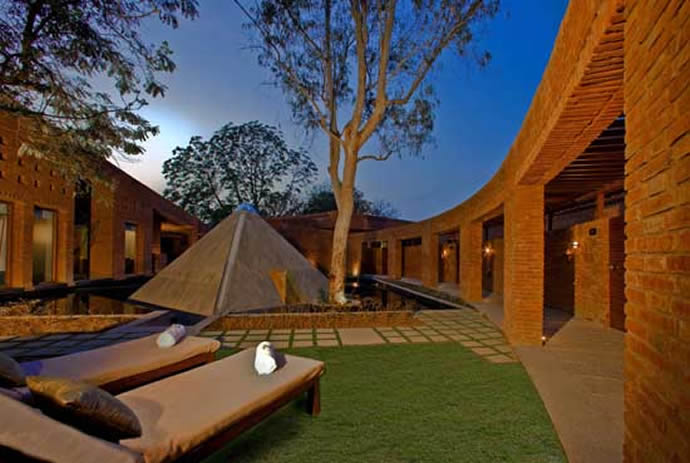 So, while there it dawned upon me what a spa really is, or should be; massive and open, bathed with sunlight and greenery. I'm glad I entered at a good hour because it was bright when I got there, twilight when I got to, sipping green tea and then bam, dark. The reason I lay stress on this is the same- massive openness because throughout your time there, you are likely and lucky to come across glass walled restrooms to treatment rooms and the glass lined sauna, with a view of shrubbery or the sky above. So after going through a spa menu at a reception that wasn't much different, I proceeded through the passageway for the first massage rites- steam and sauna.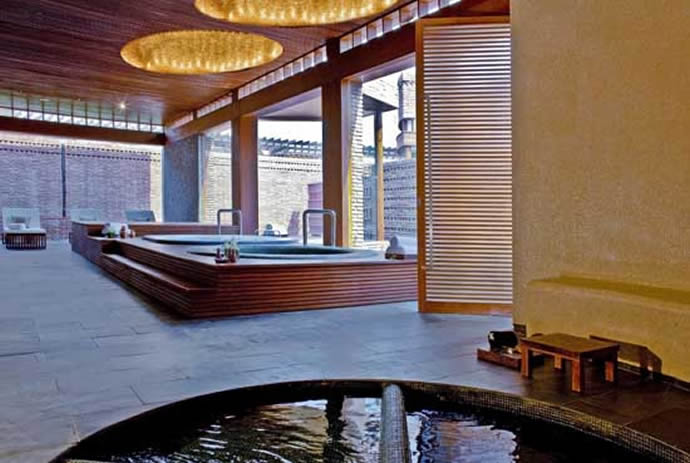 Built in a semi-circle, the 18,000 sq. ft. oasis has male and female passages on either side with a stunning view of Peace, a meditation pyramid, located at the center of the spa. Surrounded by water on all sides, not only is it aesthetically appealing but it also lends to the expanse, a sense of balance. I was told there is even an open-air yoga room flanked by water on one side and greenery on the other. And when I hadn't sight of the pyramid, I was compensated well in my desire for a view, with one from within the sauna. The glass in the steam room was foggy of course but the entire ladies area was so beautiful, with more glass walls and deep beige loungers.

This was no time to lounge though. It was time to knock oneself out in one of the acloves. "Is the music fine?" my therapist asked as I lay face-first on the cushioned massage bed. And I thought, finally someone's paying attention. In the past I have had everything from the music start several minutes into the treatment to the iPod battery die out. But obviously they mean every word when they say signature "Heavenly" music. This was followed by uplifting fragrances with a massage of aromatic oils on the neck and the shoulders that transported me out of the alcove and into the universe. The music stayed of course.
With strokes stronger than a Swedish, the Balinese massage was only a few twists short of the Westin Workout massage. Said to be a special treatment, the latter is a personalized massage that is nothing short of a pre-workout warm up. And while I had earlier anticipated giving it a shot, the stretch that comes from Balinese traditions with its rolling motions proved a far bigger temptation. This temptation extended to the back, stomach and limbs, with a medium intensity pressure and lasted all of 45 minutes. But in true retreat style, my therapist asked if I'd like to stay 5 more minutes for a head massage.
So if you're someone whose 'upliftment' drops, if ever so slightly, when the end comes, Heavenly Spa is where your prayers would be answered. And while most spas bank on added features like Jacuzzis et al, that you only get to walk past in most cases, the big draw here remains indulging in a sensory experience within one of their seven acloves and then returning to your villa to let the skin absorb oils longer, thus attaining aromatic nirvana. Though each alcove does boast an outdoor shower to usher in nature, in case one would like to end the treatment at the spa.
I was obviously thrilled at the thought of taking my treatment home with me, after of course, a warming cup of green tea. An alternative for people like me is bringing it in its entirety to your villa. The resort's In-Room Spa facility guarantees patrons some of the most soothing therapies in their own niche that can obviously be followed by a deep soak in the skylight lit bathtubs that make each villa ones own mini-retreat. And speaking of retreat, though the spa is part of a resort, its packages make it an ideal day trip for those from the capital and Gurgaon.
Take the 'pamper me' for instance. True to its name, the 4.5 hours package offers the ultimate pampering experience. Starting with a shower and going into a footbath followed by a steam bath, body scrub, Balinese massage one gets to indulge in spa cuisine before ending with a facial and deluxe manicure or pedicure at the salon. Ideally one could go the whole hog and make that daylong getaway about complete wellness by including yoga. The sanctuary at the spa offers various 60 minute and some 30-minute sessions involving a combination of techniques and/ or postures.

Balinese Massage
45 minutes | Rs. 2,500 (taxes extra)
Address :
Heavenly Spa – The Westin Sohna Resort and Spa
Vatika Complex, P.O. Box Dhaula,
Karanki Road, Sohna-Gurgaon,
Haryana 122103, India
Phone: 91-124-4508888
[Heavenly Spa – The Westin Sohna Resort and Spa]