Looking for a suite with lakeside luxury in Switzerland? We have just the suite for you — The Suite of Arts at the PALACE LUZERN. Nestled in the heart of Lucerne and commanding sensational views of Lake Lucerne and the mountains of Switzerland, PALACE LUZERN presents the very finest in luxury escapes. Featuring 129 rooms and suites with a combination of classic and modern fittings and tasteful artwork, this five-star hotel is definitely a cut above the rest.

We present you the The Suite of Arts as our suite of the week. As the name suggests the suite is genuinely a work of art in itself. The suite features reproductions of artwork by Miró, Kandinsky and Chagall coupled with designer furnishings and unique art pieces from the 1960s and 1970s. Occupying 750 square feet it comes with a King size bed, a very spacious bathroom with amenities by Molton Brown, and a lounge where you can relax or entertain. Of course the views are to die for as the huge front facing windows present unrestricted views of the city, Lake Lucerne and the mountains of Switzerland. We also like the very contemporary and colorful furnishings that gives the suite a very "pop art" look.

The suite spells elegance right from the Murano lamps to the cupboards made of rare Macassar wood. There's also an easy chair reminiscent of Dali's surrealistic creation inspired by the lips of the voluptuous Mae West.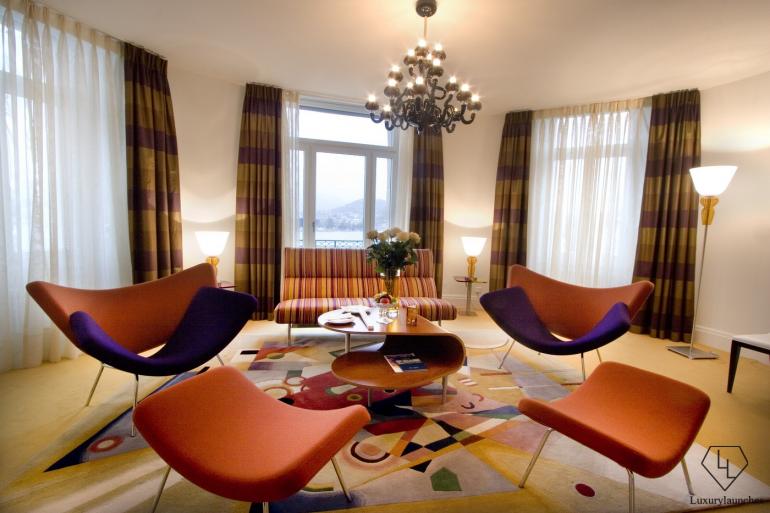 You can also indulge in luxurious spa and wellness treatments at their PALACE SPA. There are two separate spa zones for men and women as well as a Private Spa for two; a facility of exclusive elegance. If you're a seafood lover, you will love their extensive seafood menu at their restaurant Marlin. Savor cocktails at their terrace which overlooks Lake Lucerne. There's also the the cozy PALACE Bar & Living Room in the style of a traditional English hotel bar where you can enjoy a delicious drink to the accompaniment of live piano music.
Cost: $1960
Size: 750 square feet.
Occupancy: 2 adults
Why should you splurge on it?
The suite radiates an aesthetic elegance and has its own unique character. Three exceptional reproductions adorn the walls – "Study for the Circus Horse" (Joan Miró, 1926), "Multiple Forms" (Wassily Kandinsky, 1936) and "Evening at the Window" (Marc Chagall, 1950). We love the way the suite keeps up with the expressive art of Kandinsky, Miró and Marc Chagall. And the number one reason to splurge of course would be the very picturesque views of Lake Lucerne and the snow capped peaks of Switzerland.
Where : Hotel Palace Luzern
Haldenstrasse 10
CH-6002 Luzern
Tel: +41 41 416 16 16