MCU stars Downey, Chris Hemsworth, Chris Evans and Tom Hiddleston share their feelings about working on an end-of-an-era movie
There has been nothing like it in the history of modern cinema. The phenomenal success of the multibillion-dollar Marvel Cinematic Universe films – from the Captain America and Thor franchises, to the recent, groundbreaking Black Panther and Captain Marvel – has changed the Hollywood landscape over the past decade-plus since Robert Downey Jnr first donned a red-and-gold metallic supersuit for 2008's Iron Man.


It's hard to overstate quite how much the collective MCU has shaped contemporary cinema, both on-screen and off. Stars such as Downey, Chris Hemsworth, Chris Evans and Tom Hiddleston have all found their biggest roles within it, as have outside choices Paul Rudd, Evangeline Lilly and Chadwick Boseman.
At the box office, the numbers are staggering, with the entire filmography currently having amassed a mind-boggling US$15 billion-plus, placing it first on the list of top grossing joint film series of all time.
And now, this April, the linchpin of the MCU's entire cinematic master plan, the ensemble Avengers franchise, is set to end in its massively anticipated fourth and final instalment, Avengers: Endgame. Rumoured to be set to surpass Avatar's currently highest ranked US$2.8 billion haul on its release, Avengers: Endgame picks up from where 2018's Infinity War's shocking finale left off – with big-bad Thanos, played by a CGI-enhanced Josh Brolin, had obliterated half the universe with one snap of his Infinity Gauntlet-clad fingers.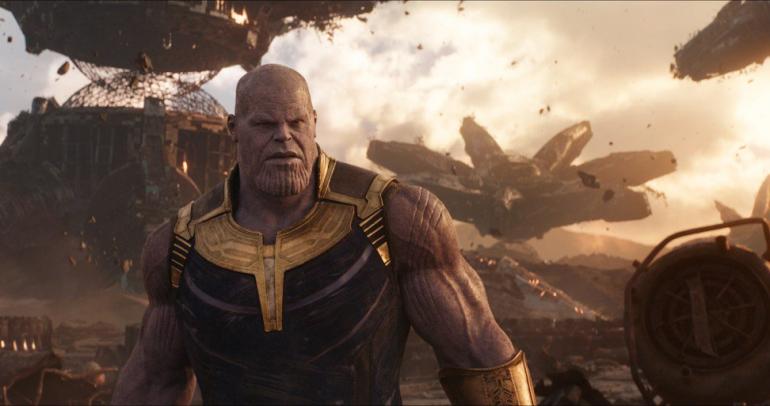 "With Thanos, the threat has risen to a new level, which is really saying something," chuckles Downey, 53, who was last seen drifting through space with depleting oxygen reserves having been beaten by the purple mega-villain on the ruined planet of Titan. "Whether The Avengers want to band together or not, we don't survive unless we do … because nobody gets past Thanos."
"It's a big moment for me and for all women in this business and I feel that I have to live up to the responsibility." – Evangeline Lilly
Downey, in particular, will certainly have mixed feelings regarding the upcoming release of Avengers: Endgame. Having been the instigator of the MCU's entire decade-spanning, 18-films-and-counting franchise with a bravura turn as egocentric entrepreneur Tony Stark, this year sees the star's contract with Marvel come to an end.
"You know what, I've learned a lot from my wife: you don't know what or how you're gonna end until it happens," he says. "That takes a lot of the edge off. She's learned how to be like, 'You won't know until you're there so you're wasting your time on that equation. That's not on the test.'"
It's a similar story for Iron Man's regular accomplice and occasional antagonist, Captain America. Cap's real-life alter-ego, Chris Evans, has already alluded strongly that Avengers: Endgame will be the final time he pulls on the famous red-and-blue spandex, and like Downey he is not resigned to dwell on the legacy his character will leave for the franchise's global fan base.
"It's none of my business," the 37-year-old explains. "I do it and release it, and whatever happens, happens and I go back to living my life in a very present capacity. So, the idea of it, in the future, or the reflection of it in the past, is not relevant to me.
"In my opinion, it encourages the ego not to get too theological about it. To some degree, the tricky landscape of acting is that it really tempts the ego, to believe you are something more than what you are, or that somehow your work, your oeuvre, is relevant in a capacity beyond the thoughts in your head."
"That last day of filming really was a very emotional day" – Chris Evans
That's not to say, of course, that Evans is ungrateful for his chance to have taken part in the film franchise of the past decade. The opportunity to have pulled on any one of the incredible superhero costumes, or to have performed in sync with the incredible visual pyrotechnics and effects that are lavished on each film, is one that few actors have the chance to pursue.
For Chris Hemsworth, whose time as hammer-wielding demi-god Thor has taken his career into stratospheric levels of fame, the added security of a multi-film contract has allowed him to make the character his own beyond doubt, rather than lead him down the oft-troublesome alley of typecasting.
"I'm immensely grateful for every opportunity that I have had thanks to playing Thor and how it has enabled me to do a lot of different things in between these Marvel films," the 35-year-old Australian says. "I think also the motivation for an actor taking part in this franchise is to each time be able to step it up and evolve in some way.
"I think we did as much as we could with the way Thor evolved in the previous films and so we tried to improvise a lot more and push the envelope more. He has more of a sense of humour about him and there are more layers to his personality that you see coming out in the new films. You're seeing a very different Thor now and we've breathed new life into the character."
"You know what, I've learned a lot from my wife: you don't know what or how you're gonna end until it happens" – Robert Downey Jnr
Of course, though Downey, Hemsworth, Evans et al comprise the bulk of the original Avengers group, there has been a wider evolution throughout the franchise's 11-year, 21-film span. The biggest indication of this is no doubt Black Panther, which debuted last year to rave reviews. The film, starring Chadwick Boseman, Anthony B Jordan and Lupita Nyong'o, blazed a trail for a new generation of multicultural superheroes, grabbed an Academy Award nomination, and led to the cast playing an integral role in the previous instalment, Avengers : Infinity War.
Brie Larson talks Captain Marvel, women's empowerment and why she's not into make-up And then there's Brie Larson's recent turn as Captain Marvel – set to lend her huge powers in the fight against Thanos come April in Avengers : Endgame. The latest in a string of female-fronted superhero flicks that have crossed the Marvel/DC divide thanks to Gal Gadot's Wonder Woman, Larson follows in the footsteps of original Avenger Black Widow, played by Scarlett Johansson since 2010, and Evangeline Lilly's The Wasp, who was the first female hero to have her name in the title of a Marvel movie in last year's Ant-Man and The Wasp.
"It's an honour to be in this position although there have been many other female superheroes in the Marvel Comics Universe who have come before me and have carried this mantle," says Evangeline Lilly, the 39-year-old former star of Lost and The Hobbit trilogy. "It's a big moment for me and for all women in this business and I feel that I have to live up to the responsibility.
"I have to pay tribute to all the other women who have helped bring us to this point; the #MeToo and TimesUp movements are signalling that while women are making progress, there is still a long way to go before we reach real equality."
As for the future of the MCU once its centrepiece Avengers series takes its final bow, there's no clearer signal of continuing intent from the company than the recent involvement of Academy Award winner Larson as Captain Marvel. With fans spoiling for a bombastic, triumphant curtain-closer in Avengers: Endgame, there's a tinge of sadness at the recent loss of Marvel creative tour de force Stan Lee last year, and the conclusion of an incredible, genre-defining period in modern comic-book adaptation.
"That last day of filming really was a very emotional day," says Evans. "It was the culmination of almost 10 years of filming and 22 movies – this unbelievable tapestry – and you feel a lot more emotions than I think even I thought I'd feel."
Note – This story was originally published on SCMP and has been republished on this website