Rolls-Royce's rich heritage of offering its patrons an unmatched luxury lifestyle experience goes well beyond its motor cars. From time to time, the storied British automaker creates bespoke collectibles that mirror the luxury quotient and the craftsmanship seen on the car that proudly wears the Spirit of Ecstasy hood ornament. The stunning Rolls-Royce Picnic Table that we saw a few years ago is a perfect example. The House of Rolls-Royce has unveiled its latest addition to its Connoisseur's Collection. Behold the Rolls-Royce Cellarette – an exquisitely designed bespoke whiskey and cigar chest that has an array of accouterments neatly packaged inside it.



"The Rolls-Royce Cellarette, the latest addition to the Rolls-Royce Connoisseur's Collection, offers our clients new ways to enhance their lifestyle beyond the experience of their Rolls-Royce motor car. Historically, Cellarettes were used to secure wine and spirits. This bespoke chest can be configured to stow aperitifs or digestifs, dependent on the client's preferences, alongside prized cigars, in a spectacular fashion." said Nicholas Abrams, Bespoke Designer, Rolls-Royce Motor Cars.

The exterior of the Cellarette is designed to perfectly match the well-appointed cabin of a Rolls-Royce luxury limo. It is crafted out of polished aluminum and gets overlays of Rolls-Royce Havana leather. On the top of is a functional serving tray that's finished in Obsidian Ayous Open Pore veneer and features a Spirit of Ecstasy inlay. Popping open the tray reveals the inside which is wrapped in Armagnac leather and houses an array of luxury accessories. The Cellarette comes with a set of hand-blow lowball glasses finished with the iconic 'RR' monogram. The glasses rotate outwards in the most elegant fashion as the unit opens.

The glasses are accompanied by an Armagnac leather-lined bottle pannier with the RR emblem and it can adapt to different bottle sizes. The bottle is held in place magnetically by a polished aluminum fastener. On the other end is a humidor that stows inside a beautiful cigar tray made of Spanish Cedarwood. The humidity inside the cigar chest can be set to the owner's choosing for optimum enjoyment, which can be precisely monitored by a hygrometer. The hygrometer is fashioned to recall the look of the fabled Rolls-Royce clock.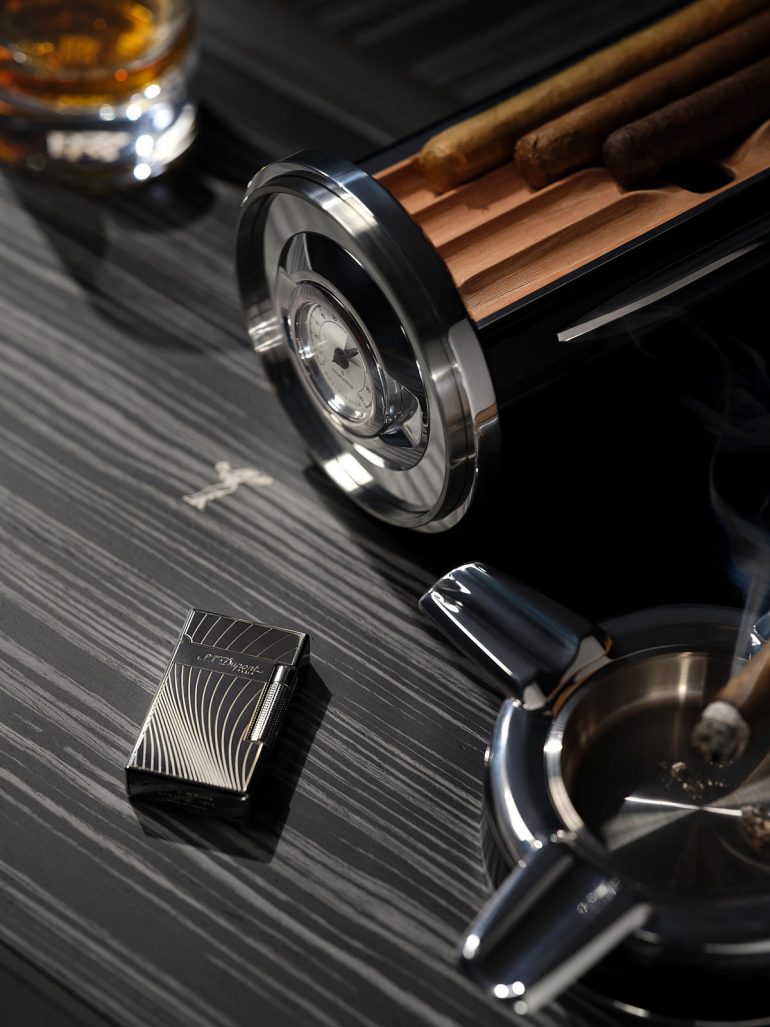 There are two smaller compartments magnetically held in place at either end of the cigar chest. One of the containers houses an intricately detailed cigar cutter and lighter, made by S. T. Dupont, Paris, and engraved with the Spirit of Ecstasy Expression. The other one holds an equally beautiful ashtray. Just like any Rolls-Royce car, the Cellarette can be customized to the client's exact specifications. The Rolls-Royce Cellarette is available through Rolls-Royce dealerships and the prices start at £40,570 (about $55,000).