For over a year, Lürssen superyachts have been at the center of controversies, but never a dock. A floating dock of Lürssen shipyard in Berne is adding a new angle of trouble for the shipyard, which has been making headlines due to the seizure of their colossal vessels like Amadea, Nord, Crescent, Valerie, and Dilbar. This time, one of the largest floating docks of the German shipyard, located in Berne for two years, is causing dissatisfaction among the citizens of Bremen-Blumenthal. They insist that the floating dock should be relocated back to Hamburg, as it is massive and obstructs their view.



Additionally, members of the rowing club complain that their area is now shaded, disrupting their pristine vistas of the Weser river. Furthermore, there is an environmental concern, with fears of increased noise and pollution if work resumes at the dock in the future. Currently, the dock is occupied by a megayacht detained due to EU sanctions, effectively blocking the dock. However, once this issue is resolved, work will resume on the next project.

As reported by Buten un Binnen, Lürssen has applied for a permanent permit to keep the floating dock on the Weser, but residents of Bremen-Blumenthal are opposed to this idea. Dock 10 is undeniably one of the largest covered floating docks in Europe, measuring nearly 1000 feet in length and 177 feet in width. It can easily accommodate the world's largest luxury vessels, such as the 512-feet Dilbar superyacht. Given that ship projects typically take 2-3 years to complete, if Dock 10 is used for a new ship, it would remain in place for an extended period, causing further discontent among residents.

In response to this, residents have submitted a request to the Blumenthal advisory board, urging it not to approve the continued presence of the floating dock in Berne. However, the Blumenthal advisory board alone cannot provide a solution to the residents' dilemma, nor can it decide whether a floating dock can be established on the opposite side of the Weser. The advisory board can express its opinion on the planning, but this opinion is not binding on the senatorial authorities, as per Buten un Binnen. Citizens are encouraged to voice their concerns to the advisory board, but the ultimate decision will be made in Lower Saxony.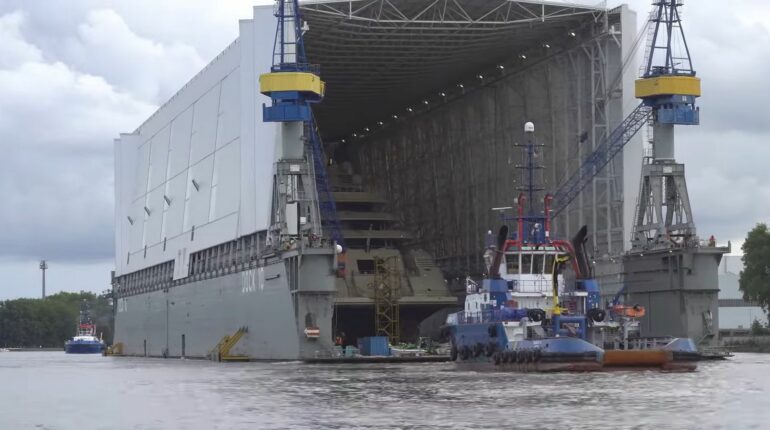 The German shipyard has agreed to present its project to the Blumenthal Advisory Board, where they will address the queries and concerns of both citizens and advisory board members. Blumenthal is a picturesque neighborhood of Bremen, sandwiched between the Weser River on both sides. It's close proximity to the water has historically made Blumenthal a significant economic center, steeped in industrial shipping history. However, what truly defines the allure of this place is its quaint, village-like charm, diligently preserved by its inhabitants. In the midst of all this, the presence of a massive dock does indeed appear to be an eyesore.